Your entire bathroom is just as important as any other room in your home and as such, it deserves equal attention. A sophisticated bathroom can easily improve the value of your home without needing you to spend too much. Though it depends on the amount and effort you invest in it, installing attractive new countertops is one method to do this.
Your vanity and bathroom countertops are usually the center of attention in the room. A stunning countertop provides the perfect sense of luxury and beauty to your new bathroom. Aside from being aesthetically pleasing, your bathroom countertops also have to be carefully selected, like your kitchen countertops, in terms of size and durability.
Refacing your bathroom countertop is a cost-effective option to give your bathroom a new look. You can choose from various materials, including granite, and marble, to mention a few. We will provide tips on choosing natural stone countertops for your bathroom renovation project. It will help you narrow your options and make an informed decision.
Know the available countertop options
If you want to make your bathroom stand out, look for the most pleasing bathroom countertop. However, choosing the best from the different materials available can be a challenging task. Here are some popular bathroom countertop materials you should know:
Granite countertops
Granite counters are among the most popular bathroom countertop materials, and it has a great deal of resale value. It is stunning and appears in various colors, including blue, gray, white, brown, and even pink making them blend in with a wide range of tiles. You can buy as many unique slabs to fit your personality and make a magnificent impression in your bathroom.
It is crucial to note that this countertop needs regular care, starting with resealing them once every six months. Use liquid laundry detergent and warm water to clean it because abrasive cleansers might etch the stone. Granite countertops will cost between $75 and $200 per square foot, making them a great choice for people with a higher budget.
Before choosing granite counters, you would love to read these 10 mistakes to avoid for your granite countertops
Concrete countertops
Whether you're building a modern bathroom, concrete countertop material might be an excellent choice. Think of these countertops as a polished surface that may be tinted or patterned rather than the harsh grayish layer you see on your pavements. Concrete countertops are highly durable and may increase the value of your home.
Concrete countertops are not always the ideal option if you intend to handle your bathroom remodeling yourself. We recommend you seek the help of a professional who understands how to make them as perfect as you want. These bathroom counters costs between $75 and $150 per square foot. But if your countertop cracks down the road, you'll have limited alternatives for repairs.
Tiles
The nice part about tile is that it is available in various colors, patterns, and styles. Porcelain, ceramic, and glass tiles can be traditional or modern, modest or loud. Based on the tile and quality of your purchase, tiles might be affordable or pricey. Porcelain tile is tough and long-lasting, ideal for bathrooms and countertops.
With tile, you may create a bathroom space with a strong, bold personality by mixing and matching tiles. A significant disadvantage of tile is that it breaks fast when the items land on it. It also has to be cleaned and resealed only once a year. Tiles are an excellent choice for bathroom countertops.
Check out the Top 5 Most Common Types Of Stone Tiles to help you make a better-informed decision.
Marble countertops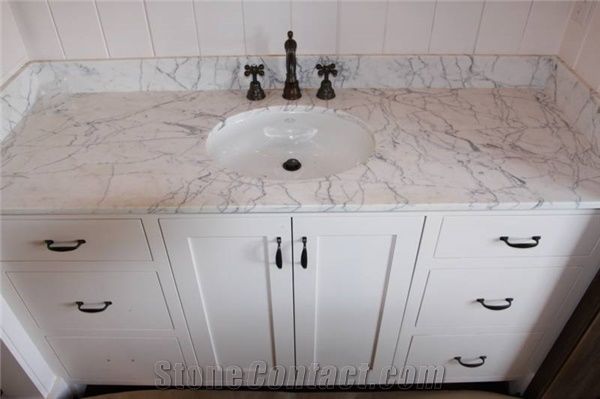 Marble countertops may be an elegant and timeless addition to a bathroom renovation. Marble is a natural stone obtained from raw materials rather than artificial elements. It is a rock type generated by the crystallization of limestone within the ground under extreme pressure and high temperature.
Marble types differ and, in many situations, can be damaged and stained easily. Thus, install it in bathrooms where it will be treated with love, well maintained, and sealed. It is a rich and exquisite stone, and few substances can compete with marble in terms of overall elegance. In addition, it looks so appealing in an updated bathroom.
Quartz countertops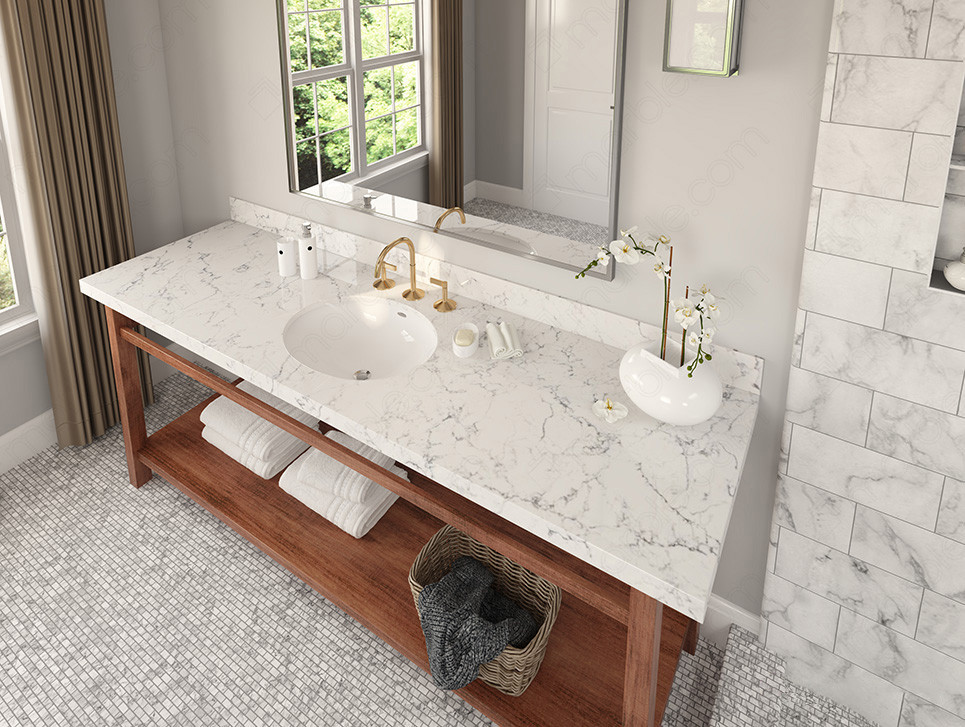 For bathroom countertops, quartz is the next best thing to natural stones. It's a synthetic substance that resembles a natural stone. Even though it isn't available in all engineered stones, top quartz countertop products include a minimum of 90% quartz. It gives granite strength to create a firm countertop slab. Thus, they have higher durability than granite.
The non-porosity of this material is its vital strength over granite. It doesn't need sealing and mostly resists stains and scratches. Quartz countertops are a good choice if you value stability. Because granite and marble are natural stones, there will be significant differences in the appearance of each slab, even if they come from the same quarries block. Some quartz stones also use recyclable plastic, so it is a wise choice if you like to reprocess, reuse, and repurpose.
The price of quartz stone is a huge disadvantage. Even the most costly marble and granite variants are often more expensive. Because of the prominent colors and resins of the quartz, which react to temperature, quartz stone is not resistant to heat. Instead of placing your just-used curling irons on the vanity, make sure it's clean. Quartz countertops will cost between $60 and $100 per square foot.
If you are choosing quartz as your most preferred kitchen countertops, here's how to examine the quality of quartz countertops before buying
Solid surface countertops
If you're searching for a less expensive engineered stone to traditional countertop materials, try a solid surface countertop. Solid surface materials have acrylic and polyester pieces sealed in resin. It comes in a broad range of colors similar to quartz stone, although it leans more toward a contemporary aesthetic than a classic stone style.
Acrylic resin and pigments are used to create solid surface slabs that have some of the properties of granite. Corian is the most widely used solid surface material. It is very durable and resistant to stains and mold. Unlike quartz stones, you can restore minimal damage to solid surface countertops.
Consider paying $40 to $100 per square foot. Though, the weight of this stone is a concern. It is heavy and needs the attention of a professional. It can also break if anything heavy falls on it, and it can damage by high heat (such as hot curling irons).
Know your budget
Set a reasonable budget for your project before you look for bathroom counters. Granite countertops usually range from $75 to $200 per linear foot (excluding installation). Quartz usually costs between $100 and $250 (excluding installation).
To ensure your budget is in line with the material you are looking for, call a countertop supplier at Firenza Stone for a quote on various materials. If you intend to install your bathroom countertops, budget for the cost of installation materials too.
Consider maintenance
How much time and effort do you intend to clean your bathroom countertops? Here is another vital tip to keep in mind. Always consider the maintenance requirements while evaluating various countertop materials. This is to help limit your options.
For example, while natural stone will require sealing, tile grout needs excessive maintenance and cleaning. On the flip side, non-porous quartz is simple to care for, as it doesn't need regular sealing. Also, fewer conventional materials, like steel or glasses, may reveal streaks and blotches more quickly, making regular maintenance more difficult. If any of these bothers you, opt for a low-maintenance countertop.
Stain resistance level
Some countertops have a high-level built-in stain resistance. For stain resistance levels, quartz countertops take the lead after installation. Solid counters are also stain-resistant from the onset.
On the other hand, granite is a more complicated case. All granite is porous in a certain way. However, high-quality granite is less porous than cheaper granite. As a result, the raw stone is more prone to staining.
Indeed, experts know that granite is porous, so they seal the stone before installation. Any granite material will offer good stain resistance as long as the sealer is intact.
Unfortunately, marble has a low stain resistance. Thus, it is an unsuitable option for high-traffic bathrooms.
Aesthetics
Your bathroom counter reveals a lot about your personal preferences and sense of style. Since you need less material than you would in the kitchen, here is your chance to invest in quality yet economical counter. Maintain a polished appearance with a pristine, white finish, or go for a stunning piece and an astounding shade. You may go against the trend and install a wooden or concrete bathroom counter.
Conclusion
A variety of things determines the right bathroom countertops. Quartz provides the best of all materials regarding stain resistance and strength, while solid or quartz countertops require continuous care. Countertops of granite, soapstone, or tile require specialist or constant upkeep. However, grout lines upkeep is a problem with tile.
Firenza Stone specializes in all countertops, including design and installation. For more information, contact us today!