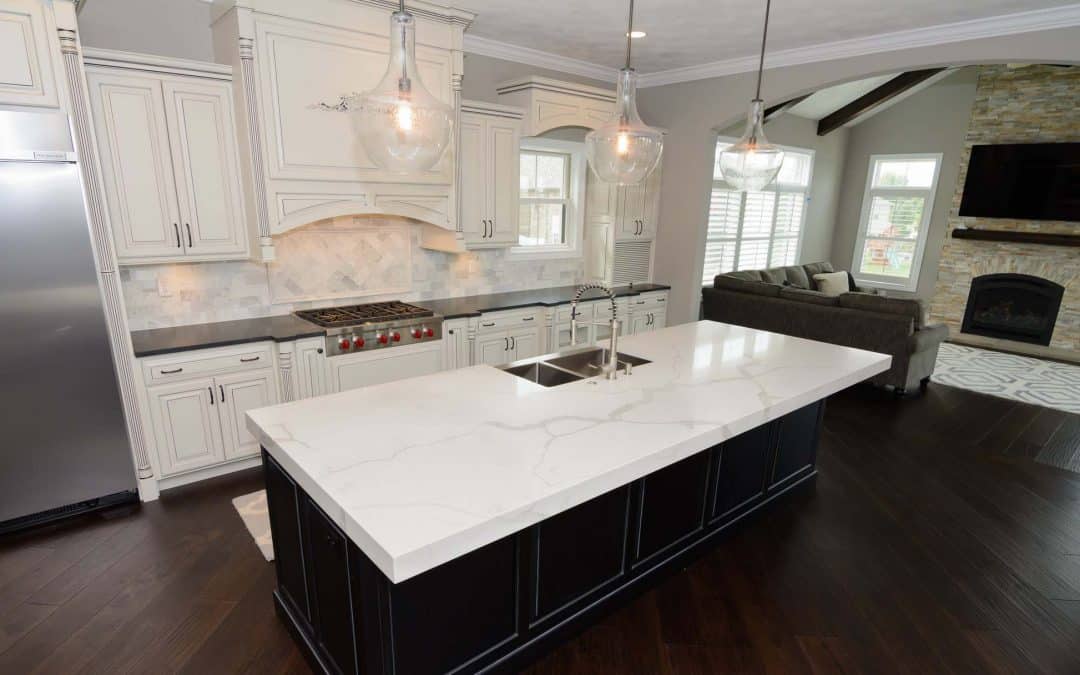 Quartz is best described as an engineered stone with an incredibly hard and glossy surface commonly used in manufacturing countertops. The process involves grinding this naturally occurring mineral into tiny particles then adding synthetic agents and mixing it with resin binders to form a slab.
Next, the slab is heated under very high temperatures to create a heat-resistant polished finish that's also impervious to stains. Quartz offers numerous options in terms of colors, styles, and designs, which means if you look in the right places you'll certainly find something to match any bathroom or kitchen décor.
Reasons to Choose Quartz Countertops for your Kitchen
As mentioned earlier, quartz countertops come in a wide variety of colors and an even wider spectrum of patterns which are sometimes swirled or speckled and occasionally with visible features and characteristics similar to granite countertops.
Before jumping in headfirst to choose quartz countertops, here's everything you need to know about quartz countertops before starting your project.
If you're still not sold on the idea of choosing quartz as a countertop material, here are some other reasons why it might be an excellent choice for your kitchen.
1. Durability
Choosing quartz kitchen countertops means you're getting exceptionally tough surfaces capable of serving you for decades even with everyday use, which is great for households with very busy kitchens. Quartz counters are more resistant to chips and scratches than any other natural stone, in addition to this, the surface of this engineered stone is not susceptible to damage as a result of liquid exposure or even from extreme heat.
As a matter of fact, due to their seemingly indestructible nature, these natural materials have gradually become one of the most popularly used materials for producing high-end countertops in modern-day kitchens.
Although quartz countertops surpass almost every other countertop material in existence, they aren't exactly indestructible — as such it's a good idea to handle them properly, minimize contact with hot pans and wipe off any liquid spills as soon as possible.
One of the major perks of buying quartz countertops is that most quartz countertop manufacturers – top brands, in particular, offer generous warranties on standard slabs in the unlikely event of damage or as a result of manufacturing defects.
2. Stain-resistant
Also called engineered stone countertops, Quartz is a non-porous material and due to its natural composition, it's highly stain-resistant. Usually, countertops get stained due to liquid spills seeping into the microscopic pores of the stone, as is quite common for marble and granite because of their porous nature.
However, since quartz is non-porous, there is absolutely no room for liquids to be able to penetrate its pores and leave any stain whatsoever, even if the spill isn't cleaned up immediately.
To determine how well quartz fares when left in contact with liquid substances, Consumer Reports conducted a test. In this test, splashes of several substances such as grape juice, vegetable oil, and coffee were left to sit on a granite and quartz countertop for a total of 20 hours.
As expected, both countertop materials displayed high stain resistance. However, it was evident that quartz was the more impressive one of the two, with no residual stains in each test, including the food coloring, coffee, and beer juice.
3. Non-porous surface
It's quite common for stone countertops to have pores all over their surfaces which usually leads to discoloration, stains, and degradation which often results in damage. For a product that you have to use in the kitchen, you bet there will be high chances of getting it wet. You wouldn't want liquid percolating through.
Unlike most natural stone counters, engineered quartz countertops are composed of some of the hardest minerals available, as such, they lack any of such pores. In other words, it's next to impossible for liquid substances to seep into quartz surfaces and cause any permanent discoloration.
Almost every stone counter requires occasional sealing to prolong longevity, and as anyone familiar with such countertops will tell you – it's a hassle to constantly have to reseal them.
Unlike natural stone slabs, there's no need to concern yourself with sealing or worry about germs and bacteria as quartz is a non-porous surface, which means it cannot harbor bacteria.
4. Versatility
Quartz has proven to be quite advantageous in the kitchen as well as in the bathroom, fireplace, bars, and pretty much every area in the house. This mostly has to do with its immense durability, designs, and color variations.
While most countertop materials have very limited design options and a sheer inability to cope under certain conditions, quartz can be applied with little or no limitations. They practically afford you the freedom to be as creative as you can dare to be.
5. Great resale value
Not every homeowner plans to sell their homes from the get-go, although some are promoted to decide at some point due to various reasons such as job changes, retirement, or family-related reasons. For these reasons alone, it's important to consider the resale value of your home when remodeling.
If you intend for your home value to rise or stay consistent as time goes by, one of the most effective ways to do so is making additions to your home with actual value, and as you'd have it quartz countertops are considered as high values items to people in general.
This material is a splendid choice for homeowners who plan to sell their homes later in the future because it comes with a very high chance of recouping your initial investment.
6. Low maintenance
Many natural stone countertops require a never-ending use of sealants to maintain their luster. To many homeowners, this is a major deterrent, as many find it difficult to keep up with the constant need for maintenance, while others forget to do so at the required time which inadvertently leads to damage.
Quartz, on the other hand, is unrivaled when it comes to minimal surface maintenance. Since it's non-porous, there's no need to use additional sealing and it's super easy to clean. For these reasons, more homeowners are opting for quartz countertops rather than stone materials like granite, which used to be in demand.
7. Quartz is a customizable natural stone
When designing a kitchen, most people already have a picture in mind of what they'd like to see. The best part about quartz is that it can be easily customized to suit any design, as per customer request.
Sure, every natural stone has a sort of unique radiance that sets it apart from other materials and although no two slabs are completely identical, they are mostly limited to those particular designs, leaving no room for customization. This aspect is where quartz shines the brightest, as it can be customized to meet any required style or design standard.
Customers are free to choose from white quartz and other solid color options, there are even quartz countertops with the same appearance as a natural slab. While the slab manufacturing process is ongoing, most manufacturers add a pigment to the resin and sometimes particles of recycled glass.
Doing this gives room for some slight modifications, especially when customers request that the slab be made in a specific color. Although it might seem basic, this procedure makes it possible for more complex customization of the quartz material.
As much as we can assure you that quartz countertops are superb for almost any kitchen project, you must also know that there is a good chance you will end up with an inferior one. this is why we have created a guide that shows you how to examine the quality of quartz countertops before buying?
Cons of quartz countertops
Having considered every benefit of quartz countertops, it's time we delve into some of the major drawbacks associated with this material.
1. Price
A quartz countertop is undoubtedly a worthwhile investment, however, it's not a feasible option for budget-conscious renovators due to its above-average price. The reason for the high cost of this material stems from its many advantages all of which we've already discussed in the previous section.
2. UV rays can cause discoloration
Quartz is known to be scorch resistant, that is – capable of withstanding excessive heat. These engineered stone countertops are also scratch-resistant, same as granite kitchen countertops but unfortunately, quartz slabs have a tendency to become discolored when constantly exposed to direct sunlight, as such you might have to consider other kitchen countertop materials instead of natural quartz if you plan on building an external kitchen for outdoor use.
3. Installation difficulty
It takes a great deal of care and effort to properly install quartz countertops. Not surprisingly, most people find this task difficult to manage and have to seek the assistance of skilled professionals to help measure and secure the counters precisely.
The reason why quartz is more difficult to install compared to other types of countertops is because of its weight. A square foot of quartz typically weighs around 20 to 30 pounds, which is no child's play.
Hence, the need for experts to make sure the foundation is sturdy enough to withstand the full mass of the quartz counters.
Quartz countertop cost per square foot
The actual cost for having a square foot installed ranges from around $50 to $300. If you'll need professional assistance with the installation process you should expect to pay added fees referred to as installation costs.
If the price seems a bit over the top, there are more affordable options. However, this often spells a drop in quality, meaning there's a possibility of mild discoloration, metallic flecks, or veins on the countertop's surface due to issues from the manufacturing process.
Are Quartz countertops the right material for your kitchen?
From the assessment of the pros and cons of this countertop material, it's quite obvious that the benefits far outweigh the disadvantages. The key selling point of this manufactured product is its durability, followed by other features like stain resistance, low maintenance, sustained heat resistance, and tons of design options to pick from.
The bottom line is that other than price, there's absolutely no reason why quartz wouldn't make a wonderful addition to your kitchen.
Can I use Clorox wipes or other disinfectants on quartz?
Disinfectants are highly harmful to quartz countertops and this is because every disinfectant contains undiluted citric acid. Direct application of undiluted citric acid to the surface of your quartz countertops can quickly weaken the surface and leave it prone to discoloration and fading. Quartz countertops are super-easy to clean and hardly harbor any form of bacteria and as such there would be no need to clean with disinfectants.
Will white quartz countertops turn yellow with time
Quartz countertops are generally easy to maintain. However, bright-colored quartz surfaces can begin to turn yellow with time if enough care isn't given. It is usually due to the resins during manufacturing that reacts to salts and surfactants.
Conclusion
Quartz countertops are superb countertop options for kitchens, bathrooms, and almost every other room in your home as they are super-easy to maintain, stain-resistant, customizable, versatile, and durable. On the flip side, you can easily end up with low-quality quartz countertops made with more than 30% synthetic resins and pigments.
Send Firenza Stone a message today and you can rest assured we will help you create the perfect kitchen with excellent all-natural quartz countertops. Feel free to check out our online quartz slab gallery for inspiration.