Regardless of where you live, be it an apartment of your own or a small rental, the idea of upgrading your kitchen has likely crossed your mind at some point. Why not, since the kitchen is basically where you cook your meals and entertain your family members and friends.
Before making any actual kitchen renovation preparations, a good way to start would be to consider the trending kitchen decorating ideas for the year, and lucky for you we have a little bit of something for everyone this year.
Awesome Kitchen Trends You Can Try Out This Year
From our list of highly functional ideas to our guide to choosing bold and classy colors for your kitchen walls and cabinetry, we've got a boatload of options for just about any kitchen size and layout.
You might also want to find out how to choose the best stone countertops for your bathroom
1. Somber green backsplash and cabinets
We've seen more than half of the many varieties of wood tones and jewel green shades bring in an air of subtle grace into kitchens during the last few years. However, this year kitchens are beginning to lean towards those warm mid-tone green shades that blend excellently with neutrals.
The soft and delicate appeal of muted green paint colors won't just make your space seem more sophisticated, it also has a way of making a kitchen feel warm and welcoming.
While the muted green is anything but extravagant, its charm and appeal are simply off the charts.
2. Bold Colors
Using permanent bold colors for a kitchen design is not for the faint-hearted as there's no way to ascertain how long the intended color will stay relevant before becoming dated. With the risk of uncertainty, we've watched as the bold color trend makes its comeback to modern-day kitchens even in form of painted cabinets.
For the best results, aim for only bold and bright colors on practically everything, from your kitchen cabinets to your sink. When choosing colors, there are no actual rules or limitations as to which ones you can use.
Green and blue are typical and well-established colors in kitchen designs. Although, if you'd rather not use these but can't seem to decide on a particular shade, consider opting for colors that can blend in with neutrals such as navy blue, deep plum, grey-green, or other earthy tones.
3. Round and curved shapes
We'll certainly be seeing more rounded shapes adding a level of sophistication and visual interest to the kitchen. Unlike other shapes, softer forms are known to exude class and luxury which is why they are so appealing to many homeowners.
Aside from this, they also seem quite natural and are more ergonomic plus they're aesthetically pleasing, much more sociable, and don't have abrupt stops. Take for instance – a curved edge or round table compared to a long rectangular one, which seems more appealing and less dated? certainly the softer-shaped ones.
These days, over one-third of kitchen worktops especially breakfast bars, are made to feature contrasting materials such as wood and quart, each with varying levels of thickness. From the looks of things, we're going to be seeing more curved cabinets in the coming years.
4. The increasingly popular layering trend among interior designers
Layering has become quite a big deal in kitchen designs. You can layer just about anything, from patterns, lighting, textures, and a whole lot more. To put it simply, you're starting with a particular theme and then adding variations of that same theme to amplify the overall effect.
Layering patterns give a kind of quilt-like appearance which is no wonder why this idea is steadily gaining popularity these days. When going for this look, ensure to pick a single pattern before proceeding to layer it into various areas of the room. To layer your kitchen lighting, ensure to use accent, task, or ambient lighting.
5. Statement kitchen island
The statement island cabinetry is one of the latest kitchen design trends we've witnessed so far. There are several easy tips to make your kitchen island serve its storage function and still make a statement. For instance, you can feature cabinets of different colors from the perimeter of your kitchen walls, you can also make it stand out by featuring some pendant lights.
One of the most recent island trends we've come across in the past two years, as unorthodox as it might sound, [added a comma here] is to have a double island. Rather than having a single but relatively long one, you might want to consider featuring two smaller ones instead. You can as well include a task-oriented island right in the middle of the kitchen or use exposed beams for extra space.
6. Avoid kitchen cabinets with handles and stainless steel appliances
In modern-day kitchens, you'll see fewer vintage pieces such as stainless steel appliances and cabinetry with knobs or handles, [added a comma here] since every interior designer is constantly seeking ways to create their kitchen trends or add their personal touch to an already existing decor.
This is why more kitchens are steadily gravitating towards flat-panel cabinets, as these are much more appealing aesthetically and also further improve on the mundane approach to upper cabinets.
Although there's no argument about the fact that colorful cabinetry with closed doors and handles tends to draw attention to some extent and also add a level of detailing that really completes a design. However, the idea of a modern-day kitchen is to allow the cabinets to blend in flawlessly with the room. Check out the Meredith home group for more magazines on inspiring and trusted content. [is this Meredith home group supposed to link somewhere? If not, it's fine] [if it's a title of a company, then I would capitalize Meredith Home Group]
7. Kitchen zoning
With the annual introduction of new and innovative design ideas and the increase in the number of people working from home, the idea of creating zones in open high traffic living spaces has become more essential than expected.
It's not only necessary but highly convenient to have designated areas in the house for special purposes, it also helps incorporate a sense of seamless flow which we've become accustomed to in open-plan designs. It's worth mentioning that a complete kitchen overhaul might not exactly be the best as even minor tweaks like attaching a built-in foldable desk to the kitchen wall can make a world of difference.
It's also important to channel your time and finances into making sure that your kitchen space is a functional and relaxing haven. Whether it's by purchasing a dining table that can be turned into a standing desk or perhaps a built-in folding desk, there are countless ways to create comfortable spaces in your kitchen to lounge around and do every other thing you need to.
Having multi-functional zones in a kitchen is something that can benefit everyone. This concept is especially useful for people who host regularly as they'll be able to utilize their space more effectively and entertain guests while cooking. A zonal kitchen can come in handy in the sense that you'll be able to shut away clutter discreetly if you happen to have your guests around.
8. Use natural materials all through in the kitchen
The excessively refined materials of the past used in making kitchen furniture and hardware are gradually going out of style. The term refinement has been given a new meaning in the year 2022 with more naturally acquired materials such as wood and stone, each with neutral color variations.
These materials are capable of drawing attention to other elements of the kitchen's design while retaining a grounded feel. Modernized kitchens feature natural stone countertop materials like granite, Verde marble, and engineered quartz, other than these materials you can consider choosing quiet stone materials with veining or grain-like patterns.
For wooden materials, opt for medium brown options with linear grain patterns. It's best to design your kitchen without using over-the-top ingredients, instead, try a more minimalistic approach that helps create a homely atmosphere your guests can relate to
9. Seamless countertops and backsplash
In this year and the coming ones, we're sure to see more of the unification of the backsplash and countertop design. Eye-catching designs are great, but at times it's ok to mellow things out a bit since all surfaces must not have an interesting or unique finish to compete for attention.
Using the same or similar countertop material for the backsplash offers an effortlessly clean and cohesive look. It also adds a bit of class and elegance to any kitchen style.
10. Patterned ceramic or porcelain tile flooring
Homeowners who find themselves looking for innovative ways to add a sense of peculiarity to their kitchens should consider using their kitchen flooring as a way to make a statement. Unlike in the past, flooring doesn't have to appear dull or ordinary.
For anyone confident enough to try out bold design choices, there are many varieties of colored patterned tiles that come in different trendy shades such as blush pink, inky blue, goldish yellow, the list goes on. The latest eye-catching color for this year is none other than a radiant periwinkle blue which looks simply amazing on patterned tiles.
Indeed, a lot of homeowners aren't as inclined to try out new colors while others may be unable to as a result of supply chain issues. A suitable alternative in such scenarios is to try experimenting with monochrome designs or vinyl flooring. Not only are these tiles trendy, but they also serve as a comfortable middle ground for trying out more daring designs.
Want to find some of the most gorgeous stone types and patterns? Check out our gallery and you would be surprised how many patterns you can choose from.
Final words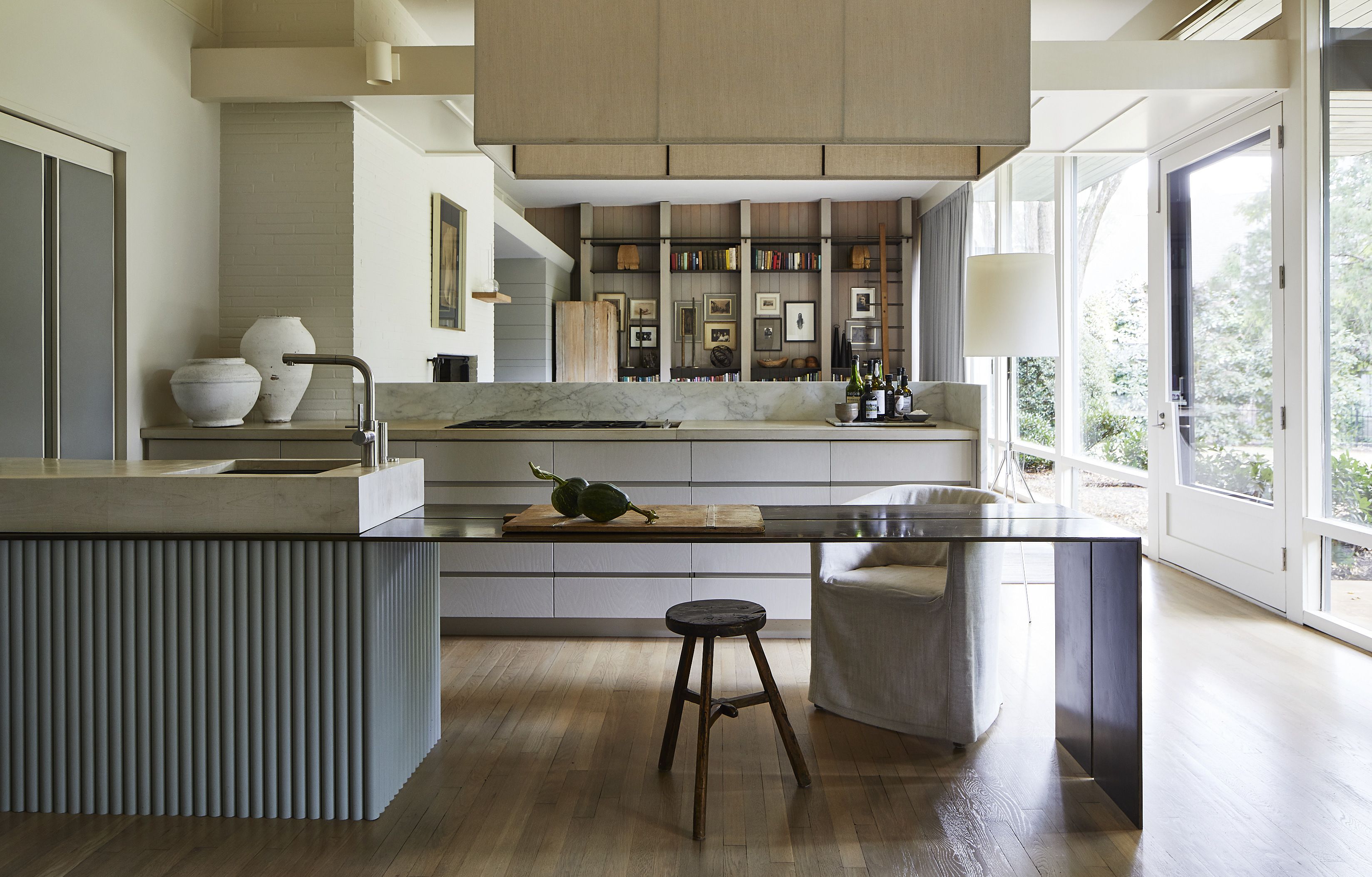 Each of our interior designer-based ideas for 2022 will most assuredly help you realize your dream kitchen remodel, which will certainly stay relevant from this year into the next decade.
Do you want to give your kitchen a new, modern, and more sophisticated appearance without having to break the bank? Call Firenza Stone today and let us help give you the dream home.