Granite countertop is a valuable investment for both your kitchen and bathroom needs. They are unique, heat and leak-resistant, and importantly, come with durable surfaces. However, not caring for your countertops can lead to endless repairs and constant replacements. Meanwhile, replacing countertops often times comes with high costs – a risk you wouldn't want to take.
To get the best out of your countertops and enjoy their numerous benefits, proper care and maintenance are vital. This will not only save you money but also increase the longevity of your kitchen countertops.
Common Mistakes to Avoid for Granite Countertops
If you want to get the best out of your granite countertops, read through common mistakes worth avoiding here.
1. Installing countertops with wrong measurements
One of the first mistakes to avoid for your granite countertops is – the use of incorrect measurements. incorrect measurements leave you with too small or too much granite and in many cases, this can affect the progress of installation while increasing your budget expense.
To avoid measurement mistakes, request the services of skilled countertop installers. Although, you can choose to get the measurements yourself, however, ensure to double-check your sizes before ordering the new countertops.
2. Hiring inexperienced countertop installers
It's highly recommended you don't install your granite countertops yourself. The best option would be to hire the services of a skilled installer to help you fix your granite countertops.
Skilled countertop installers might be expensive but they offer you value for your money by doing a clean job. Plus, a countertop well installed is set to last longer than its counterparts.
3. Wrong choice of stone
The durability of your granite countertop is dependent on your choice of stone. choosing the right stone means you are willing to increase the lifespan of your granite.
A great way to begin would be by researching the various countertop stone materials and selecting only those fitting for your kitchen needs. First, consider how you want your choice of stone to function in your kitchen space. This is because most stones come with varying functions, alongside different dos and don'ts.
Furthermore, consider cost options too as they can affect the quality and choice of stone for your granite countertop. Natural stones such as marble and granite are expensive compared to their alternative quartz. However, whichever type of stone you end up choosing, be sure to do a proper evaluation of what each variety offers, as this will help you make the right selection.
4. cleaning with harsh chemicals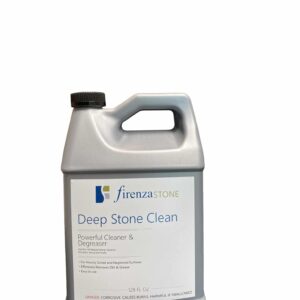 The purpose of sealants on your countertops is to eliminate traces of stains. They are also useful for preventing oil spills, water, and other liquids from seeping into your granite. However, the use of harsh disinfectants, strong acids, or abrasives can damage its potency and eventually harm your countertop. Check out some of the best and harmless cleaning agents for your stone countertops here.
To properly care for and clean your granite countertop, avoid the following harsh cleaning agents;
Glass cleaners. They are alcohol-based and specially made for washing windows and cleaning glasses. They are not ideal for cleaning countertops especially granite countertops as they can strip away sealants. Moreover, glass cleaners contain micro waxes – and microwaves are used for filling in cracks in windows. However, if you chose to use them on your granite countertops over time, they can leave behind bad residues.
Strong acids. Usually, acids are not ideal for cleaning granite countertops. Acids such as hydrogen peroxide and vinegar can harm the surface of your countertop. This is because Countertops are porous and any spills can lead to tearing.
Grout cleaners. do not use grout cleaners for cleaning granite countertops. Grout cleaners are basically for removing grouts from bathrooms and tile surfaces. Therefore any misuse can cause great damages to your granite.
Ammonia, bleach, bathroom cleaners, and other strong disinfectants shouldn't be used in removing stains off the granite. They have the tendency to dull your granite and inscribe the stone surface.
Other liquids such as wine. Do not expose your countertops to liquids including wine and juices. there are no guarantees they won't spill or stain your granite countertop.
Instead of using any of the above-mentioned harsh chemicals, use a soft washcloth, warm water, and mild soap (preferably a dish soap) to clear chips and specks of dirt from your countertop surfaces. This way sealant on the granite is safe and your countertop's lifespan is extended.
5. Preference on color instead of quality granite countertop
The quality of your countertop slabs is more important than their color. While picking the right color can make your granite hard to stain, having the right quality can save you from constant maintenance.
Preference shouldn't be on color when picking a countertop. Quality granite countertops such as green pearl and black galaxy are less porous, can reduce the appearance of stain, and help keep your countertop surface polished.
6. Inconsistency with sealing granite countertops
Not constantly sealing your granite can affect its lifespan. Granite countertops are porous and this means spills and specks of dirt can easily penetrate them. When this happens, bacteria begin to thrive in these cracks. And the end result would be constant wear and tear of your countertops.
To prevent your granite countertops from damaging from spills, scratches, and chips, you need to consistently seal them. Ideally, try sealing every 1 -2years. Meanwhile, depending on the porosity of the pieces of your granite slab, you might need to seal more often than yearly. Thus consider this factor when sealing.
Finally, Once your granite slabs are properly sealed, countertops become easier to clean with little to no maintenance.
7. Extreme countertop thickness
Generally, thick granite can work for the bathroom. But if you are installing granite in your kitchen, ensure not to pick extremely thick slabs. Choosing the wrong thickness for your countertops can frustrate your installation.
Before ordering your granite, note, they come in two standard widths; a 1 ¼" slab and a ¾" slab. Anything thicker than this is likely two slabs glued together and unfortunately, they won't be doing you any good if you install them in your kitchen.
8. Little to no attention to heat
Excessive heat from a hot pan or hot pot can cause serious damages to your countertop surfaces. Although granites can withstand some degree of heat, still exposing them to extreme heat isn't much of a great idea.
To avoid damaging your countertop surface from excessive heat, try having potholders nearby or alternatively use a wooden coaster, table mat, or cloth to place your hot pans. This will save you from numerous hot-pan stains and further help you eliminate the cost of getting new kitchen countertops.
9. Random selection of edges
Avoid randomly picking edges. properly research the different countertop edges suitable for the kitchen before ordering them from the showroom. Any mistakes made with the wrong choice of edging can not be reversed.
If at all you must redo your edging, you will first have to remove the installed countertop slabs before reinstalling again.
10. A countertop not a cutting board
Your countertop is not a cutting board. Resist the urge to cut food products including raw meat on the surface. Instead of using the countertop, try using a cutting board during food preparation. Also keep sharp objects like knives away from the countertop, as they can cause potential wear and scratches on your granite surface.
Furthermore, do not allow wastes from meat to sit for long on the cabinet. they can leave stains behind and create a thriving environment for bacteria to grow. Consequently, your countertop surface suffers damages over time.
11. Avoid placing organic foods on your granite countertop
Avoid putting organic food including juices, wine, and other acidic food on your countertop. having these items stay on your countertop surface over an extended period of time can wear and tear your sealants.
Vinegar, an acidic juice can leak into your granite countertop and cause permanent damages if you do not clean the spills immediately. Also, raw meat, milk, and other food products should be far from your counters, as this can harm your sealants.
12. Using the countertop as a seat
One of the common mistakes to avoid for your cabinet is sitting on it. Although the countertop's surface is durable, it's still not wise to sit on it.
Humans are weighty in nature. Having someone or yourself constantly use the kitchen cabinets as a seat can hurt its lifespan. This in the long run can crack your granite surface and leave you needing a new replacement.
Conclusion
Before getting your granite counter from your preferred showroom, properly research the various stone types and make a selection. Have an experienced installer install it for it and ensure to avoid major common mistakes as mentioned in this article.
Finally, if you feel the above mistakes are a handful to start with, endeavor to pay attention to the major ones such as cleaning with mild soap, avoiding sharp objects (eg knives), and consistently sealing your kitchen granite surfaces.