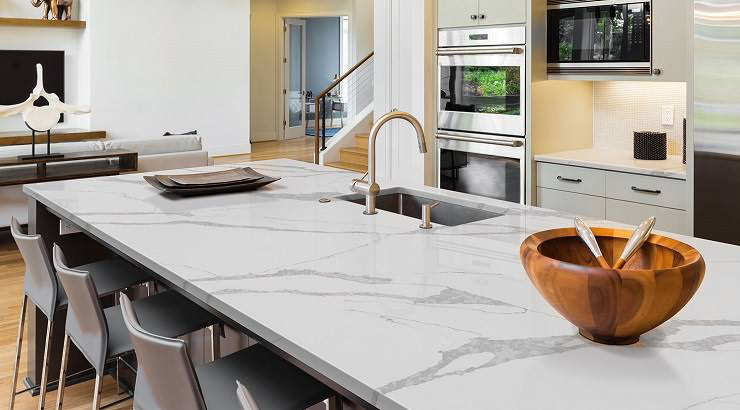 If you're a homeowner searching for fashionable countertops, quartz countertops are ideal choices. In recent years, quartz countertops have gained popularity, and with their perks, the trend is undoubtedly here to stay.
Quartz is popular because it has a wide variety of colors, designs, it's easy to clean and maintain, scratch and stain-resistant, and has durability. Nevertheless, while shopping for a quartz countertop, consider many elements that can appreciably affect your purchasing power.
When you analyze each component carefully, you will make a more informed buying decision. Therefore, this post will provide information on determining the quality of quartz countertops before buying. But before then, let's delve into what a quartz countertop is.
Quartz Countertop: What is it?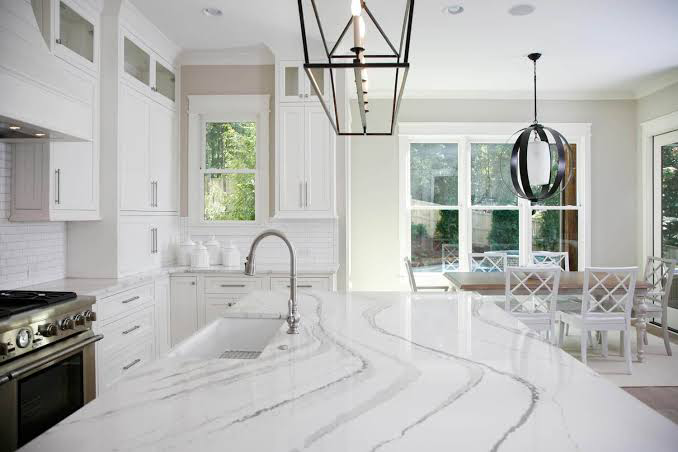 Quartz is a chemical called silicon dioxide. We can obtain a solid quartz slab by fusing quartz crystals with polyester resins binders under intense heat and pressure, then mining the natural quartz crystals into dust or aggregate. Quartz is the second common mineral on planet Earth's surface. Manufacturers get their surfaces from ground quartz mixed with polymers, resins, and pigment.
Quartz's closest competitor is solid surface because both have materials like stone. Quartz should not be mistaken with laminate. Laminate is a material made of plastics, papers and then they will implement it on a particleboard base.
A quartz countertop is an engineered stone counter or human-made material produced from the ground or crushed quartz. The materials give quartz countertops a hard surface. A countertop has visible seams and takes on a massive selection of hues because of pigment during the process.
The pigments are fire-engine red, earthy browns, blacks, and creams with diamond sparkly patterns and veining, giving them the appearance of granite or marble. However, engineered stone or quartz countertops vary from marble and granite countertops.
Quartz countertops are engineered stone, while marble and granite countertops are natural stones. One reason why most homeowners choose the quartz countertop material is that it does not pose any health risk.
If you're more interested in natural stones and how you can incorporate them into your living space, read this interesting guide we have created just for you.
Bear in mind that almost all quartz manufacturers are NSF-certified, meaning that they're secure and can't be microorganisms breeding floor if well-maintained. Furthermore, Quartz countertops do not emit radiation, so they will not cause any damage to your health.
Quartz counters or Quartz countertops have different grades, and we classify each of its levels based on the Quartz countertop material used in their manufacturing process.
To learn more about this gorgeous countertop material, check out our blog on "All you need to know about quartz countertops"
How Identify and Examine Quality of Quartz Countertops Before Buying ?
Here are a few tips to help you determine the quality of quartz countertops, regardless of whether you're ready to purchase new countertops or still planning a budget.
1. Size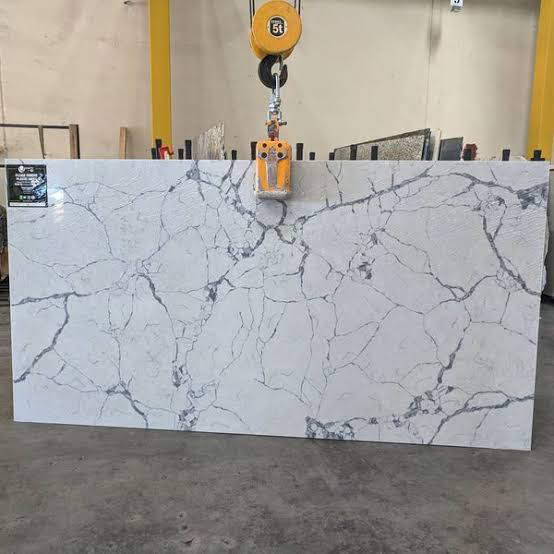 You will need to decide the size of the quartz you want before visiting the market to purchase one for your kitchen countertops. Hence, it would help if you took measurements of the precise length of your Countertop.
You can purchase the correct size as long as you have determined the exact size you want to cover with quartz material. However, your seamless kitchen countertops will rely on how big your kitchen is and how you have structured your lower cabinets.
You can get quartz from slabs, just like granite, but quartz slabs have a maximum length. The most common slab size of granite and quartz is 125″ by 65″. We suggest you call a professional to help you estimate the length and breadth of quartz materials you need. So, you will ensure that you don't buy too little or too much quartz, which could waste your resources.
2. Select Edging
Countertops and counters typically feature an edging that determines their style and price. There are two types of standard edge profile: squared or straight edges and waterfall edges. These edges are suitable for quartz countertop materials that are 1¼ inches thick.
Several edging options have more intricate designs, such as a curved edge (ogee), rounded edge (pencil, beveled, bullnose), and laminated edge. Laminated edges create an extra layer of quartz to give a dramatic look.
3. Choose body color and design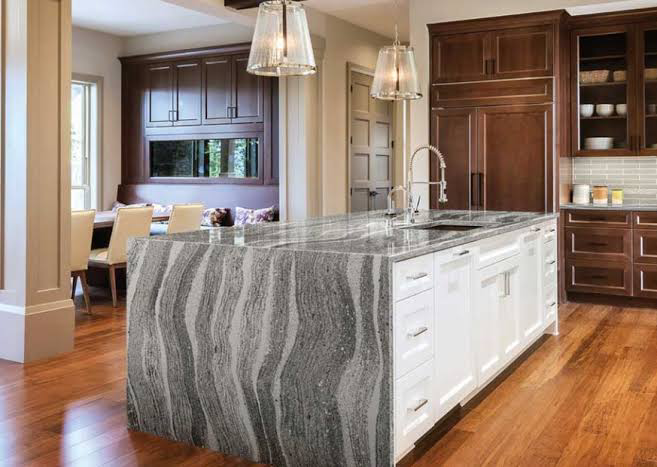 Many quartz surface manufacturers have dramatically changed their product designs over the past few years. A number of the new patterns resemble granite and marble. Substandard quartz manufacturers use less precise mixing and testing procedures, which can cause color variations within the same slab and even between batches.
Quartz countertops producers create different modern designs of elegant and sleek nature, from glass and tile. Quartz designs are limited to that granite, tile, marble, and other natural stone. With quartz countertops, you can customize the color, material, backsplash, and flooring to match any cabinet.
Check this easy way to determine whether your countertops' color is consistent before buying them
See the color between the slabs
A quality quartz slab should have a perfect blend between the slab, and the next slab. It is essential for kitchens with more than one slab. A slab with slight color variations between the ends will show these imperfections when you seam two slabs together.
The color pattern of the slab is a natural look, and it is determined from the combination of color pigments, resin, and quartz. Looking at the slab from top to bottom, you will see veins, patterns, and other designs.
Most high-quality brands like Firenza Stone, Caesarstone, Cambria, and pental use controlled recipes to carry out extensive pigments testing before mixing to ensure consistent color, quality, and a perfect blend.
4. Determine a Quality Resin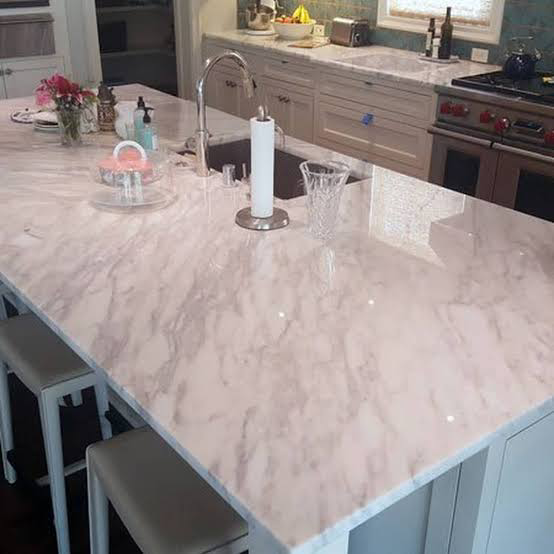 The resin used to make quartz must be high quality, even though it is hard to determine. When examining a slab or sample, it is practically impossible to tell whether a high-quality resin was used or not. Still, you'll need the assistance of a skilled professional that knows where to find premium quality quartz. A countertop slab is held together by the resin, but low-quality resins can fail and cause health problems.
Often, imported slabs sold with warranties contain cheap, low-quality resins. These resins make quartz processing more complex and cause bleached or burned edges during polishing. The premium quartz fabricators avoid countertops manufactured from low-quality resins due to their difficulty fabricating.
Also, the fabrication process may introduce unknown chemicals into the air. Quartz counters do not require sealing like natural stone countertops since they are artificial and non-porous. It implies that quartz counters are healthful and do not harbor bacteria.
5. Polishing
Surface polish consistency is another critical element in determining the quality of a countertop. Ensure that when you stare at the Countertop you're about to purchase, it must be shiny with a consistent smooth. Polishing, honing, brushing, and other techniques are available. Quartz with a good quality shine will have no irregularities or blemishes throughout the counter surface. But in the case of honed countertops, there's no shine at all.
Quartz slabs are available in thicknesses of ½ inch, ¾ inch, and 1½ inch, but Cambria has a one-centimeter-thick slab that can still be utilized to make layered edging profiles. Also, countertop quartz weight ranges between 20 and 25 pounds per square foot. The weight of natural stone countertops, like granite, may weigh the same and even more. A quartz slab might require additional reinforcements and support for cabinets and flooring.
6. Go for thickness
Choosing quartz to meet your application's needs begins with considering the thickness. Quartz countertops are extremely durable and have a solid surface. Since they are made from engineered quartz stone, they are thick and can last longer for decades. An average quartz slab is 1 ¼ inch thick. It is the recommended thickness for kitchen counters and bathroom vanities in general.
Quartz is available in thicknesses of ½ inch, ¾ inch, and 1½ inch, but Cambria has a one-centimeter-thick slab that can still be utilized to make layered edging profiles. Most people go for quartz counter solid surfaces because they're waterproof and stain-resistant.
However, they are still susceptible to stain and damage if exposed to direct sunlight. Hot pans may burn the resins if you don't use a hot pad. Therefore, use a cutting board, clean spills speedy, and a hot pad to guard them against hot plates and pans.
7. Price
Quartz countertops differ in price between $50 and $150 per square foot. Factors involved in the price include the type, size, edges and surface, cut-outs, texture, and other modifications. According to its square foot, if you're going for an excellent quartz countertop, the price will range from $50 to $65.
At the same time, a higher quality of quartz countertops first-class ranges between $65 to $75 per square foot. You will need approximately $1,500 to $3,500 to purchase a durable quartz countertop.
8. Service Warranty
Most manufacturers issue warranties against manufacturing process damage due to the durability of quartz counter tops. The reason is that choosing among so many factors and choices can be overwhelming.
The manufacturer's warranty is one excellent condition to consider before buying quartz countertops. The warranty assures that you are purchasing a quality product, and you can create an alarm if you notice any manufacturing defect. Quartz counters with a warranty are durable than other countertop materials without them.
Conclusion
We recommend you go for white quartz countertops since they require very low maintenance and are extremely durable. Their durability is irrespective of their pattern, resin, or materials used in manufacturing them. Cleaning white quartz countertops is easy because of their non-porous surface.
On the other hand, both granite countertop and marble are porous natural stone, allowing liquids to penetrate. Quartz does not require special maintenance. When spills happen, use a little soap and warm water to clean the quartz surface. So if you make use of harsh chemicals, they may damage quartz surfaces.
However, it is important to work with a reputable professional to make sure you get high-quality quartz countertops. Poor quality slabs won't last and will detract from the appearance of your home. So it would help if you search for a trusted one.
Do you want to get the best quartz countertops in the market today? Send us a message right now.