One of the most important things to consider when it comes to your home's interior finishing and design is the tiling or flooring. Of course, the quality, durability, and overall outlook of your flooring typically depend on the type of stone tile design that was used.
Although many synthetic options are readily available in your local stores, natural stone flooring is more popular amongst homeowners due to its extensive durability. The only problem is that no two tiles are alike; many variations of natural stones available on the market imply different qualities, colors, and options to choose from. Hence, it might be a little bit confusing to come up with an ideal choice for your home.
That's why it's critical to highlight the common types of natural stone tiles for kitchen or bathroom, their pros, cons, qualities, durability, and all. With that, it'll be easier to make the right choice of flooring material for your new home.
What Is Natural Stone Flooring?
Natural Stone floorings are all those types of stone tiles that are made of a variety of mountain-born mineral substances as opposed to any synthetic stone products.
The fact that natural stone tiles are obtained directly from the earth makes them more solid, durable, and even fashionable in many ways. Their solidity and durability also mean they are suitable for living spaces where heavy foot traffic is expected.
Another interesting aspect of natural flooring is that despite their high-end qualities, they're very easy to maintain and are relatively affordable.
Types Of Natural Stone Tile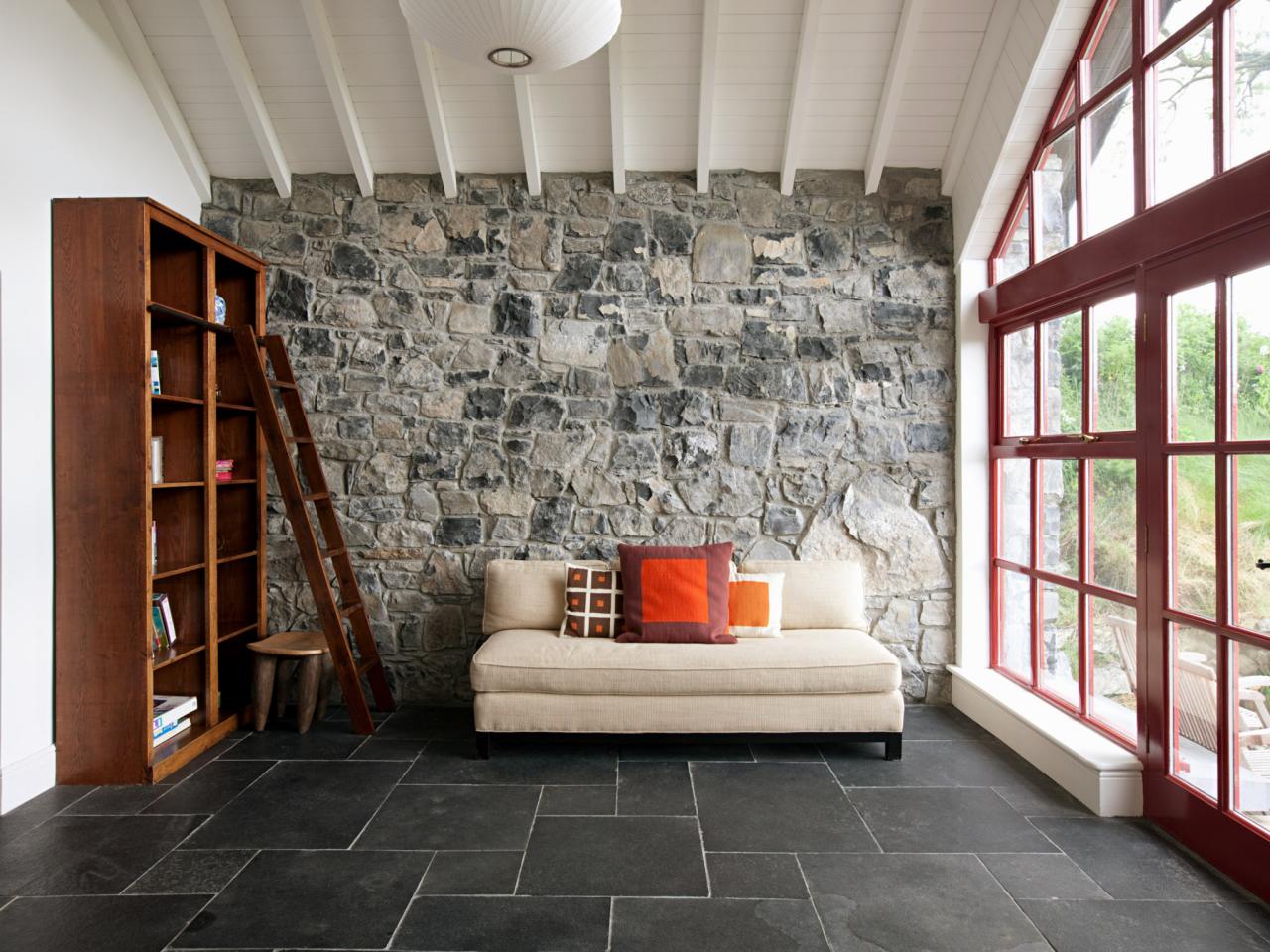 Among the different types of stones suitable for your home floors, the 5 commonest include
Marble Flooring
Slate flooring
Granite
Limestone Flooring, and
Travertine Tile Flooring.
let's take them one after the other to help you figure out which is most suitable for your specific needs.
1. Marble Flooring
Marble materials are a household name for most flooring experts around the world. This could partly be due to their stunning appearance and their availability in a variety of colors and patterns.
Most homeowners who prefer a classy outlook would choose marble flooring. Although the material is a little more expensive than some other stones, it is a worthy investment, considering the elegance and class it provides (especially when properly polished).
Marble flooring material is formed through the crystallization of limestone under the ground via the interaction of high temperature and pressure. This means it's fairly solid and can stand the test of time.
The only downside, however, is that you need some precautionary measures and appropriate cleaning (with non-acidic tile cleaners) if you must maintain the sparkling beauty of marble.
Pros
Marble is a premium material which reflects in the price. Hence, it's ideal for living rooms.
Marble has one of the most stunning outlooks in terms of flooring application, thanks to the beautiful colors and patterns
Marble stone tile is made of natural material and is readily available across the globe, so there is never a shortage of supply.
Natural materials are eco-friendly and bring an element of nature into your home.
Cons
Marbles are pretty expensive
They require protective sealant during installation.
They are typically not resistant to stains and are liable to permanent stain damage.
They offer little resistance to wear when exposed to acidic foods like citrus, tomatoes, etc.
2. Slate Flooring
Slate is a fine-grained metamorphic stone of sedimentary rock origin made up of quartz and shale.
Since slate stones form in horizontal layers, they can be separated into different layers of smooth tiles with enormous strength and solidity.
One interesting feature of slates is that they're ideal for outdoor flooring applications due to their rustic outlook.
They can also be useful for indoor surfaces like entryways, kitchen floors, swimming pool decks, or other surfaces that pose a risk of slipping accidents.
Most flooring experts also recommend slate materials for roofing since it has low water absorption and resistance to harsh weather conditions.
Pros
Marble stone flooring is very solid, durable, and resistant to harsh weather conditions
They're ideal for both outdoor and indoor surfaces
They provide low water absorption
The textured surface makes them more slip-resistant
Compared to other types of stone tile flooring, marbles are more resistant to stain and require little maintenance
The rustic appearance of dark brown slates is great for kitchens and bathrooms.
Cons
Although slates are hard, they're also brittle and can crack or chip easily if something hard drops on them.
Uneven subflooring increases the risk of cracks
The hard surface of slates makes them less comfy to stand or walk on for extended periods.
3. Granite Stone Flooring
Granite is one of those natural stone flooring alternatives generated from the cooling effect of magma under the earth's crust after so much heat.
The presence of various minerals like quartz and feldspar gives the stone a granular texture and composition. And the fact that it's formed out of intense heat and pressure means it's a very tough and non-porous stone, plus it's resistant to common household kitchen acids such as vinegar, citrus juices, sodas, and tomatoes. Compared to stones like marble, granite is heavier, more durable, and resistant to staining.
Although granite stone can be used for countertops (kitchens and bathrooms), they are more widely recommended for floors that are prone to heavy foot traffic.
Moreover, the consistency of the granite stone floor can help regulate the internal temperature of your room, making it not so cold during the winter and not too hot in the summer.
Pros
Granite natural stone flooring is highly durable and suitable for heavy pedestrian traffic
It's resistant to household acids.
Granite is available in a variety of patterns and colors, giving you multiple options to choose from
It resists dirt and stains
Granite tiles are resistant to allergic reactions because they are a less porous stone
Granite tiles typically increase the value of your property.
Cons
Granite is less porous, meaning they are heavier; hence, it's more difficult to install the floor.
The installation process of the floor is complicated and cumbersome
When granite comes in the form of a highly polished tile, It can be quite slippery and unsuitable for children.
They are fairly expensive.
4. Limestone Flooring
Limestone tile is another common natural stone flooring option you can try out if you want something porous, soft, easy to clean and maintain.
Limestone is a kind of sedimentary stone originating from the buildup of organic matter (microscopic fragments of fossil) and calcium (animal shells) that solidify over time. Other minor constituents that are present in limestone are feldspar, clay, iron carbonate, pyrite, and quartz.
Available in multiple colors, limestone is resistant to slip and is a perfect choice for living rooms, bathrooms, and pool pavements — especially for older people and children. However, since they stain easily, they are not recommended for the kitchen floor.
Pros
The stone is available in different colors and earth tones including creams, beige, yellows, soft grays, and browns.
Just like most natural stone flooring, limestone stands the test of time.
It has versatile applications and can fit virtually on any surface.
It is always fashionable, thanks to its ageless beauty.
With proper finishing, it feels very smooth and comfy.
The value of flooring tile largely depends on how much maintenance it requires, and It requires little or none.
It offers your property high resale value.
Cons
Some types of limestone (although hard) are quite brittle and can chip easily even in the installation process.
Some types typically require treating with a sealing agent; otherwise, they are prone to easy damage.
5. Travertine Tile Flooring
Last but not least on this list is travertine stone tile. Among the different types of stone discussed on this page, this is the least expensive. But that doesn't mean the quality is in question. In fact, travertine stone is more like a type of limestone formed by mineral sediments from natural springs.
In other words, travertine is a kind of sedimentary stone that develops from hot springs which melt the underlying limestone. The dissolved limestone hardens again over time and as a result, has many tiny air pockets on the surface.
Of course, this structure gives travertine stone tile a rustic look that can only be compared to the stones of the roman empire. That's why it remains treasured by homeowners who crave classical designs both on their floor and walls.
However, since travertine is a very spongy stone, they are more susceptible to stains and should be concealed with a sealer.
Pros
They are one of the easiest stone types to install.
They come at a very affordable price
They have a rustic, yet, very beautiful appearance
They provide an earthly tone that appeals to nature
Feels soft and comfortable
Cons
They are a bit more challenging to maintain
Their soft and porous texture makes them susceptible to scratching
They are highly absorbent and can wear down over time (when exposed to water often)
They are prone to stain and hence require protective sealant.
Final Words
Natural stone flooring, no doubt, is an amazing way to accentuate the beauty of your home.
However, choosing a beautiful floor tiles design might become a little tricky. Well, not when you duly consider the peculiarities of each of the available stone types ranging from the color, texture, and chemical compositions, to the solidity, longevity, and overall pros and cons.
Of course, it's now easier to come up with the desired stone tiles for your home floors and walls, given all that is discussed in this article. Do you want to change the outlook of your home with natural stone flooring? We got you covered. Contact us right now and let's give you some ideas.