Granite thickness is now a contention as modern bathroom and kitchen designs change. So, material providers must adapt their strategies in response. Many years ago, a 2cm slab served as the industry standard, and it is simple to get a broad range of colors and sizes at that thickness.
However, in interior design, beauty sometimes takes precedence over functionality. And that's why the 3 cm (about 1.14″) slabs are now famous. So, which one is best for you? Continue reading to find out how thick a granite counter should be. And to decide on the granite or quartz thickness for your countertop project.
Standard Granite Countertop Thickness Options
Typically, there are four forms of quartz thickness used for countertop manufacturing. And centimeters are used to measure countertop thickness. Before now, 2CM was the industry standard. Now, industry standards are 1 CM or 1.2 CM, 2 CM, 3 CM, and 6 CM. The 1 CM is equivalent to 3/8″, 2 CM to 3/4″, and 3 CM to 1 1/8″.
See also: Common Granite Countertops Problems and How to Avoid Them
1. 1 or 1.2 Centimeter Granite Slabs
This is the thinnest of them all. Thin granite countertops are so weak that they need additional support, particularly for the overhang. The most common application for 1CM quartz countertops is in prefabricated countertops with a laminated edge. The slab often comes with pre-laminated and pre-polished edges.
2. Two Centimeter Granite Slabs
Granite slabs with a two-centimeter (2 cm) thickness were the previous industry standard. While it remained a preference for some, 3 cm thickness has emerged as the new norm for kitchen counters.
2 cm granite slabs have gone out of style because they are stressful and expensive. When installed, one will need a plywood substrate or support layer. The major causes of their decline is the need to laminate an additional strip onto the front-facing borders to create your countertop edging surface.
Find out the 10 Mistakes to avoid for your granite countertops.
3. 3 CM (Three Centimeter) Countertops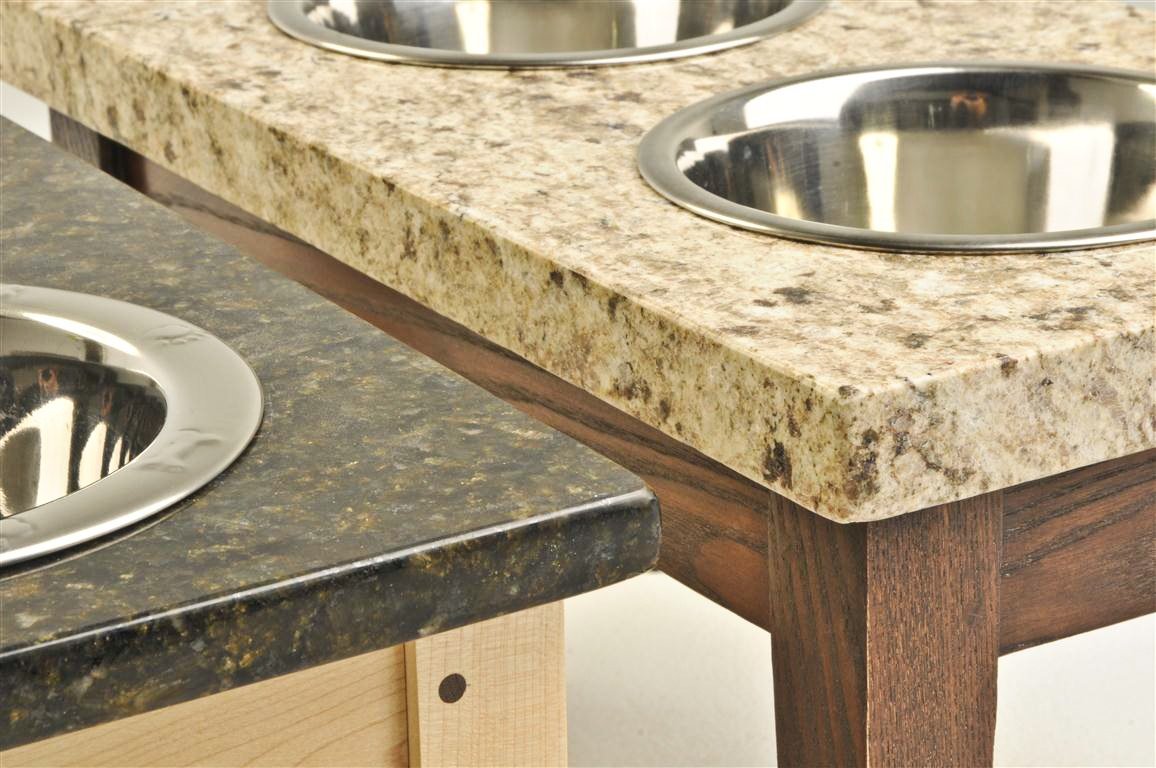 Many owners choose thicker slabs because of their appeal. Thicker countertops measuring three centimeters (3 cm) are the new kings of the castle. With their 33% granite thickness, you won't need to add plywood support. Also, there will be no need for extra lamination under your granite countertop.
4. 6 cm Thick Granite Countertops
Many homeowners lay two slabs of 3 cm granite. Thus, it will create the Mastodon for eye-catching kitchen countertops.
Factors To Consider
When selecting natural stones for your bathroom, kitchen, or outdoor areas, you have several options. If you wish to install a granite slab, there are more choices to find the ideal match for your home accessories. The following are some factors to consider when choosing granite.
Check out How to choose the right granite countertops supplier in Cleveland.
1. Design
The design is an excellent spot to start any conversation regarding kitchen and bathroom remodeling. Natural stone countertops aren't any different. It is better to begin with, the ideal style and space outcome. This will enable contractors to recommend solutions that maximize the effect and budget.
Consider the color schemes and architectural details in the surrounding granite surfaces. Granite comes in color variations, and we advise you choose colors that complement the kitchen cabinets. Besides color, consider the granite slab's pattern while investing in it.
Different patterns give different looks, as speckled granite slab gives a dramatically unique effect. You can select plain textured stone with darker colors if you want a minimalistic look. Countertop thickness may appear to be minor. But experimenting with different thicknesses in your design picture may reveal otherwise.
See also: Tips On Choosing Stone Countertops For a Bathroom Upgrade.
2. Cost
The budget always takes precedence over design. That said, there are solutions for meeting design criteria while minimizing expenses. If you have a big kitchen, there are ways to include larger slabs without breaking the bank. To figure this out, sketch up your countertops with a few critical details.
Measure the area of your countertop. Also, note any featured spaces such as islands or bar tops.
Keep track of any cutouts or cuts needed. This includes unfinished ends, sinks, cooktops, and so forth.
On your layout, draw an extra seam. Though, you may not ascertain this until you have chosen your granite and the size of your slabs. If you're unsure how seams will function, consult your installation contractor.
With this data, most contractors can offer you an accurate estimate of granite costs.
Find out How to choose the best stone countertops for your bathroom
3. Availability
You may have fewer color and design options if you desire thicker granite. When dealing with natural stone, getting big chunks of complete, clean-surfaced stone might be a challenge. The thicker the stone, the fewer pieces most suppliers have in store.
Visit your initial design aesthetic to evaluate if there is an opportunity for improvement. It is a fantastic approach to getting the desired granite thickness. Also, it may save you money. At Firenza Stone, we'll tell you exactly what we can gain and when you have to decide.
Buy the stone as soon as you learn it is available. Even if your job is a long way off, you'll be better off if you can get it. Natural stones properties are scarce. And getting what you want might have a great impact on project satisfaction once the task is complete.
Bottom line
Always consider your granite countertop thickness when remodeling your kitchen. This is because it may affect the overall cost and design ideas. In a nutshell, thick granite countertops are more expensive since they require more material. On the flip side, thinner countertops may cost you more in the long run because of durability difficulties.
So, before committing to a design, ensure you go through the factors we discussed above to make the best option possible – and stick to it.
FAQs
1. 2cm Or 3cm, Which Is Better?
Many countertop fabricators, engineers, and builders recommend three millimeters as an average thickness for both quartz countertops and granite counters. 3CM has the most durability, size versatility, and color possibilities. You may install a 3CM material on your cabinets without plywood.
2. Is Thicker granite Better?
The thickness of your granite countertop will have two significant effects. First, thicker slabs of granite counters are more expensive. Thus, the thickness of your slab will affect the overall cost of your project. Second, thicker slabs have more durability.
3. How Thick Is A Normal Countertop?
A solid surface countertop is available in three standard thicknesses: 1/4″, 1/2″, and 3/4″. Soapstone is 1-1/4″ cm thick, marble countertops are 1-3/4″ to 2″, concrete is 1-1/2″ to 2″, and engineered stone is 1-1/4″ cm thick.
4. What Level/Grade Of Granite Countertop Is Best?
Grade 3 granite counter is the best of all. Grade 3 granite countertop is the most costly. Not just that, it offers the best quality, rare patterns, and colors. Plus, it has a notable number of soft and hard minerals.