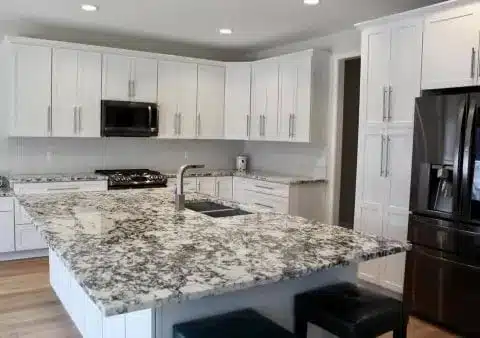 Granite countertops are beautiful but can become a pain if you get the wrong granite countertop thickness, and this is due to several reasons, as will be discussed throughout this article. Choosing a thin granite countertop means that there's is only so far you can go in terms of width to prevent the countertop from snapping in the future.
Well, does that mean you ought to choose the thickest countertops available in the market? Not exactly, because that would be a waste of your money if the size of your countertop doesn't really require it. This article will guide you when choosing the perfect granite countertop thickness for your kitchen and help you also show your friends how to do it.
A Little About Granite Countertop Thickness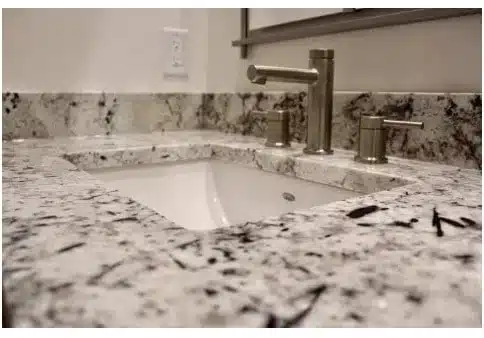 Granite countertops are getting lots of attention in the kitchen and bath design industry. In fact, they are the most used and most popular after quartz countertops. The reasons are barely far-fetched. Granite is a natural stone that is very tough, durable, and highly heat resistant. It is scratch and stain resistant, and that gives you one less thing to worry about in your kitchen maintenance.
Granite countertops also provide great natural aesthetics. Now, who doesn't want all of that?
Choosing the right thickness of granite countertop is as important as using granite stone for your bath or kitchen design. We'll tell you why, but before then, let us answer the question, "how thick should my granite countertops be?"
Although there are some controversies around the industry standard thickness for granite slabs and countertops, the standard granite countertop thickness is 3 cm. A lot of homeowners and installers still stick to the previous industry standard of 2 cm thick, mostly because of their peculiar needs and goals. There are different thickness options that we would explore, but not before we clarify why thickness matters.
Check out this article on Common Granite Countertops Problems and How to Avoid Them
Why Does Thickness/Girth Matter?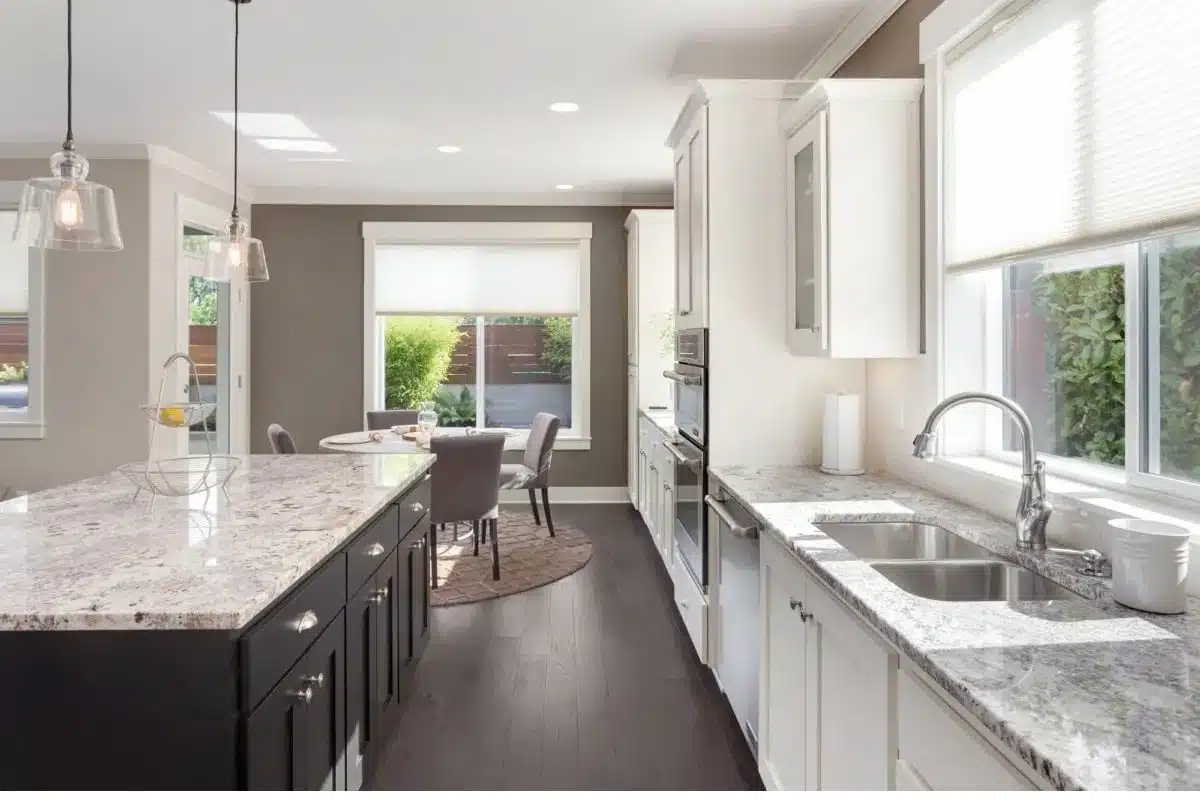 Well, the thicker, the better; that holds true for so many things in a happy home, including granite countertops.
So, why does depth matter? This might seem like a question with an obvious answer, but why assume? We are sure you need as much information as you can get. So let's get right into it. Granite depth or width matters because;
1. Thicker Countertops Cost More
Before deciding how thick your granite slab should be, bear in mind that thicker options will require more material and therefore affect the pricing and overall cost of your project. You want to count your cost and be well prepared to bear it as conveniently as possible.
2. Thicker Granite Slabs Are Generally More Durable
The greater the 'cm' width of your cabinet counter, the less prone it is to cracks and splits that may occur with time, especially with marble countertops that are not as hard as granite.
3. Granite Thickness Should Match the Needs And Purposes
Countertops in the kitchen and bath serve different purposes and meet different needs. The depth and weight of the granite are important to meet their specific uses. This is especially true for kitchen slabs where there's a high probability of objects dropping and pressure due to cutting, heating, etc.
4. Aesthetics
The depth of the granite also affects the overall aesthetics of your kitchen and home design. So, having a home decor end goal in mind will help you choose the perfect width, colors and patterns, texture, and orientation to achieve your goal.
See also: How To Find The Right Granite Countertop Supplier
Factors To Consider When Deciding on Countertop Thickness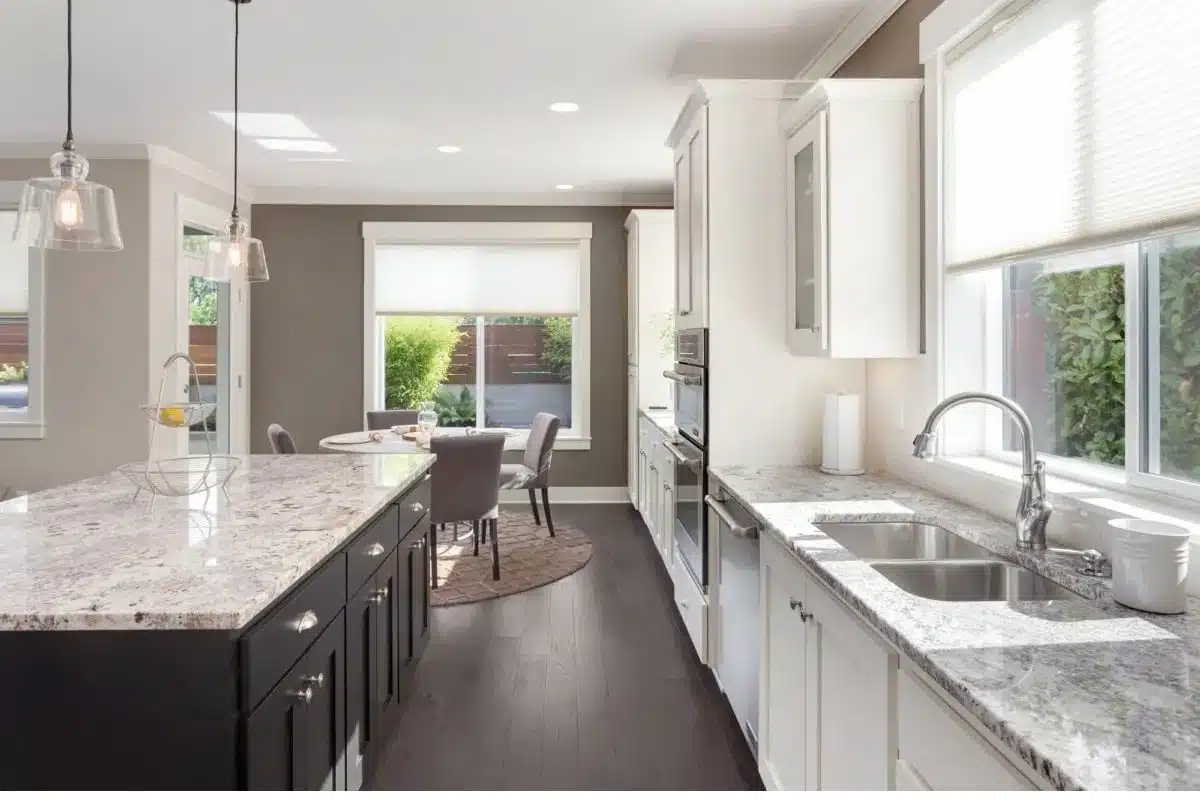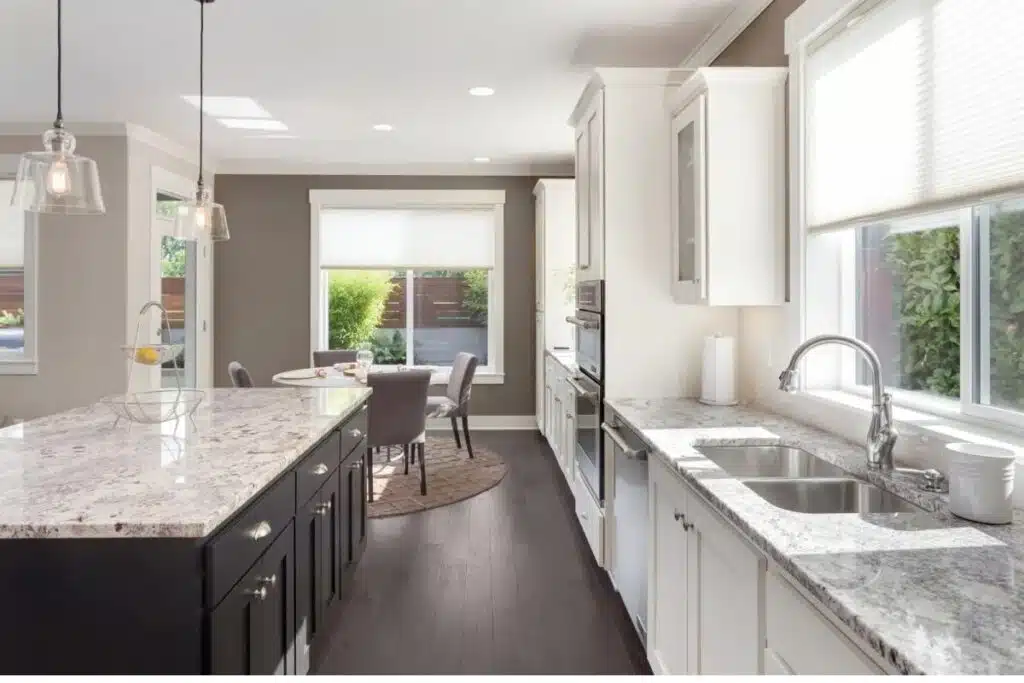 To help you make a good decision, here are five important factors you should examine. Paying attention to these factors will help you make a clear, firm, and unwavering decision about the thickness of granite and other natural stones in your home.
1. Your Budget
For many homeowners, this might be the most important factor you'd have to consider. Make sure that the cost of granite per thickness does not exceed your budget unreasonably without compromising quality. If you have to go as thin as 1 cm to cut down cost, you'd need plywood support on top and below (for extra support) for reinforcement.
2. Color
Thicker granite stones are mostly available in darker colors. So, if you're considering thicker options for your stone countertop, you might want to ask yourself if you'd be willing to use a dark color for your design.
3. Location/Placement In The Home
This is equivalent to the use, need or purpose the slab of granite would be expected to serve. You want to make sure to install the countertops with a thickness that is well suited for its purpose. A granite kitchen wall is not expected to be as thick as the kitchen island countertops and vice versa.
4. Aesthetics
Keep your desired style in mind when choosing options for countertop thickness. Thicker slabs give a bold, modern, and contemporary feel and style, while thin slabs give a sleek, delicate look.
You would love to read some Amazing Granite Kitchen Countertops Ideas Every Homeowner Must Know
Variety of Thicknesses For Granite Designs: Pros and Cons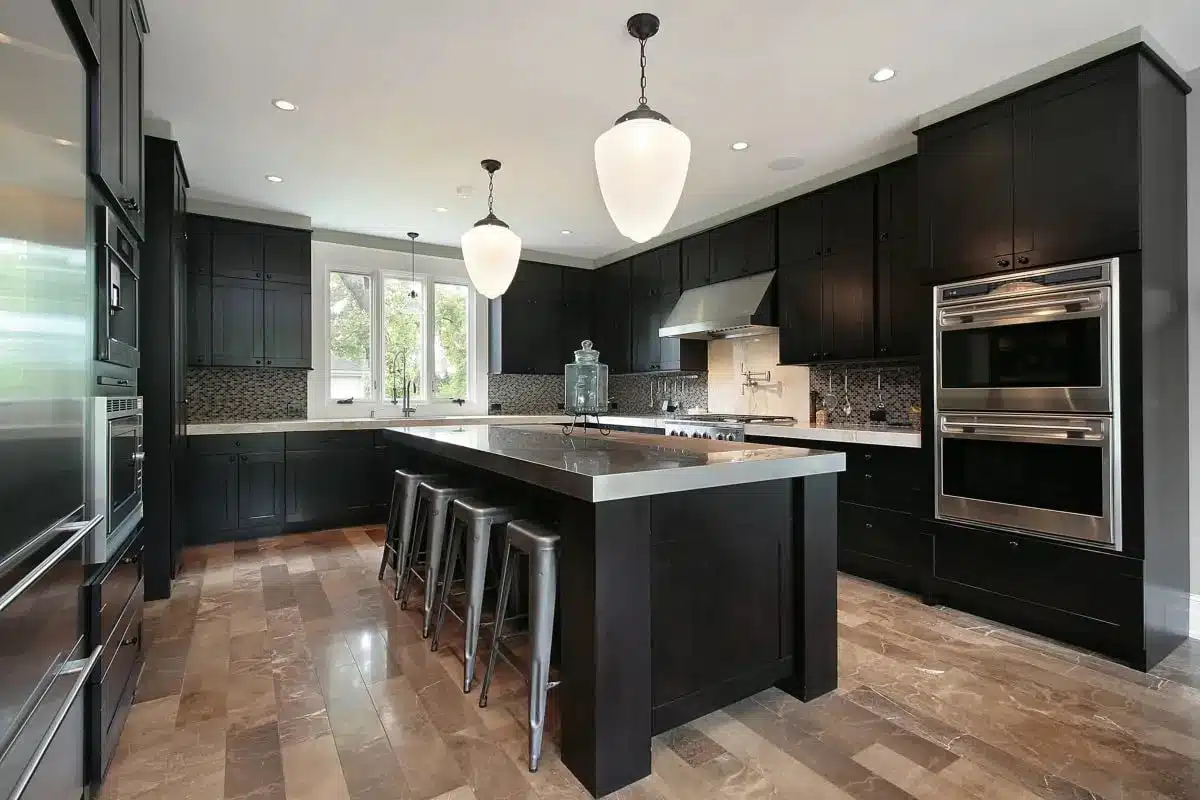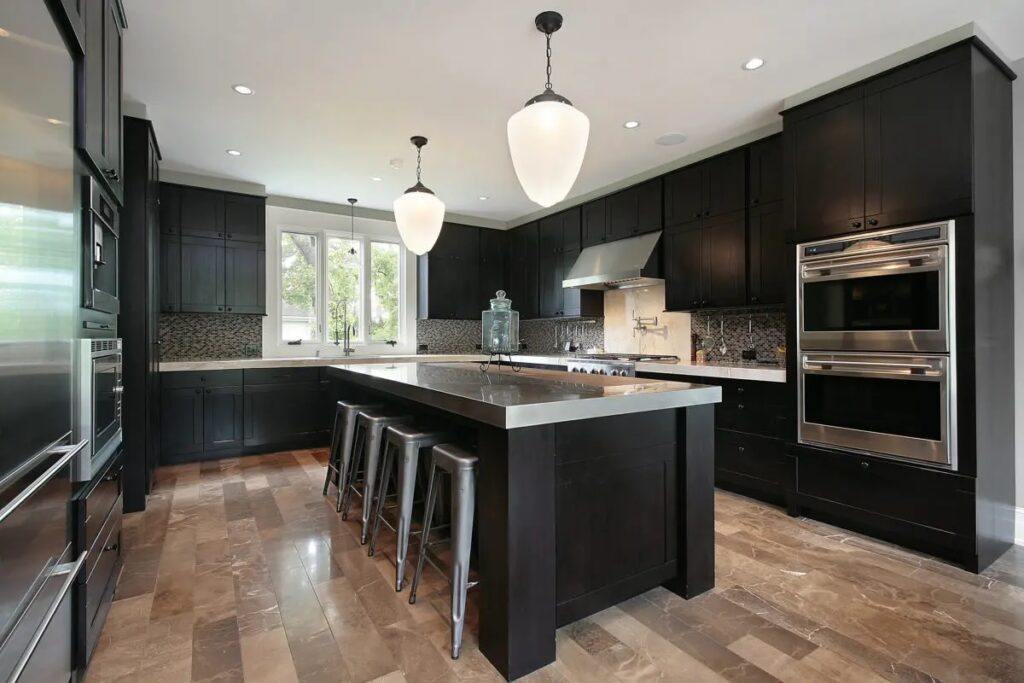 Consider the various sizes mentioned below, bearing in mind that slimmer counters should not be built too wide. However, it is important to choose what works for your home.
1cm to 1.2 cm (¼ inch)
1 cm depth is more common with prefabricated countertops, which is why they are very cheap (and less durable) than custom-made ones. Countertops as thin as 1cm are quite delicate and fragile that they need to be reinforced adequately for support, especially when used for overhang. A great option for kitchen countertop backsplashes.
2 cm granite (¾ inch)
Countertops with 2 cm thickness used to be the standard before thicker countertop options stole the show and are considered the average thickness in most home designs. Countertops with 2cm granite thickness usually involve extra work because the installer has to ensure that the 2 cm slabs are thinned out and would also need to add plywood support layer during installation to prevent sagging or breaking.
3 cm granite (1 ¼ inch)
Countertops with 3 cm thickness are steadily making their way to the frontline in kitchen design. Many homeowners prefer 3 cm thick slabs because of the modern and contemporary look. Also, 3cm countertops require less work because they give enough support and do not require extra reinforcement.
Two slabs can be layered for thickness options more than 2 cm or 3 cm if they're not gotten custom-made. Extra lamination is also a good option to create an illusion of depth. You can laminate an additional strip of the stone for more depth or to make the front-facing neat and attractive.
Avoid taking chances and making costly mistakes by learning The Effect Of Oven Cleaner On Kitchen Countertops
Is Granite Difficult To Maintain?
Granite is a hard natural stone with high resistance to stain, heat, and scratch. Daily cleaning is quite easy. However, it is advisable to get an extra seam or seal when you install a new granite structure to ensure that dirt does not get in between. That can be very difficult to clean. Also, note that not all varieties of this stone require sealing. You do not have to seal often. Sealing done excellently can last for a lifetime.
Does A Crack Mean That The Countertop Is Weak?
A crack may happen for various reasons like poor installation, user accidents, below-standard thinness, stress or pressure due to transportation, etc. That doesn't indicate weakness. If you notice a crack in your granite countertop, be sure to find out why it happened. If the cause isn't profound enough to make it crack, it's probably because the countertop is too thin.
Getting a professional to install your countertop is quite important so that you get good value for your money. Give us a call if you need help with installation and repairs.
Can I Get Good Options For Granite In A Showroom?
Absolutely. You do not need to go all the way to the factory to get good color, depth, pattern, and texture options. Walk into any of our showrooms closest to you and request to see the options available, or tell us your preferences if you have an idea in mind already.
Pay attention to this and save your home from looking pale and disorganized: Do's And Don'ts Of Choosing Cabinets And Countertops
Conclusion
Answering the question, "How thick should your granite countertop be," should be a walk in the park for you now. Remember that the thickness of your countertop should depend on the size of the counter, your budget, location/placement, and the aesthetics you want to create. Whatever you choose, ensure to speak with an expert for directions before making a choice.
Send us a message today to get the perfect granite countertop for your kitchen and never have to worry about the consequences of choosing the wrong one.