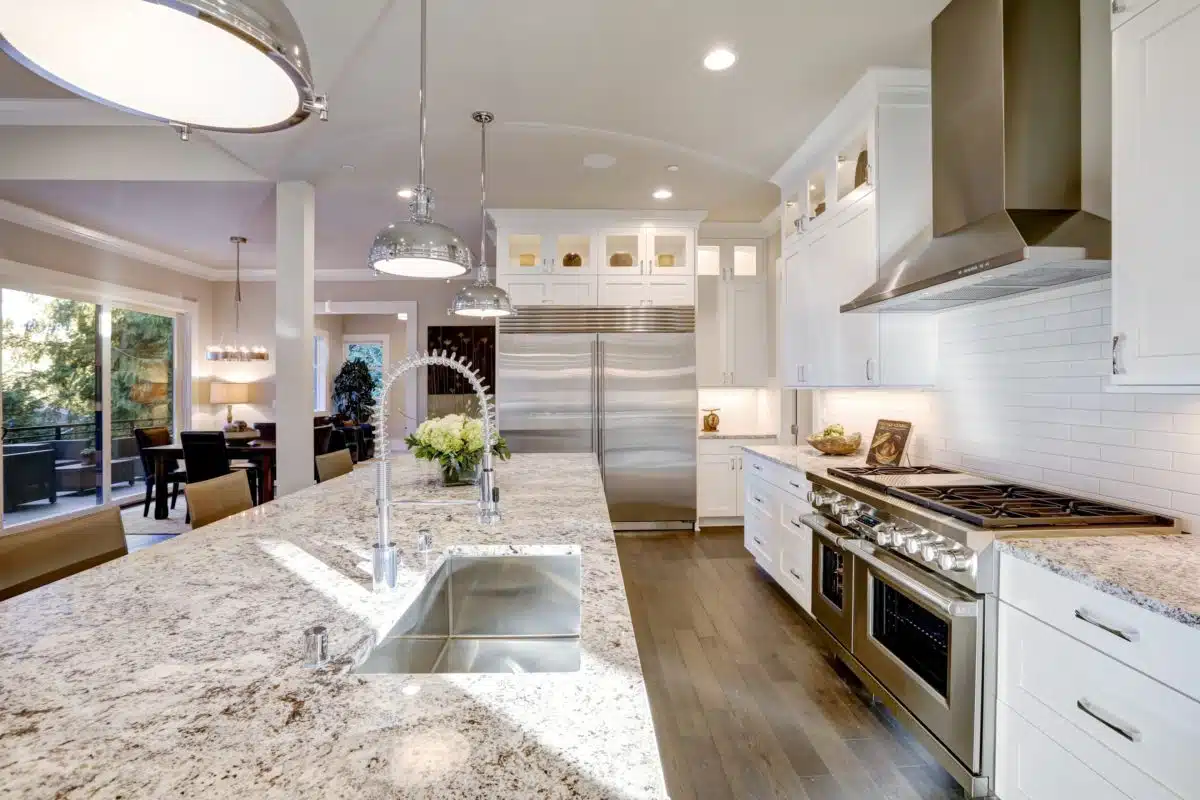 Granite kitchen countertops are homeowners' favorites due to their exceptional durability, low maintenance, and because they are downright classy. Of all other natural stone materials used in kitchen designs, granite is no doubt the most popular one yet.
Aside from its appearance, its other amazing features are what make it the go-to material for standard kitchen designs and upgrades. It is stain-proof and exceedingly tough to the extent that it rarely ever gets scratched. Placing blazing hot kitchen items on them would have no effect whatsoever. They come in a spectrum of shades and colors ranging from blue, white, black, yellow, tan, grey, yellow, red, and orange.
Granite kitchen countertops come with different design patterns each unique to itself, which makes them the perfect complement to any kitchen design.
Are Granite Countertops the Ideal Choice for Your Kitchen?
Granite countertops are different from wooden countertops and those made with other natural stones.
The surface of this material is heat resistant and aside from their durability, they are scratch-resistant, relatively easy to clean and they fit into any kitchen setting which are concrete reasons why they are a popular choice in modern-day kitchens.
They look great in any home and let off a sort of down-to-earth welcoming feel. If you want to switch up your concrete countertop for a sturdier solid surface, check out our granite kitchen countertop ideas below.
Natural Stones Complement Most Cabinet Colors and Stainless Steel Appliances:
Getting the core components of a kitchen to complement each other can often be an issue when designing a kitchen. Luckily granite materials can match any kitchen cabinetry and all stainless steel appliances, including your sink.
For your kitchen remodel Cleveland granite cabinets are a great choice. Read through our guide for getting your cabinets to fit perfectly with your granite countertops.
Finding the Right Granite Countertop Material for Your Kitchen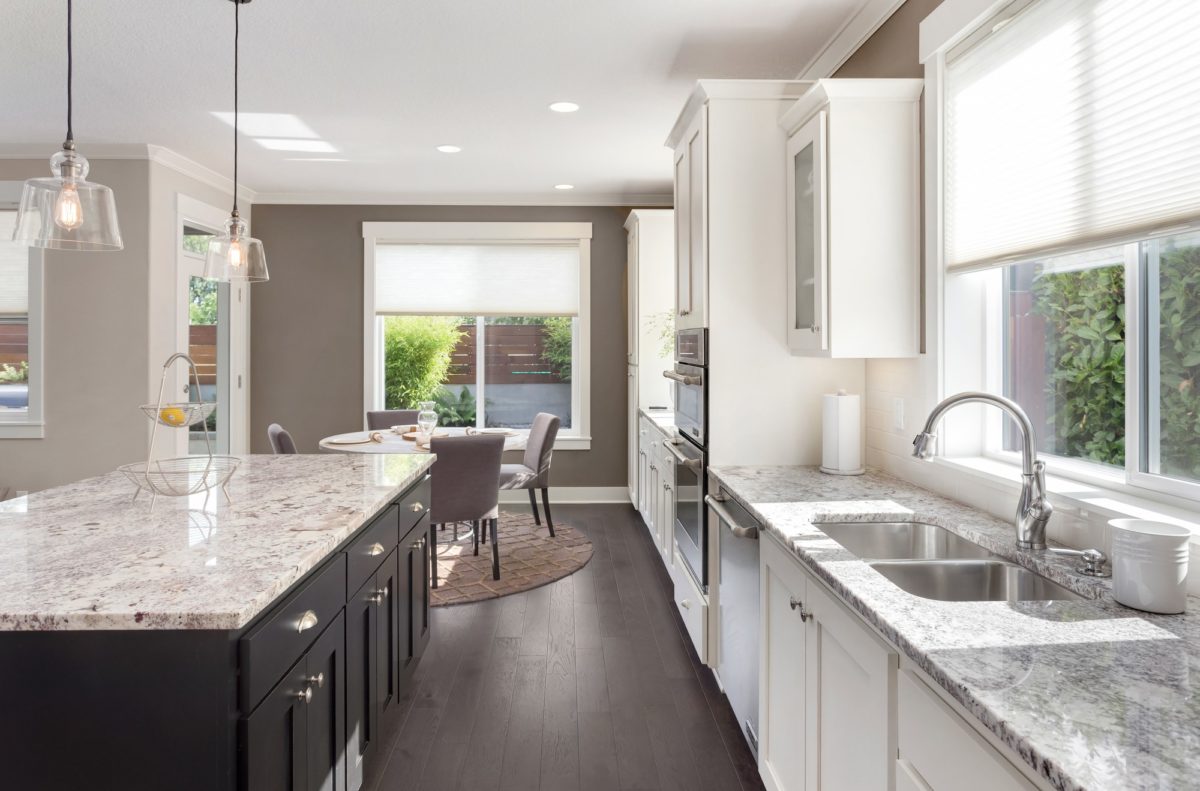 Homeowners whose kitchens feature more natural wood cabinetry should keep this information at the back of their minds while shopping for countertops.
A particularly good countertop fit would have wood-like color tones. It's a lot easier to find the right match if you take a sample photo of your kitchen cabinets to the granite countertop dealer. This can assist them in helping you choose the right one for your kitchen. Look through our compilation of granite kitchen countertop ideas to get the best choice for your family.
Opt for Complementary Colors
It doesn't matter whether you're swapping out your old kitchen cabinets for a new set. There is only one possible way to match your kitchen cabinets with granite countertops– You must go with contrasting colors.
Many kitchen designers usually go for bright and contrasting colors. However, if a less dramatic and more monochromatic style is your preference, feel free to select less flashy granite countertop shades that enhance the general backdrop of your kitchen.
Granite is a favorite choice among kitchen designers and homeowners due to its highly desirable features: It's a low maintenance natural stone that's heat resistant, sturdy, highly durable, requires very little effort to clean, and can't be scathed by scratches.
These, of course, are more than enough reasons for you to give them a thought if you're remodeling or designing your kitchen for the first time.
Choosing the Right Color
Granite kitchen counters come in a wide variety of different colors and an even wider variety of shapes and styles. As such it's a good idea to look into all the available styles and options before making a decision.
While your choices might be almost limitless, it can be a bit difficult to make a decision. If you find yourself in such a situation, some advice from an interior designer can be just what you need. That way you get a second opinion and perhaps some useful tips on your kitchen update.
White Granite Countertops
Homeowners aiming for a sophisticated and trendy kitchen with an unfading homely appeal should consider white granite countertops. A White Granite countertop is an absolute beauty and these fixtures are also capable of lightening up any kitchen.
White granite countertops with a dash of blue or grey have a way of blending in with any kitchen space. Combined with pure white cabinets, their appearance becomes a lot more impactful and are incredibly pleasing to look at, which makes them a good choice for any kitchen.
Black Granite Countertops
Black granite countertops were commonly used in kitchens back in the day. This design is making its way back into modern-day kitchens in a more compelling way.
Matte black mate glossy granite countertops are a great option for making a statement, they also accentuate appliances around the kitchen. Installing a couple of these lets off a sort of effortless elegance around your kitchen space.
Homeowners who want to go all out should consider pairing black Granite countertops with maple-colored cabinets and cream or white flooring, this does wonders in transforming any kitchen from a typical room where meals are prepared to a more exotic and luxurious space.
Granite Countertops for Ultra Modern Kitchens
The kitchen is the heart of every home and of course, this is enough reason to ensure that it looks the part. Nowadays homeowners crave that extra something that can make all the difference, something unique to create an air of sophistication that incorporates the appearance of a modern kitchen as well
If you happen to fall into this category, what you need to bring your kitchen to life are some gorgeous cabinets, a beautiful backsplash, luxurious white flooring, and some natural Granite countertop fixtures.
Regardless of whether you're starting your kitchen design from scratch or updating an existing one, including some granite countertops will help turn your kitchen into an ultra-modern dream space worthy of your family.
Contemporary Maximum Gloss Finish Granite Countertops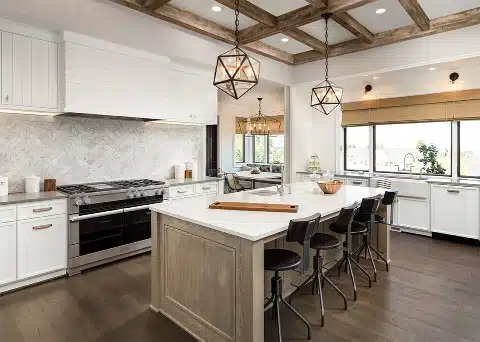 Families that prefer a chic, sleek, modernized kitchen style should look no further than a dark pearl Granite countertop. As far as granite countertops are concerned, this is the smoothest and purest kind without other color traces.
A minimalist pearl black countertop is sublime and complements its surroundings perfectly. For extra effects, try combining them with some glossy white kitchen cabinets and grey walls. You can read our article on how to choose the best finishes for your kitchen.
Stunning Red Granite Countertops
Kitchen design ideas fall under two styles- the neutral style and the dramatic style. Many homeowners aren't particularly drawn to the neutral or industrial look, some like their kitchens to feature much brighter and warmer tones.
Some good examples of such tones include beige, grey, and black. These are some of the first choices that come to mind. However, many people aren't aware that Granite Countertops aren't limited to these colors alone.
These natural materials come in a wide range of bolder colors as well such as yellow, green, blue, and of course red.
Red countertops are an amazing option to include in your kitchen's color scheme, they are certainly eye-catching if you prefer a more dramatic design, plus they can also liven up your kitchen. Red granite countertops can make you see your kitchen in an entirely different light, especially when paired with reclaimed wood cabinets and black or stainless steel kitchen appliances.
These little details can greatly influence your kitchen's appearance, making it look regal, welcoming, and cozy at the same time.
Granite Countertops and Stunning Backsplashes
As mentioned previously Granite is a material that's quite durable and easy to clean. These features come in handy even when adding a backsplash.
When decorating your kitchen try installing a granite countertop partially or you can as well conceal the wall to create a seamless appearance. This combination looks stunning, but when combined with some glass door cabinets, the view is simply out of this world.
Are Granite Countertops Better than Other Materials?
Granite is a great counter material since its surface is non-porous. Natural stone countertops are a wonderful choice for any kitchen because their form and appearance are works of art, they're heat resistant, which means their surfaces won't be damaged in any way if they happen to come in contact with the scorching heat of cooking items.
A Granite countertop is a more viable option compared to a concrete countertop or real marble. These two materials are porous and tend to retain stains.
Granite Countertops are highly durable and can be used for extensive periods. Houses with kitchens that feature Granite Countertops go on the market with a higher value.
How Much Do Granite Countertops Cost?
Unlike most countertops, granite isn't a manufactured material. A slab of this natural material usually comes at a pretty high price. Although, they have been proven time and again to be worthwhile investments.
While these countertop materials are generally expensive, their price tags usually vary depending on the size of the project, location, and the contractor. The thicker the granite slab and the more complex the fabrication style – the higher the price.
The best method of cutting down the price of granite countertops is by patronizing a wholesale distributor. You stand a chance of paying less when you buy in bulk from a wholesale outlet.
Many of these companies often charge their customers a lot less compared to some major home improvement stores who generally charge much steeper prices for both their materials and cost of installation.
It's a great idea to inquire from the dealership you choose to purchase from if they offer warranties in case of damages.
How to Maintain Granite Countertops?
Unlike natural wood counters, this countertop material is relatively easy to maintain. Like other countertops, they can be cleaned by simply wiping the surface and edges with a warm soft cloth.
Standard household cleaning agents are the preferred cleaning choice. Try as much as possible to avoid contact with specific acids and oils, these tend to leave stains.
Final Words
Granite is an exotic and timeless kitchen decor material that imparts a classical yet modernized look for kitchen spaces. If you're interested in a contemporary look, go right ahead and try out any of our granite kitchen countertop ideas. The solid surface and smooth design of these fixtures make for a beautiful and up-to-date kitchen.
Before attempting a kitchen remodel in Cleveland, ensure to check out our gallery of granite colors and surfaces to help you decide which one best suits your taste and the backsplash of your kitchen.
Do you need to revamp your home to boost sophistication? Do you want to create a futuristic home but don't know where to start? You can send us a message or hop on a call with us today and let's help you turn your vision into a reality.