You're in the process of cleaning your oven using a powerful oven cleaner. In your haste to complete the task, you grab the can and spray oven cleaner across your kitchen countertop surfaces.
You instantly wonder, "What impact does oven cleaner have on kitchen countertops?" And how can I fix the damage?" Although there is a possibility that it can be repaired, sadly, the harshness of the cleaner sometimes causes irreparable harm to the beautiful countertops.
So, let's see what we can do to fix this issue.
What Chemical Compounds Are in Oven Cleaners?
Some believe oven cleaners are the only method to remove oil stains from a kitchen surface. Unknown to them that the oven cleaners will cause more harm than good. Why? This is because of the harsh chemicals used in producing them.
Most oven cleaners contain harsh chemicals like:
Caustic soda/Sodium hydroxide or lye
Turpentine
Ethers
Ethylene glycol
Foaming Agents
Methylene chloride
Degreasers
Crystallization agents
The United States Occupational Safety and Health Administration has defined several of these compounds as carcinogenic. These toxic chemicals combine to form a spray foam oven cleaner. It will remove stubborn stains like oil stains. Also, it dissolves greasy residues that stick to the oven's walls and surface. As a result, giving you a shiny oven surface. The result is not the same when using an oven cleaner on your kitchen countertops.
What Are The Effects Of Oven Cleaners On Different Kitchen Countertops?
Cleaning kitchen countertops with an oven cleaner have a lot of effect on the kitchen cabinets. To remove stubborn stains, a heavy-duty oven cleaner dissolves the protective layer. Then, it will seep into the countertop material and cause it to lose its form. After that, it will weaken its strength and become more prone to food contamination.
In addition, the health concerns associated with oven cleaners are many, and it ranges from short-term to long-term problems. Not just that, you may find some of its chemicals in gasoline and antifreeze. In fact, you would never dip your food in these items. Yet you pour them on your kitchen counter where you prepare the family dishes.
Furthermore, toxic chemicals from the oven cleaner may sit behind as a remnant. And it could come in touch with food particles. As a result, many more chemical reactions will occur. Besides, the chemical can leak deep through the kitchen countertops.
Before you go ahead, take some time to learn about the types of countertops: finding the right materials for kitchen Countertops.
In the end, it will cause holes and may even deform your kitchen countertop. Note that the effect of oven cleaners on a kitchen countertop differs. But this depends on its material.
1. Granite Countertops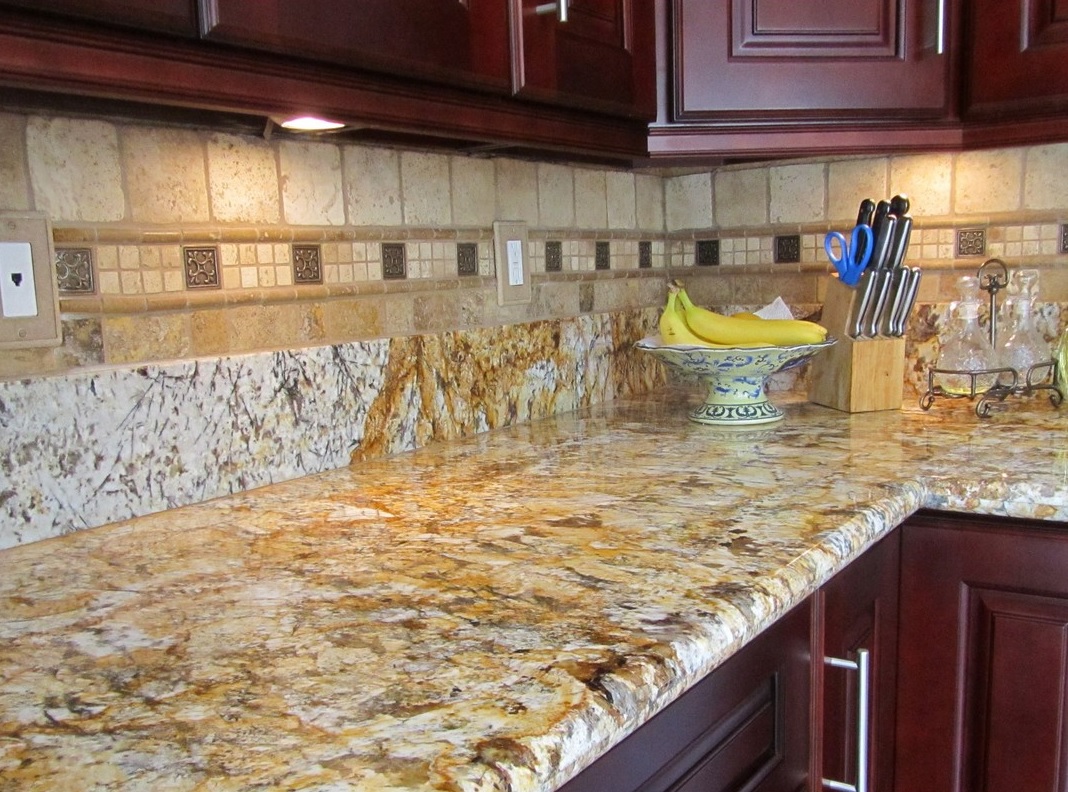 If you clean granite with harsh chemicals, such as an oven cleaner, it will get damaged on time. Typically, this results in your granite countertop losing its original color. Apart from that, it will become less aesthetically pleasing. In most cases, the harm is irreparable.
How To Clean Granite Countertops
We do not recommend the use of strong chemicals and acidic cleansers. Instead, all you need are natural cleaners. So, use warm water, mild dish soap, and a soft microfiber cloth. Avoid using water and vinegar solution because it might dull the granite countertops. It may also degrade the sealant—though there are many other ways to use vinegar around the home!
Also, do not use abrasive cleaners, which can harm the stone. If you have rings, dark spots, or oil stains on your granite countertops, remove them with baking soda and water. Make a paste like the thickness of the dough and lay it on the discoloration. Then, wrap the paste in plastic wrap and let it aside for 24 to 48 hours.
If the baking soda method fails, apply cornstarch to the stain and cover it with plastic for a few hours. Although, the dish soap may clean your countertops. But avoid using those that have citrus fragrances or extracts.
Take your time to read this article on the Common Granite Countertops Problems and How to Avoid Them.
2. Wood Countertops
The effect of oven cleaner on wooden countertops is that it can easily harm them. This is because wood is a natural substance that can decay more than others. So, expect the wood to lose its finish if it has been lacquered or painted.
On the other hand, other forms of wood may absorb the chemical. They may even grow weaker when you apply an oven cleaner to them.
How To Clean Wood Countertops
Mix 1 part white vinegar and three parts warm water in a spray bottle. Vinegar is an excellent natural disinfectant. Allow 10 minutes for the spray to rest on the surfaces. Wipe with a gentle towel to clean.
Otherwise, use the tried-and-true method of mild soap and warm water. Fill the mixture in a spray bottle and spray it. Then, wipe it down and clean the wooden counters with a towel. And leave it to air dry or absorb excess water.
Consider using specific wood oil to improve the appearance of your wood countertops after cleaning them.
3. Natural Stone Countertops
Oven-cleaner components like sodium hydroxide can cause natural stone counters to discolor. However, a natural stone counter withstands the effect of oven cleaner on kitchen countertops better than others. The reason is that many kitchen countertops are made of natural stones.
For example, when you clean marble countertops and granite with an oven cleaner, they may not tarnish. That said, it's not impossible.
See also: How to choose the best stone countertops for your kitchen and bathroom.
How To Clean Stone Countertops
Stone countertops need somewhat different cleaning based on the stone. Therefore, study your specific stone material to see what you need to clean with.
Never presume; always double-check!
On stone counters, warm water, and mild dish soap work well. If you have granite countertops, you must use a sealer to protect them. This solution penetrates the stone and creates a shield. Thereby making the clean countertops far more stain-resistant.
4. Quartz Countertops
Before reading how to clean quartz countertop materials, you must first understand its creation. Quartz kitchen countertops are engineered stone surfaces comprising quartz, polymers, and color. An oven cleaner may cause quartz countertops' surfaces to discolor. The reason is that polymers in the resin are lighter than the quartz.
You would love to see: Are Quartz Countertops a Good Choice For Your Kitchen?
How To Clean Quartz Countertops
One piece of advice for cleaning quartz countertops is to remove spillage with hot water and mild soap. Get a glass sponge for non-stick frying pans, mild soap, and warm water. Use these to remove stains that have dried on your counter. Grease spills and food splatters may wipe off when you use moderate degreasing chemicals.
5. Tile Countertops
It's not a good idea to use oven cleaner on kitchen countertops. Spraying oven cleaners on tile surfaces will eat away at the top finish and affect the grout.
Oven cleaners are not the solution for cleaning tile surfaces.
How To Clean Tile Countertops
Prepare a mixture of warm water and dish soap in a small mixing bowl or spray bottle. Clean the tile with a sponge or microfiber towel until they sparkle like new. If you want to take a more do-it-yourself approach, buy an exceptional grout cleaning agent. This will leave you with a brand-new, spotless grout surface you can maintain.
6. Stainless Steel Countertops
Applying an oven cleaner on steel countertops may cause permanent stains. The reason is steel counters can't withstand the strong chemicals in oven cleaners. Because of this, never clean a stainless steel countertop with an oven cleaner.
How To Clean Stainless Steel Countertop
Keep steel countertops clean using warm soapy water every day. Stainless steel is excellent for kitchen counters because cleaning it is often not too challenging.
Find out Tips On Choosing Stone Countertops For a Bathroom Upgrade.
Best Cleaning Agents For Kitchen Countertops Without Using Oven Cleaners
Below are the best kitchen cleaners with no harsh chemicals;
Stone pro deep, heavy-duty cleaner: You can quickly get rid of stains and dirt on your natural stone counters by using our stone pro deep, heavy-duty cleaner.
Mangia macchia spot and stain remover: This is the best for quickly removing food stains! It neither alters the kitchen counters' color nor harms its finish.
StoneTech Oil Stain Remover: It is good at removing stubborn stains on natural stones. Stonetech oil leaves no residue, making it suitable for removing oil stains from natural stone and grout. We recommend this item for cleaning solid surface countertops, Formica countertops, marble countertops, and so forth.
Mix stone small deep clean: For a deeper cleaning of your countertop materials, use this product. This powerful high-duty cleanser and degreaser work well on neglected or heavily abused surfaces.
FAQs
1. What Happens If You Use Oven Cleaner On Kitchen Counter?
Since oven cleaners contain lye or sodium hydroxide, they can harm your kitchen counter surfaces. Thus, discoloration or structural damage may result from cleaning kitchen surfaces with oven cleaners.
2. How Do You Remove Oven Cleaner Stains From Countertops?
Rinse the affected part with water. Do this with care, so it spills nothing on the floor. Then blot it with a microfiber towel or paper towels. Repeat this process to help dissolve the sodium hydroxide to more ph levels.
But, if the discoloration continues, rub half a lemon, white vinegar, or a 10% acetic acid solution on the area. After that, reseal the counter with a suitable sealer.
3. Can You Use Vinegar On Countertops?
Because vinegar is a natural cleaner, you can use it to clean and sanitize surfaces after cooking. To remove tough stains, add a few drops of soap to one part water and two parts vinegar. Vinegar can also eliminate odors from countertops, but not on granite or marble.
To avoid discoloration, sprinkle the spot with a mild solution of water and vinegar. After that, wipe with a clean rag to remove all soap residue. After cleaning, dry countertops with a cloth because they are susceptible to water.