The thought of small kitchen makeovers can be incredibly unsettling, and it might leave you wondering, "How am I going to handle all I need?" Small kitchen remodel ideas unique, but with careful design, the space in your small kitchen may feel just as attractive as a large one.
A small kitchen renovation should always aim to make the most of the extra space, and also, it should maintain an open and spacious design as possible. The best way to redesign a kitchen is to adopt a fun and creative approach to making the most of your tight spaces. This is an opportunity to hone your critical thinking abilities and develop original solutions to the difficulties you will face.
In this article, we will provide pro kitchen remodel ideas to help kick-start your duty. Follow our remodel tips to help style your kitchen.
Small Kitchen Remodel Tips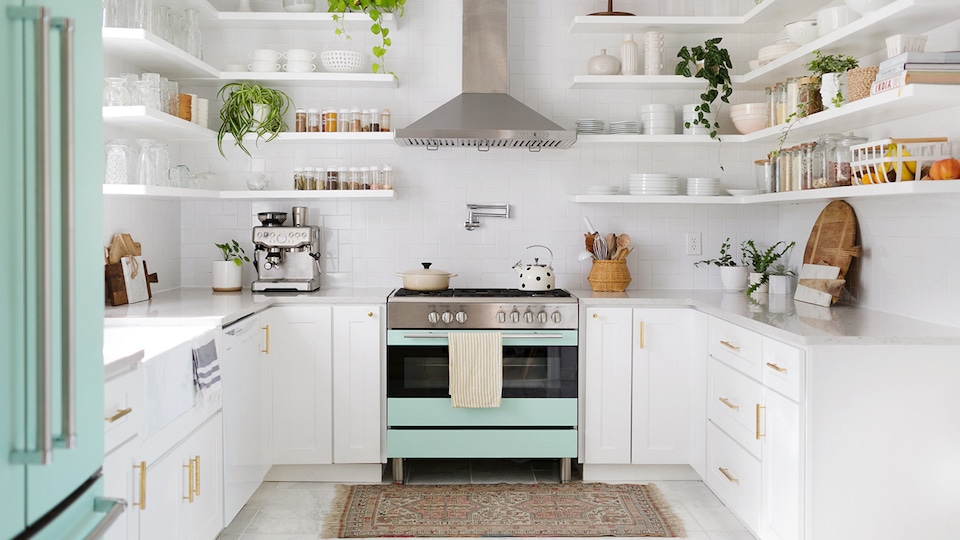 Consider an open-concept kitchen floor plan if you're worried that your kitchen renovation would need a profound change. An open floor plan is a great option if you have a lot of space to experiment with. You would love to read our detailed article on How Much Does a Kitchen Remodel Cost?
Here are small kitchen design ideas carefully selected just for you;
1. Know Your Budget
If you're looking to redesign your current kitchen, know how much money you have to spend on the project. This pro tip will help you stay on track with your expenditures in the long term, so you don't get to spend beyond your limit and even run into debt. However, you need to identify if your space is opened or closed. A tiny open kitchen is more appealing than a closed one, which may often seem tight and claustrophobic.
Thus, divide your plan into the categories of cabinetry, equipment, painting, and furnishings.
Before you hang the first cabinet, ask yourself the following questions:
What are my objectives for the space? How much money do I have?
What can't I do without?
Planning is key to helping you stay on budget and get what you desire. So give it some thought. Since every kitchen and family has different needs, spend some time sketching your perfect area. Then, identify whether you can achieve that within your budget.
Can you power all your appliances?
A refrigerator is useless if you can't power it. This also applies to all your other electric equipment. Before remodeling a kitchen, make sure you have the plan to supply each without overloading the outlets.
Check out this article on How To Plan A Kitchen Remodel
2. Keep It Simple
Many homeowners experience difficulties with their home improvement projects. This is because they want everything. In fact, most people forget the kitchen is the focal point of the home. It needs to function well for the rest of the house to run smoothly.
As a result, during the remodeling process, you must prioritize the functionality of your kitchen. Focus on repairing or replacing necessary equipment. Also, install the kitchen countertops, storage solutions, etc.
After that, you can go all the way to add any element you want to enhance the beauty of your small kitchen.
See also: 13 Ridiculous Kitchen Design Mistakes To Avoid
3. Make A Scale Of Preference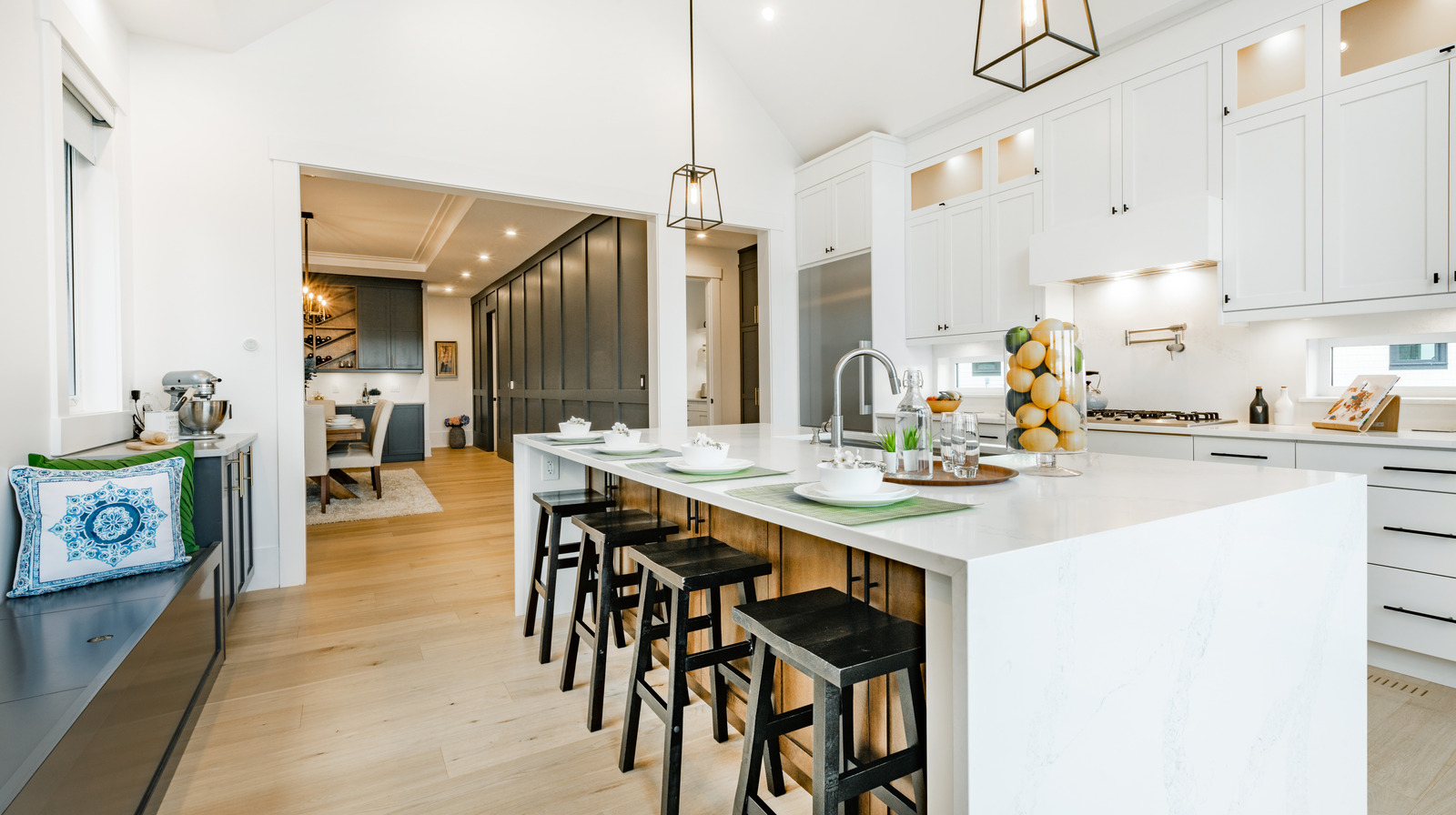 A scale of preference is an excellent way to organize your tasks and guarantee that your small kitchen renovation goes smoothly. More importantly, it guides you as you arrange your design process according to their priorities. For instance:
Counters Before Sink: Because the sink is fixed to the kitchen counter, you must install new counters before your new sink. Choose a countertop material to avoid complications and complete the installation first.
Maximize Cabinet Depth: There is a ton of space behind cabinets that are rarely used. So, install roll-out shelves and lazy susans to get the most out of your room.
Layout First, Floor Second: Choosing your kitchen's layout is a surefire first step. The most crucial questions to consider are: what's your preferable number of counters? Do you desire an island?
Note that there will be no need to replace the flooring or countertops beneath your kitchen island. Addressing these two questions before firing your flooring saves money and effort.
4. Kitchen Backsplash
Why not use one of the focal points in your kitchen to make a statement? Use different tones of the same shade. This will give your kitchen a beautiful and put-together impression.
A small kitchen's backsplash serves as the room's main attraction. In addition, it protects your walls from oil splatters. Choose the ideal kitchen backsplash to improve the narrow kitchen appearance early.
Check out 10 Gorgeous Kitchen Design Trends that never go out of style
5. Replace The Dining Table With A Kitchen Island
Despite their affinity with huge kitchens, kitchen islands are still worth considering. A tiny kitchen can accommodate an island if it is not crammed into the space. If the island is too large and the surrounding area is too small, it will cause the opposite desired effect.
A center island may still be added to a galley kitchen even when the room is too small by removing the cabinets on one wall. This is a complex decision because you must know why you want the island. It could be for the social aspect and what you would lose (i.e., tall cabinets) if you don't have it.
However, if you decide on one, ensure that any kitchen island arrangement ideas are space-efficient. They should tuck beneath the island when not needed and be backless to take up less visual space.
6. Choose Upgraded Fixtures And Materials For Your Small Kitchen Remodeling Project
Sometimes you may need to replace furnishings while remodeling a small kitchen to look bigger. But one advantage to renovating a small kitchen is that incorporating upgraded fixtures and materials into your interior design may come at a lower cost. Since it's small, granite or surfaces for the countertops, tile backsplash, and even high-end hardware for cabinetry can be highly affordable. Glass cabinet doors will add sophistication to your cabinets and increase the worth of your new kitchen.
With a small space to work with, the possibilities for taking your kitchen to the next level are endless. Creating the small kitchen of your dreams that functions to perfection are possible! If you have a small kitchen that needs some updating, stop into the Firenza Stone showroom today to speak with our space experts to make the most of your space.
7. Be Smart About Your Appliances Choices When Remodeling A Small Kitchen
Big appliances can make a small space, like the kitchen, feel smaller. When searching for the right kitchen appliances, consider those that will enhance the space in your kitchen. Inquire whether there are smaller versions of the typical appliances in the store, including smaller-width dishwashers and ranges, french door refrigerators, and cooktops.
Do you spend so much time in the kitchen or enjoy cooking? Will you need a coffeemaker, microwave, juicer, toaster oven, or blender? Most likely, you will need more room for all those devices. You may store smaller appliances in a cabinet or island.
See also: Best Home Remodeling Ideas for 2023
8. Maximize The Counter Space When Remodeling Your Small Kitchen
The one thing that is the hardest to find in a small kitchen is adequate counter space. If your kitchen has several small countertop sections and needs more, consider investing in a nice cutting board to either slide over the sink when you need additional space or sit on top of the range.
Another way to maximize your counter space is to add a small mobile island. It could act as a food prep station, a casual dining surface, and additional kitchen storage. Place a shelf next to or behind the range, as it is a great way to store spices, utensils, and cooking oils close to your reach. Then, install S hooks on the range hood side to display pots and pans. Choose warm-toned metals like copper or brass for an added pop.
9. Use Open Shelving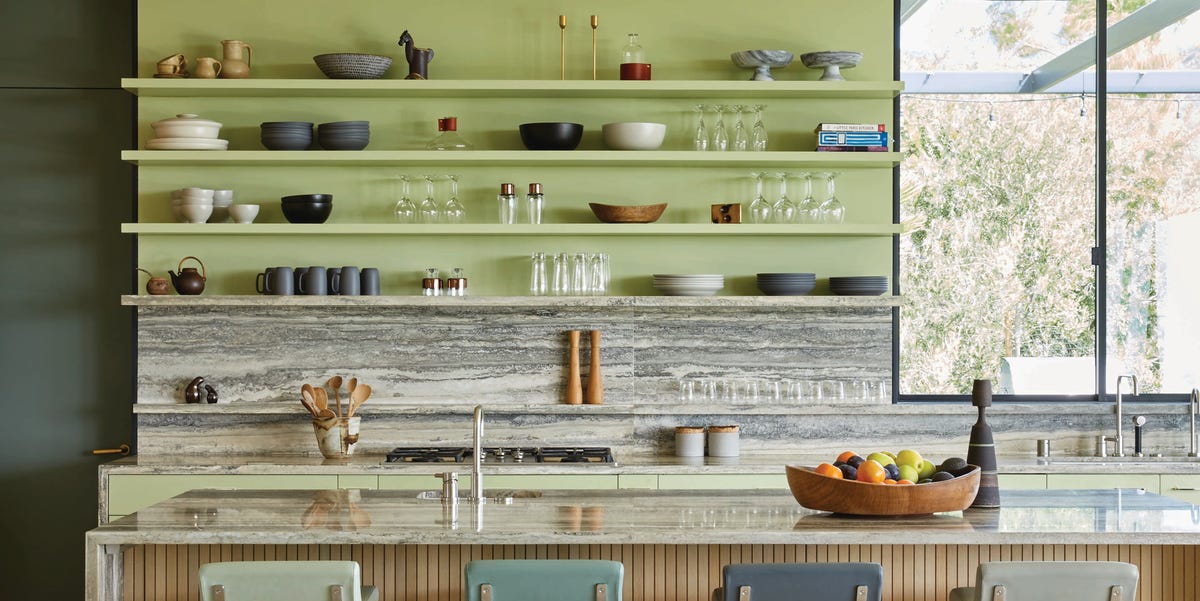 One of the finest and simplest tried-and-true tiny kitchen redesign ideas that may turn it into a large kitchen is to use open shelves to improve storage space. Open shelving looks great and may work well in a tiny area because it can fit in tight spots.
It's also an excellent method to display designed devices and accessories. Also, you could showcase valuable dinnerware and decorative artifacts. Open shelving will make your kitchen seem lighter and airier during the day. This is because of their ability to let daylight from windows shine through without obstruction.
Open shelving is a simple and inexpensive way to make the heart of your home large.
Find out How To Prepare For A Home Remodel – Renovation
10. Add Smart Storage Solutions
The secret way to make a small effective tiny kitchen makeover is to make the most of what is available. There are a few underutilized or inconvenient nooks. And this makes it challenging for you to use. It's all about unlocking the possibilities of your little kitchen and creating the most of your available space.
You can maximize these areas with the correct storage solutions. Lazy Susans, rotating kitchen cabinets, and other organizing tricks are a few examples of how you may employ storage solutions to improve the efficiency of your little kitchen renovation. Do these little kitchen makeover ideas give you any inspiration? If so, it's time to organize and put these ideas into practice, so they become your new reality.
11. Consider 'Less Is More When Choosing Storage Options
When designing a small kitchen, try to avoid cramming every area, surface, or wall space with cupboards. Less is more, and using innovative storage solutions to accommodate what you need can create a more functional kitchen without being overstuffed with cabinets.
In addition, keep tall furniture and deep wall cabinets away from the kitchen's entry since they might make the area feel crowded. Reduce the number of upper cabinets. Or put tall cabinets together at the rear and away from the windows to create a broader, more welcoming entryway.
12. Use Large Floor Tiles And Play With Color And Kitchen Lighting
Although it goes against logic, bigger floor tiles elongate a tiny kitchen. Using lighter-colored wood species for the cabinetry and neutral-toned paint for the walls can help boost the light intensity in a small kitchen because the amount of direct and reflected light in a kitchen is equal.
Regarding light, the proper lighting strategy for your small room may help make a small kitchen larger without renovation. Most homeowners install one focal light in the kitchen and move on. However, it does not benefit the kitchen. Consider adding many light sources to your tiny kitchen instead of just one focus light.
You can include lights on the kitchen walls, recessed cabinet lights, pendant lighting, wall sconces, etc. The stable dispersion of light will make the space look uniform. Also, it will give your kitchen an elegant feel. Similarly, you want to play with color and consider adding natural light to your existing kitchen.
For countertop ideas, check out this article on Amazing Granite Kitchen Countertops Ideas Every Homeowner Must Know
What Layout Works Best For A Small Kitchen?
The U-shaped arrangement is the most effective for a small kitchen. But while this arrangement results in two deep corner cabinets, innovative cabinet modifications like sliding storage units make these less daunting.
What Is The Best Color Of Cabinets For A Small Space?
The best color for a small kitchen is white. As it reflects light, the walls seem to retreat, and the impression of space increases. White worktops, floor-to-ceiling, cabinets, and other surfaces combine to provide a smooth room free of corners and lines.
Do I Need A Contractor For My Small Kitchen Remodel?
Sometimes, you do not need a professional to help redesign your kitchen look. You may perform DIY projects like painting, appliance installation, and decorating. However, a contractor's professional skills may be helpful for more challenging chores like rebuilding cabinets, installing new flooring, or worktops.
These pro remodeling ideas for small kitchens are a fantastic place to start. But there could be more unique solutions available for you. Firenza Stone design professionals are here to help you with everything you need for your remodel projects – from flooring to countertops and cabinets. We offer tailored advice on kitchen renovation to help you make the most of the existing space. Call (440) 485-4056 to arrange a kitchen renovation consultation.