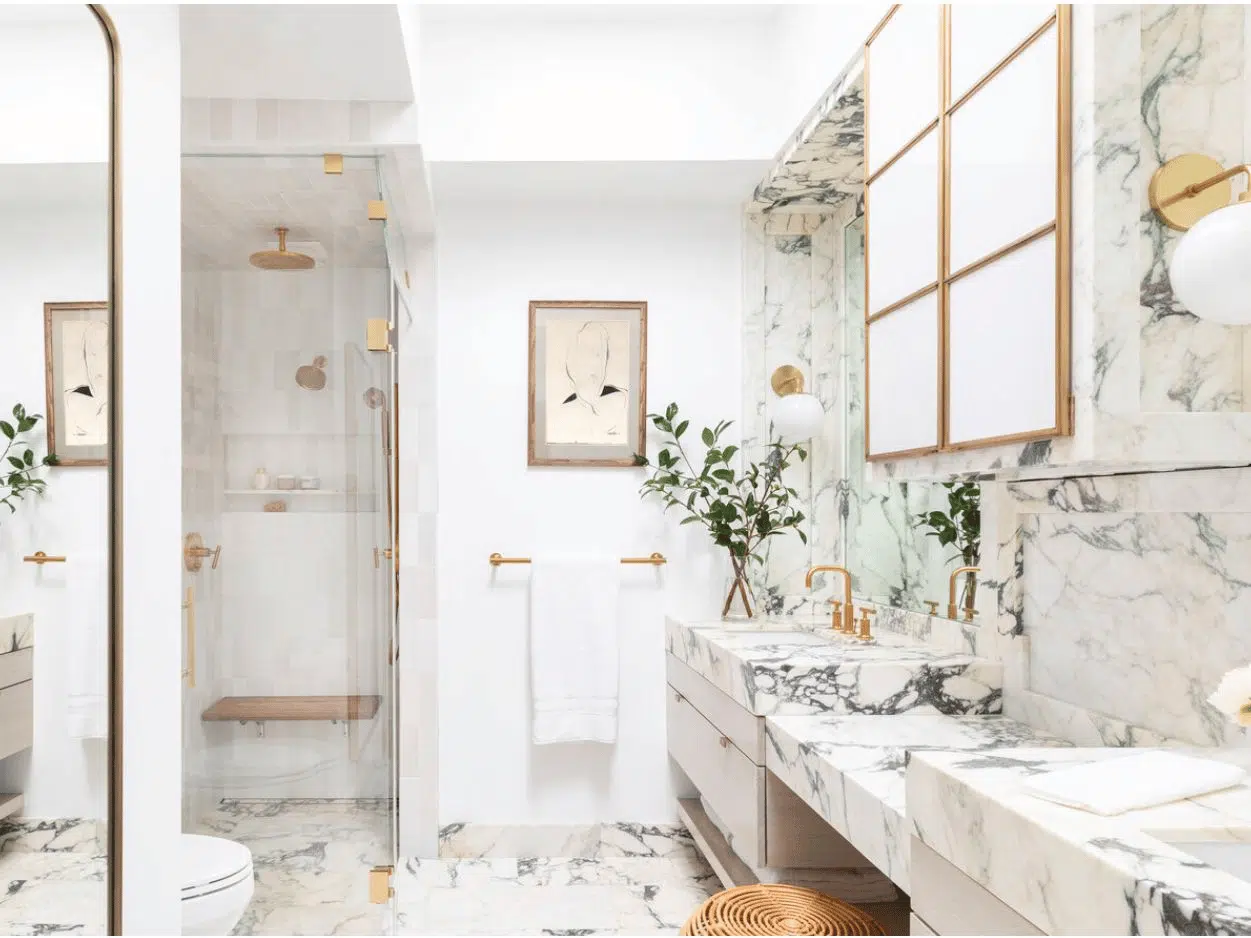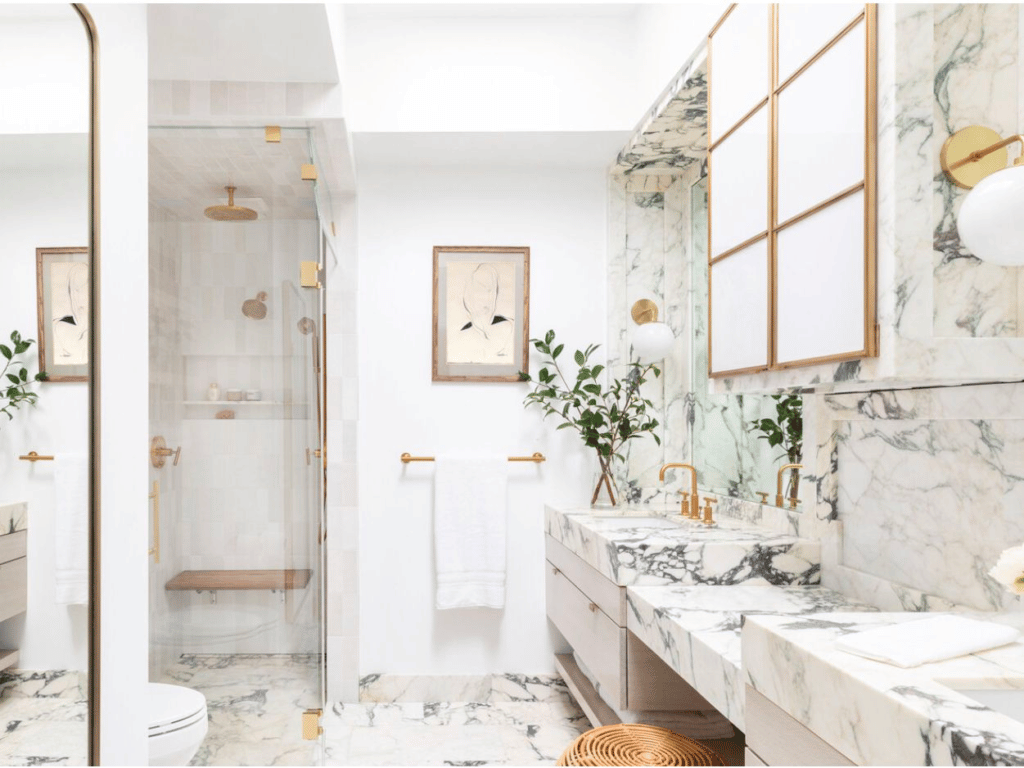 Small bathrooms may be appealing even though finding the right design, color scheme, and layout is challenging. You don't have to move to a larger home to acquire the luxurious bathroom of your dreams! All you need is creative bathroom ideas that make the most of the space.
Here, we'll look at some practical suggestions for opening up your bathroom and giving it a beautiful, high-end vibe in a matter of minutes! It all boils down to little touch-ups, accessories, and do-it-yourself tasks. Keep reading!
12 Luxury Bathroom Ideas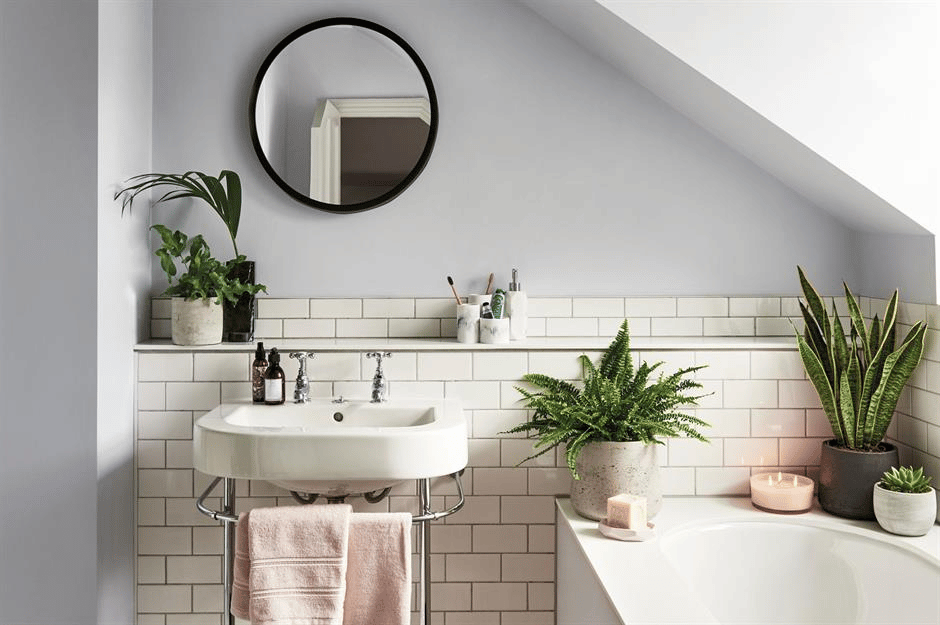 Below are some small bathroom ideas. These ideas on how to make a small bathroom look luxurious go beyond making the most of the small space. Thus, it shows that expressive design features can be at home in even the most minor areas.
You would love to see some of the most interesting Facts About Bathroom Remodeling that will help you create a masterclass from your small bathroom.
1. Avoid Clutter: The Lesser The Better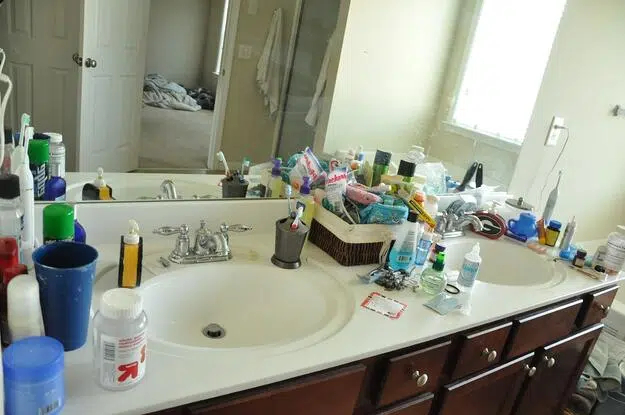 Everyday clutter instantly ruins the appearance of a beautiful bathroom. And a cluttered bathroom is not conducive to unwinding. Fortunately, there are simple workarounds for this. Once you have fewer things, organizing your bathroom—and maintaining it that way—is much simpler. Start by placing toiletries and other necessities in stylish storage containers, such as wicker baskets, where they won't be seen.
Sort related things, such as soaps, conditioners, dental supplies, nail care products, and cosmetics, together on the floor. As you go, throw the rubbish away. In other words, throw away sunscreen, lotions, expired toiletries, sticky nail polishes, and anything else that doesn't appear or smell brand new, even cosmetics.
Also, ensuring that your bathroom has enough storage space is a pleasant idea. If your surfaces are clutter-free, it will immediately improve the whole space. Storage will add to the bathroom feel.
See also: Give Your Bathroom Style by Incorporating Geometric Tiles
2. Add Lighting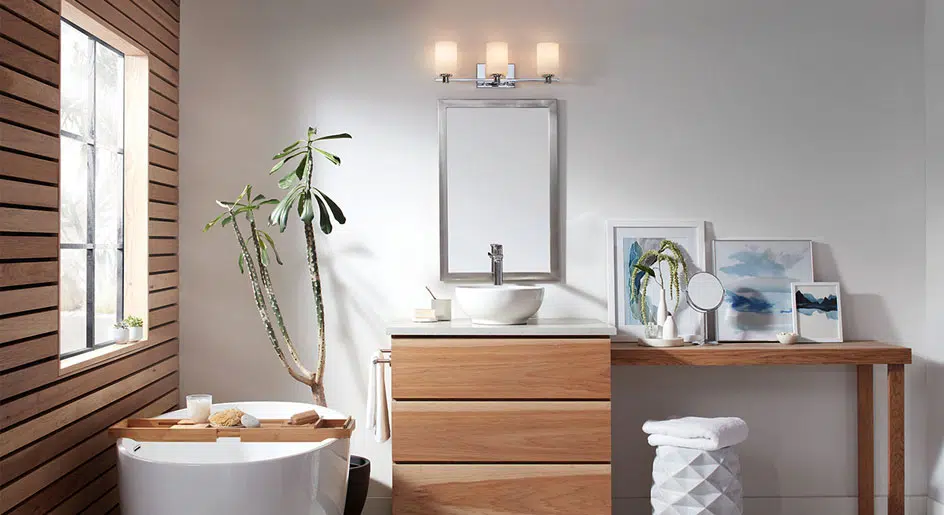 When people think of bathroom lighting, they frequently consider task lighting, mood lighting, and statement lighting. Little adjustments like dimmer switches, spotlights, and statement light fixtures may significantly impact your bathroom makeover. Improved lighting beautifies the area. Also, it gives your small bathroom a more luxurious feel and promotes relaxation.
In addition, appreciate nature's most outstanding qualities of natural light. Include exposed windows and glass shower doors. And if possible, skylights or floor-to-ceiling windows to let light flow into and through your small bathroom.
Understanding how to light up your powder room is a skill you will be forever grateful you learned. This article shows you 5 Tips for Finding the Best Lighting for Your Kitchen
3. Choose A Paint Color That Enhances Lighting
If you cannot increase the bathroom's natural lighting, try using high gloss paint to reflect light. A bathroom's interior paint color has the power to alter how it feels significantly. Therefore, apply a new coat of paint in a soothing neutral tone if you want a more luxurious bathroom. Some of the most excellent options are whites, creams, and grays.
However, if a crisp white is too harsh, try a creamy white with a warm buttery foundation. Also, you can opt-in for cerulean blue. This color is like the sea, particularly the stunning water you see at a tropical beach. Despite being bright, it is pretty relaxing, making it the ideal option for a family bathroom.
We created this article just for you: Creating a Sanctuary: Big Ideas for Small Bathrooms
4. Use White for Elegant Simplicity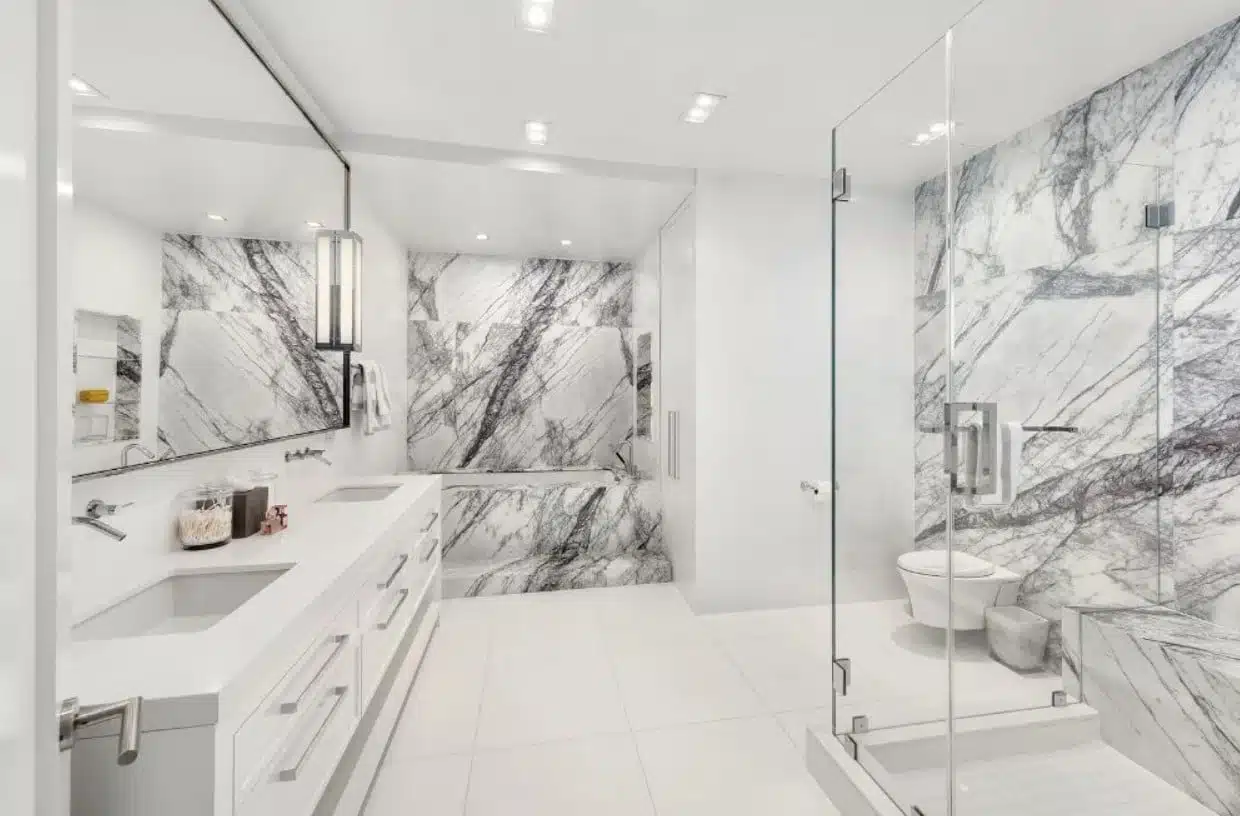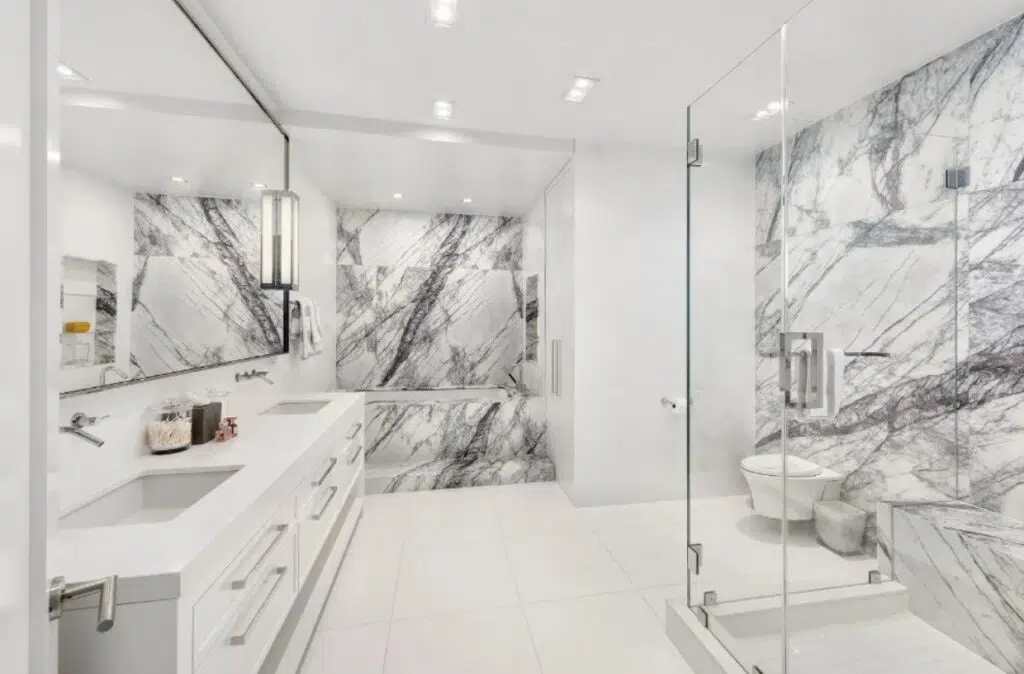 White worktops and cabinetry set off a minimalist and stylish bathroom. White is an excellent color for tiny bathrooms, and this is because it reflects light and offers the illusion of more space. To enhance the dazzling, spacious impact, white is applied to every surface in this bathroom, save the wood vanity. Also, a huge mirror and shower door helps to create this illusion.
Use a light neutral paint hue to make a small bathroom feel luxurious. If you spend extra on high-quality white towels and carpets, a tiny bathroom will make your bathroom luxurious. Accessorize your white bathroom linens with neutral-colored items to make everything look cohesive.
5. Consider A Larger Space Covering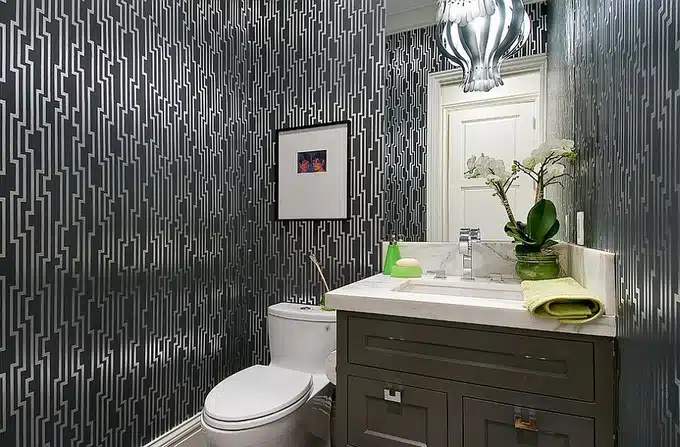 Even while installing wallpaper might be expensive and time-consuming, the results are worth it. Although, it's still a great deal compared to hiring a contractor to build a new shower tile. Spending a couple hundred dollars on a roll or two may make a huge difference, and it doesn't matter if the entire bathroom needs a little dynamism.
There is less space to experiment with finishes in a very small bathroom. But large- and medium-sized wallpaper patterns and tile designs might give the impression of a larger bathroom. Choose simply an accent wall or ceiling to keep prices in check and make the most of your budget. Thus, you can pick large tiles or an even larger pattern; both would give an illusionary scale in close quarters.
6. Use Tile As Baseboard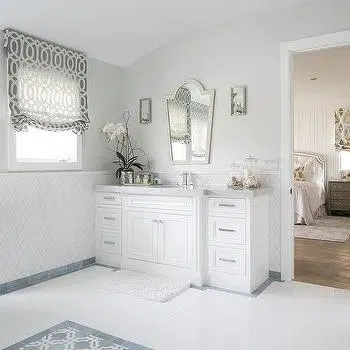 Using baseboards that match the same tile on the floor space will help the floor space flow together. Also, the Schluter edge adds to the luxury feel of a small bathroom.
Tile is a flexible material used for several purposes other than covering a floor or a wall, such as an entranceway or a bathroom shower. You can also use it as a baseboard, a border for floor insets, and to frame items like mirrors and photographs.
See also: How to choose the best stone countertops for your bathroom
7. Change Your Bath Mat
Your bathroom may seem untidy if the bath mat is unclean. However, the most luxurious bathrooms have gone one step further by switching out the terry cloth mats with Turkish and Persian rugs. The soft tufted wool rugs are an excellent alternative to a bath mat.
Even better, they may bring a lot of refinement to your small space because of their lovely textures and hues, which only grow better as they age. Possessing a tiny piece of handwoven luxury is undoubtedly possible in a bathroom.
8. Get Smart Storage
If you already have enough storage space, fantastic! But, use it carefully. You'll use the bathroom's cabinets and drawers more effectively if you have baskets, lazy susans, cutlery trays, and other organizers. You won't need to hunt around anymore to find what you want.
If you have a tiny space, install a bathroom vanity. However, it doesn't have to be expensive. And you don't have to buy the whole countertop – go for a new pedestal sink and countertop. For a modern twist, use another piece of household furniture as a vanity. Repainting it to match your entire wall in a white bathroom will make the room feel sleek. A deep color coat will transform it into a magnificent feature.
9. Place Artworks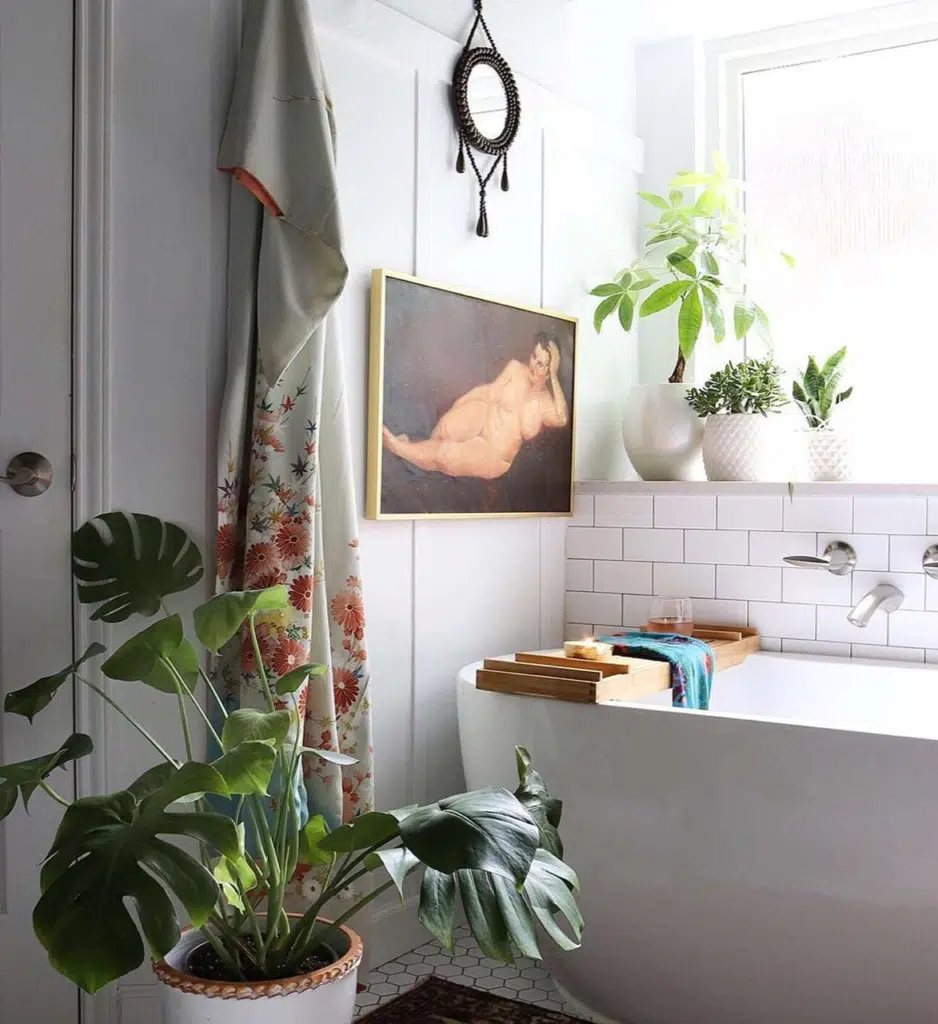 A sure-fire method to bring tropical sensations into your master bathroom is to place artworks. It can change even the smallest bathroom. Well-positioned art in your small bathroom invokes images of art museums and galleries. Therefore, it gives the entire room a more luxurious feel. However, buying art doesn't have to be expensive. There are many cheaply priced prints accessible online. You're good to go if you grab a pair of black frames!
10. Plants Always Make A Huge Difference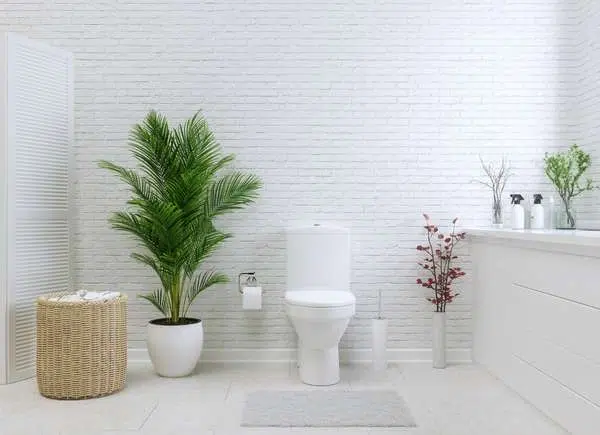 Do you want to give your room a luxury and spa-like feeling? Look no further than plants. In small bathrooms, plants seem to create a class of their own. They look not only lovely alongside your sink or on your window sill, but they thrive in warm, humid conditions. Also, they save precious wall space and make your bathroom look stylish.
Exquisite photos, a string of pearls, and air plants may transform your small bathroom from a primary space into a tranquil retreat. Small potted plants look great in the corners of your bathtub. And if your tub corner isn't in a well-lit location, consider a plant that doesn't mind dim light. The good news is that you can quickly and inexpensively find them.
11. Transparent Glass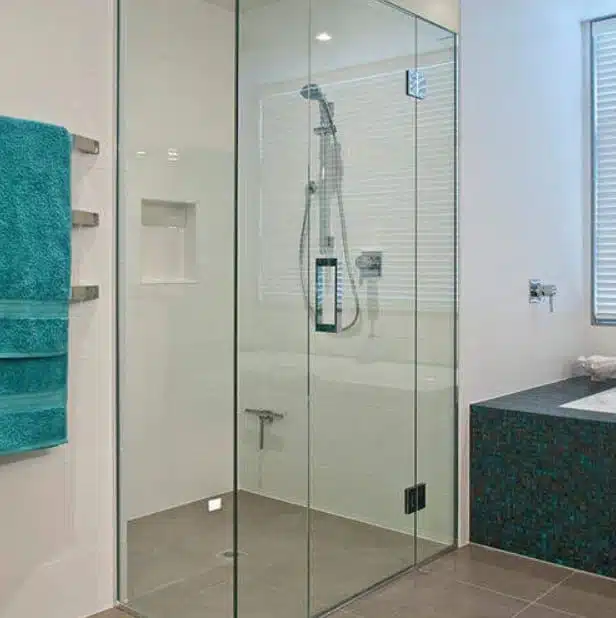 A component of contemporary small bathroom design is glass. Large-scale unstructured glass may open up the room and make it more clear. A modern bathroom can be provided with such a design. Additionally, it can make the bathroom look luxurious.
Next, swap out the transparent glass for frosted glass if your bathroom is situated in a way that makes it easy for people to look inside.
12. Add A Bathtub Tray
It's a slight change, yet it can make all the difference. A gorgeous bath tray positioned across your bathtub has several uses. Whether you adorn the tray with fresh flowers, candles, and beautiful soaps or go for a minimalist interpretation by keeping it clean, it may give the impression of a spa-like ambiance rather than your average bathroom.
FAQs
What Are The Components Of A Luxury Bathroom?
A luxury bathroom has elegant and top-notch materials on its surface. These materials are superior to other popular options and are sure to look stylish and last the test of time when used.
A well-structured countertop is one of the critical components of a proper luxury bathroom design. And it is accessorized with excellent finishing touches like floor tile paint, a walk-in shower, towel bar, freestanding tub, and more.
How Can I Design A Small Bathroom?
To create a luxurious small bathroom look, use white bath towels and a light neutral color. If you spend more on high-quality white towels and rugs, your casual bathroom can appear more luxurious. Also, make everything look cohesive and accessorize with natural materials to go with your white linens.
Use attractive sheets, textiles, and even window treatment material to decorate your shower space. Furthermore, complement your bathroom shower curtain, add stylish bath accessories and vibrant wallpaper.
What's The Size Of A Small Luxury Bathroom?
Generally, a small luxury bathroom's standard size is around 35-40 per square footage. However, you can turn smaller powder rooms into luxury bathrooms using all the ideas listed in this article. Whether you have a more compact room than what is considered the average or not, you can still create elegance.
Need help creating the bathroom of your dreams? Do you want to experience a level of bathroom remodeling that beats your wildest imaginations? Send us a message today and let us help you bring your ideas to life.