Kitchen Finishes for your Renovation or Remodel:
When it comes to kitchen remodels, there are an endless number of floor finish option choices to make – wood or tile, granite or soapstone, natural or painted, modern or transitional – the list goes on and on. As anyone who has been through the process knows, choosing finishes is often the most challenging aspect of the remodel; not only because of the unlimited possibilities, but because the finishes are often what you and your guests notice first.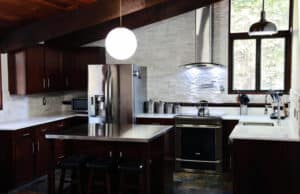 How to go about it? A good rule of thumb is to not think about the fixtures and finishings until after you've planned the layout of your kitchen renovation. Once you do get to that point, keep these tips in mind:
Focus on the countertop. Each style decision you make is a layer that will be built upon with other design and style aspects. For example, the aesthetic of your chosen countertop will set the tone for your kitchen, so all other finishes and colors should play off the countertop's pallet. Choosing natural stone countertops offers color and tone flexibility for the rest of your kitchen, since stone comprises multiple hues.
Choose timeless cabinetry. By installing cabinetry that has a timeless style, your kitchen will be able to adapt to evolving design trends. For example, if you're looking for a change down the road from your current renovation, simply switching out accents, such as handles, pulls and faucets, will help you get the look you want without the cost of a full-scale remodel. Another consideration when choosing cabinetry is to realize that bold material choices may distract from other aspects of your kitchen that you want to be noticed. Light colored cabinetry tends to keep spaces open and bright, allowing other colors to be incorporated into accessories to create depth and contrast.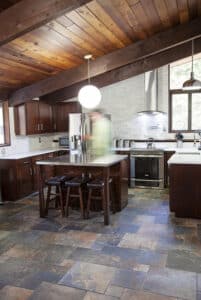 Create contrast with details. When your overall color scheme includes your floor, countertops and cabinetry, finding a balance with contrasting colors is easier. Keep this in mind when choosing a backsplash as well. If large pieces in your kitchen are dark, light accents can be used to create contrast, and vice versa.
What does your dream kitchen look like? Let the experts at Firenza Stone help you bring it to life. The kitchen is the heart of the home and you deserve to have yours represent you. Call Firenza Stone today at 888-671-2523 to start your kitchen remodel or renovation today!