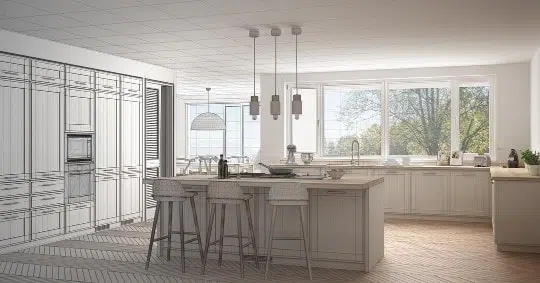 When it comes to home improvement projects, real estate, or interior design, people often use words like "remodel" and "renovation" interchangeably. But the two concepts are far from being the same.
Although they both involve significant changes and improvements to your living space, they are quite different when it comes to the budgetary demands, types of construction, features, advantages, and disadvantages involved.
Knowing the difference between renovation vs remodel before engaging in any related project is crucial: firstly because you get to know exactly what you want, and secondly, so you spend your hard-earned money on exactly what you want. Hence, without further ado, let's explore some of these differences.
What Is A Renovation Project?
To renovate means restoring something to a good state. Of course, for something to be restored into a good state, it got worse from previous use (in the first place) and became less desirable. Hence, renovation means upgrading basic features, including repairing the damaged parts of your living space.
When it comes to real estate development and planning, renovation projects are mainly carried out to reinvigorate parts of a damaged home or an outdated housing structure. Renovation typically updates the aesthetics of a room, kitchen, or bathroom without necessarily altering the intended purpose of the structure.
For instance, in a home renovation, the living room remains a living room, the kitchen remains a kitchen; the same thing goes with the bathroom, basement, and so on. Renovation doesn't involve a total overhaul or an alteration of the use and purpose of the specific area. It only improves or updates the original look or feel of the room.
Examples Of Renovation Projects
Some common examples of renovations in a home project include the following:
Repainting or refacing cabinets
Replacing older windows with new fixtures
Replacing the old lights with new light fixtures
Upgrading the kitchen with new appliances
Updating the floors
Replacing a garage door or entry door
Installing new Carpeting
Painting or repainting walls of you your home, office, etc.
It's important to know that renovating does not only involve changing older fixtures to new ones but also has to do with installing new hardware in and around the house.
Such new installations or replacements come under small-scale home construction projects and may not require any building permit —except in the case of updating the electrical systems which involve deep-wall electrical wiring.
The good news, however, is that renovation improves property value, even when it's typically easier and less expensive to complete.
What Is A Remodeling Project?
To remodel means altering or significantly overhauling the structure, purpose, and function of a room.
In remodeling projects, the sole aim is to achieve a complete transformation of parts of the house. That's why any home improvement that alters the actual structure of your living space to give you a breath of new life is considered remodeling.
When you carry out a major kitchen remodel, for instance, you are not just looking to change only the basic features or the appearance of the kitchen but may also change the basic structure and purpose of that kitchen.
Unlike a renovation project that brings fewer surprises, many remodeling projects involve either building new structures or expanding older ones to serve a different purpose
Take, for instance, tearing down a wall and combining two rooms to serve as a living room, thereby changing their original function (as bedrooms). Or combining your kitchen and dining room to become a single shared area for both cooking and eating.
A remodel is also an excellent solution to a poor home design. For example, when an investor who intends to buy a property doesn't really fancy the structure or design of the house. A poor home design, in this case, may include having too many or fewer rooms. Or perhaps the water supply pipes to your kitchen are installed in the exterior wall, causing frequent freezing of water.
In situations like this, such an investor can only achieve their dream home by going beyond a minor renovation, because carrying out a complete remodel is highly recommended.
Examples Of Remodeling Projects
Here are some typical instances of remodeling your home's structure:
Creating extra rooms from bigger rooms or combining two smaller rooms into one bigger room
Creating a room where a patio originally was
Carrying out an entire kitchen remodel like changing the structure of the kitchen and adding new functions
Changing the position of walls or removing them altogether
Changing the room layout
Installing a kitchen island
Adding a sunroom at the back of the building.
A remodel, unlike a renovation, involves making high-profile changes to a building. That's why every remodeling project typically requires a building permit.
But then, sadly, such a massive transformation doesn't always result in the increased value of the property in terms of real estate businesses. Unless a deep remodel is conducted and targeted at improving the property value specifically. That's exactly why many profit-seeking real estates managers and investors prefer renovation to remodel.
But since renovation can't correct a poor design, remodeling remains the only feasible solution if the structure and functions of a particular space need to be improved.
See also: how to choose kitchen finishes
The Key Differences Between A Remodel And Renovation
Although we've established the meaning of remodeling and renovation and their examples, let's compare both concepts based on their cost, labor, ROI, pros, cons, etc.
Renovation Vs Remodel: Which is more expensive?
Renovation involves surface changes and upgrading elements of the interior part of the building. While remodeling has to do with applying more detailed changes to the structure of the building. Hence, it's a no-brainer that remodeling might cost slightly more. Besides, the material needed for remodeling costs more than renovation.
For instance, tearing down one bedroom wall and building additional walls to create more rooms (in remodeling) is more expensive than repainting an existing wall (in renovation).
Similarly, carrying out deep-wall electrical wiring or water supply lines is surely more expensive than replacing old kitchen hardware like door handles.
Some factors that can affect the cost of remodeling or renovation are,
Building permits
Professional labor cost
Consultation fees
Expensive building materials
The expanse of areas to be remodeled or renovated
The condition of the property to be remodeled or renovated (how new or old?)
Renovation Vs Remodel: Which Is More Labor-Intensive
A minor renovation is more DIY-friendly than a remodel. Meaning that you don't necessarily need a professional to renovate your kitchen (for instance to refinish or repaint your kitchen cabinets).
But no matter how simple a remodeling project is, it would require a professional at some point. If not at the architectural phase, then it could be at the construction phase.
For example, it certainly takes more labor costs to expand a building upwards by adding a second floor for an additional master bedroom and guest room.
Reach out to Cleveland's best home remodeling expert today.
Renovation Vs Remodel: Which Offers Better ROI?
One reason some investors would consider renovation of a newly acquired property than carrying out a remodeling project is that a simple renovation offers better ROI than a remodel — that is if the "Remodeling Magazine" is anything to go by.
The reason for the higher return on investment that comes with renovations is that minor renovations like changing the doors and doorknobs, refinishing the cabinets, and repainting the walls can go a long way to boost the value of a property even though it costs significantly less to carry out such renovations.
On the other hand, a remodel offers less ROI because it costs more to carry out minor remodels compared to renovating the building. Yet, the value of a property doesn't always commensurately increase even after renovating it. Unless a major remodel is carried out and targeted at improving the property value.
Pros And Cons Of Renovations
Of course, renovating a building is the most likely option to improve the aesthetics of a newly-acquired property. However, by renovating a building instead of remodeling it, you are also triggering other advantages and a few disadvantages.
Let's take a lot at some of them:
Pros
To renovate a building the most cost-effective method of reinvigorating an older home
It adds value to an aged or outdated house thereby increasing its return on investment
Renovating the electrical aspects of your home with energy-saving appliances can help reduce electricity bills in the long run
Renovation results in higher home efficiency and improved quality of life.
Cons
Renovation can only improve the surface beauty of your house and does so little to correct (or change) a bad structure or design.
Pros And Cons Of Remodel
Here are some advantages and disadvantages of a remodeling project:
Pros
In real estate management, remodeling is the most feasible alternative to improving the design of an older building
Remodeling offers a better solution when it comes to updating the style of your home to the current construction trends.
Remodeling is cheaper than rebuilding from the scratch.
Cons
Compared to a simple renovation, remodeling is far more expensive and less cost-effective
Conclusion
From the extensive analysis and comparisons above, the key difference between a remodel and renovation typically comes in the areas of construction, cost, ROI, and labor.
Of course, a remodeling construction is more detailed and can affect the design and purpose of the given space. While the cost of Renovation is less compared to the value and higher ROI it yields.
Hence, as far as real estate management is concerned, remodeling offers a better solution to a poor home design. While a renovation is an excellent option for investors seeking higher ROI.
Reach out to Firenza Stone, the designer's trusted collaborator, today, let's discuss how to make your house a home.