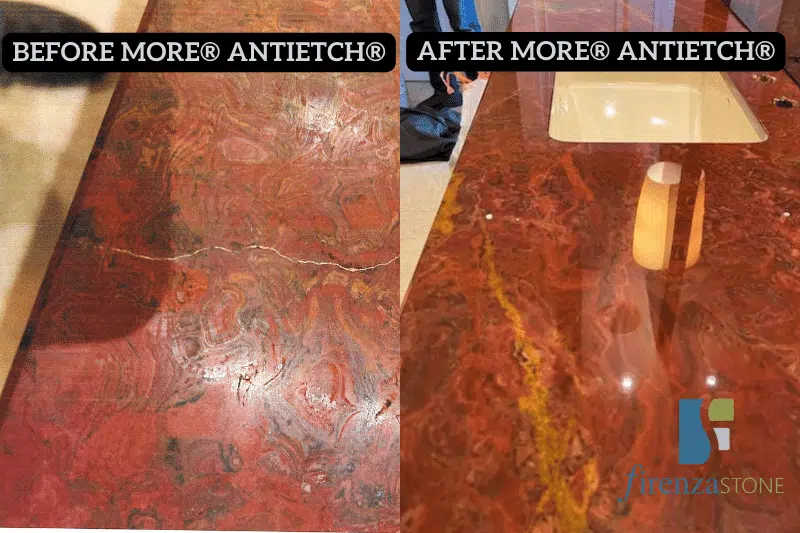 If you own a marble countertop or other natural stone surfaces, chances are you love luxury, nature, gorgeous aesthetics, timeless appeal, and durability. You want your home to exude sophistication, class, and high value.
However, two significant factors that can ruin these values you uphold are marble etching and staining. These factors can take your marble from crystal clear and gorgeous to dull and unappealing, reducing the overall beauty of your space.
MORE® AntiEtch® is the solution. Want to find out what this is? Read further.
What Causes Marble Etching And Staining?
Etching and staining are caused by exposure to stains, caustic solutions, and acidic substances like citric fruits and chemical liquids.
These are everyday items used in the kitchen, and the chances of them coming in contact with your marble are very high, especially with staining caused by acidic foods.
As a homeowner and family person, you know it is almost impossible to prevent these damaging factors completely. Additionally, you know how expensive it is to repair etches or pay for a stone restoration service constantly.
That's why you need a sealant that can provide a long-lasting, protective coating for your expensive surfaces.
What is MORE® AntiEtch® For Marble Counters, And How Does It Work?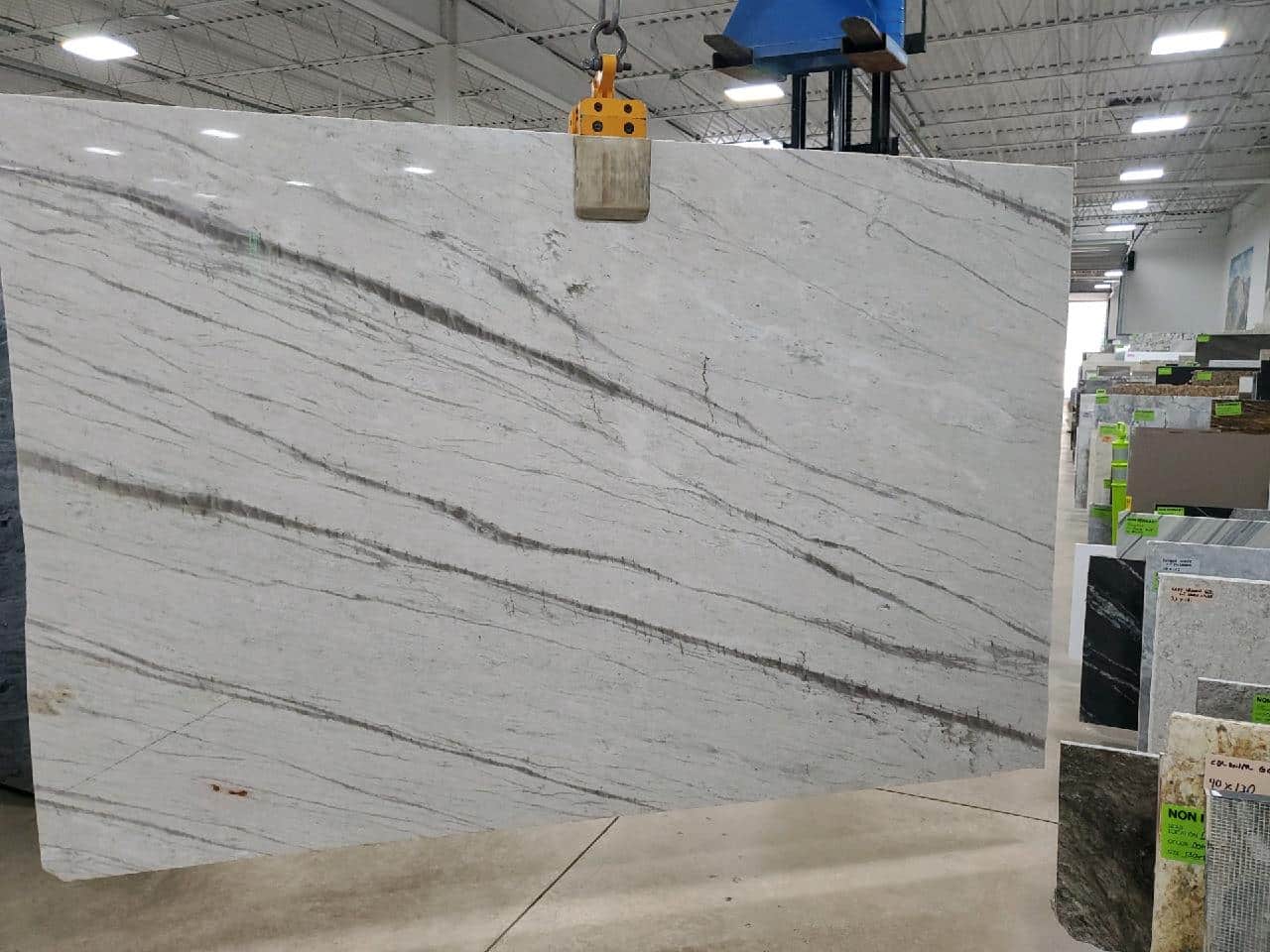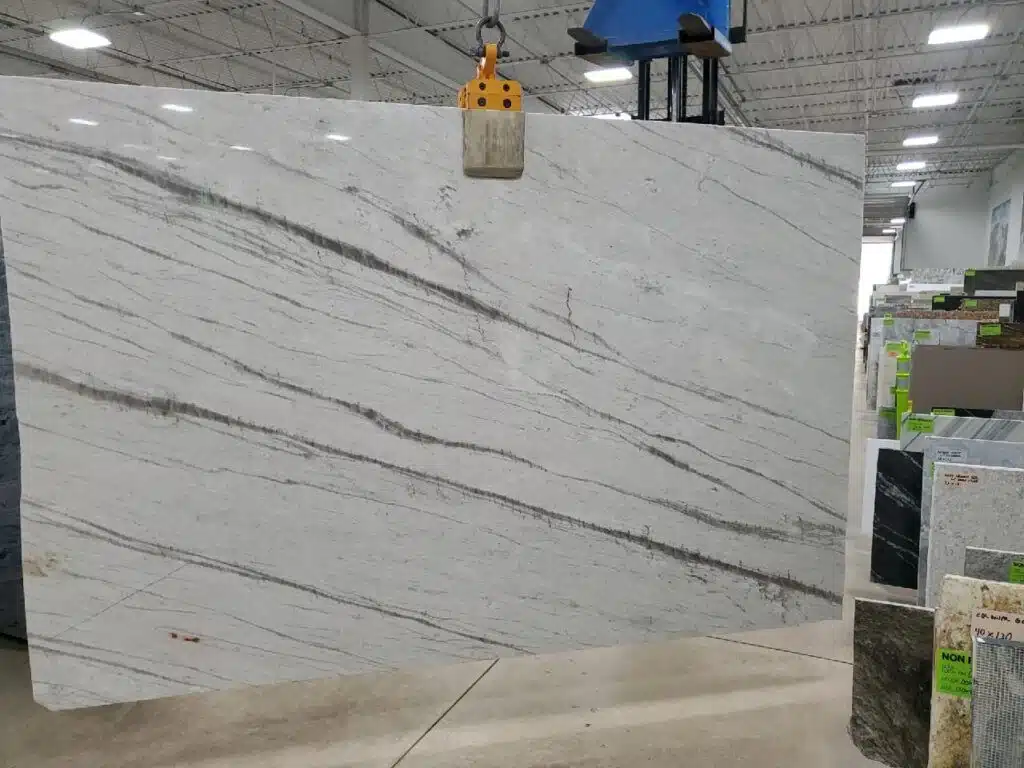 MORE® AntiEtch®, as the name suggests, is a natural stone sealer that prevents etching and staining, allowing your stone surfaces to remain gorgeous for decades with little maintenance.
It's not just a promise; we have used it and confirmed it is the best sealant to protect your stone from etching.
MORE® AntiEtch® is an almost invisible, ultra-thin coating that protects your marble countertop surface from the toughest stains and caustic solutions, leaving you with a long-lasting marble surface free from stains and etches.
How does it work?
Marble countertops are expensive, highly durable, smooth, and shiny. However, when they come in contact with acidic foods and liquids like toothpaste, fruit juices, oil stains, water-based stains, certain cleaners and soaps, etc., they can develop dull spots that significantly reduce their appearance.
MORE® AntiEtch works like every other sealant to give your stone surface a shiny new look. But it does something many other sealants don't; It provides an impenetrable coating that protects your surfaces against these harsh conditions and makes them easy to maintain.
Benefits of Using More® AntiEtch® Marble Protection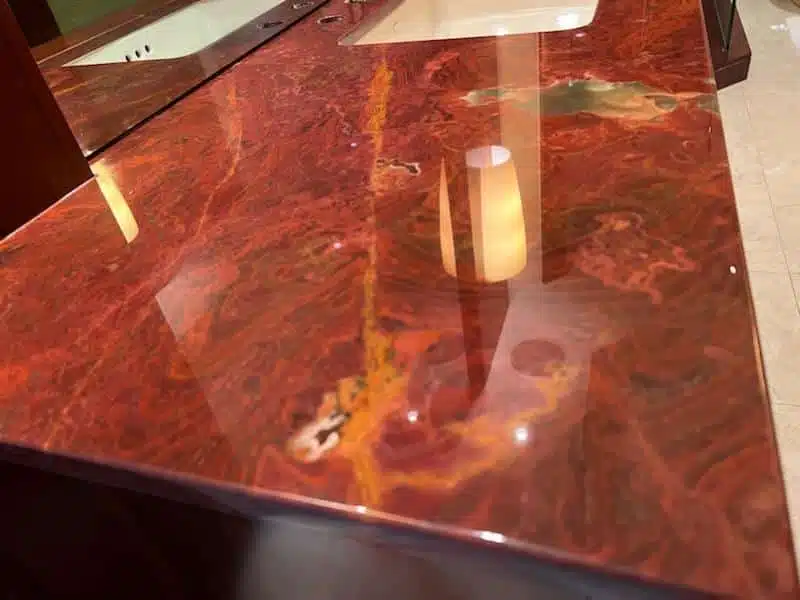 Below are the features and benefits you can expect when you use MORE® AntiEtch® for your counters:
It prevents staining and etching.
It is perfect for limestone, marble, travertine, onyx, etc.
Eco-friendly.
Non-porous: Leaves no room for germs and bacteria.
Doesn't crack or peel.
Ultra-thin, ultra-invisible, and crystal clear finish.
Highly durable: Can last for ten years with minimal maintenance.
Leaves no odor during application.
Safe on your food.
It can be applied to honed and polished surfaces.
It leaves your counter easy to maintain.
Note that the application of MORE® AntiEtch® must be done by certified AntiEtch® applicators to provide these benefits. Speak with our experts at Firenza Stone today!
What Stone Types Does More® AntiEtch® Work For?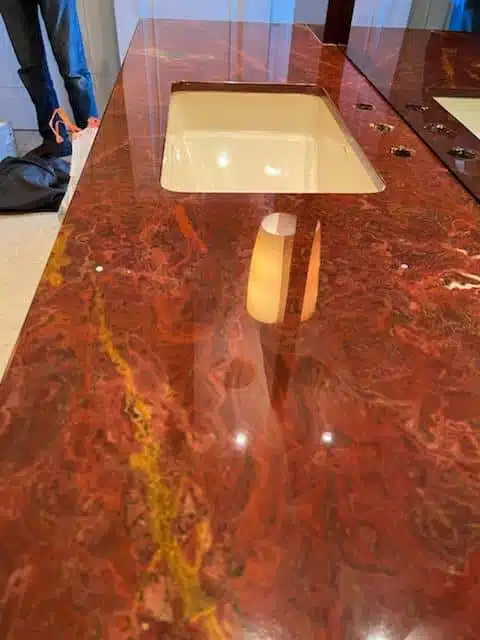 MORE® AntiEtch® is a natural stone protection sealer suitable for the following elegant surface types:
Limestone.
Travertine.
Marble surfaces like Onyx counters, Breccia, Statuario, Carrara, etc.
Concrete.
Other natural stone surfaces.
Let Our Stone Restoration Experts Revive And Protect Your Luxurious Marble
Do you need help reviving your marble countertop or vanity? Do you want to restore your natural stone surface to its shiny, clean, etch-resistant, and durable appearance? Let our stone care experts handle the job, leaving your space looking cool and bright.
Don't let stone etching steal your home's charm. Seal the deal now for a flawless countertop, vanity, fireplace, etc! Speak with our expert MORE® AntiEtch® applicator today, and we'll revitalize your space.
Conclusion
Marble is one of the most expensive stone surfaces ever created, and you can agree that it provides benefits that outweigh its price. This makes it even more crucial to find a way to protect your stone from acid etching, staining, and other damaging factors.
MORE® AntiEtch® is an innovative solution providing ultra-low visibility, super-thin covering, crystal clear appearance, and a protective coat that stops etching and staining caused by these damaging factors.