Cabinetry is a large part of any kitchen and greatly influences the vibe a space gives off. When you're planning a kitchen renovation, it's natural to focus on the color of the cabinetry first (we know, you've got it all picked out on Pinterest), but it's important to remember that color is not the only factor to consider when making a decision. Cabinets come in many different colors, styles and appearances. Get acquainted with these top trends in cabinetry this year before you begin your next project in the kitchen:
Open Shelving
This kitchen cabinetry trend has risen in popularity in the past few years. It is a great way to display your beautiful china, glassware or serving dishes in plain sight, without them cluttering the countertops. The open shelves allow you to add color and interest to the kitchen without paint, tile or additional purchases. Open shelving also eliminates the need for opening and closing cabinet doors or adding hardware to doors or drawers. While many believe that this is a passing trend, we think that this can be a great cabinetry alternative for many different kitchen styles.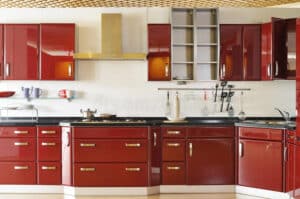 Shaker Style Cabinets
The shaker style cabinet is timeless, classic and has always been a quality choice when it comes to cabinet style. Shaker cabinets are simple and allow you to add personality to your kitchen with other finishes and materials including backsplashes, countertops, cabinet hardware and appliances. The simplicity also helps to make the kitchen attractive to potential buyers in the future.
Two-Color Cabinetry
This trend is relatively new, but it's making a splash in kitchens of all styles—traditional and modern. Two-color cabinetry is often lighter above and darker below. Choosing to use lighter cabinets up high helps to give the space a more airy feeling, while darker cabinets below make them feel grounded and sturdy. This cabinetry trend is most often seen with white and dark wood cabinets, but recently, it hasntly, t has recently been is cabinetry trend is most often seen with white and dark wood cabinets, but has recently been t incorporated white and bright colored cabinets. If you are interested in creating a truly unique kitchen space, we would recommend giving this trend serious consideration when planning your kitchen remodel.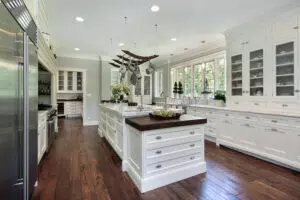 Neutral Colors
Most recently, neutral colored cabinets have become the cabinetry of choice for kitchen remodelers. The most popular colors include grays, whites, off whites and dark wood finishes. The biggest advantage to using these colors is that they can be adjusted to fit the style and aesthetic of each homeowner. These colors are from a neutral color palette, making them appealing to buyers and sellers alike.
Have you been considering an update to your kitchen cabinetry? We'd love to meet you and help you to choose the cabinetry that is right for you and your style. Visit our showroom today to begin the kitchen remodeling process or call us at 877.876.6638 for more information.