The last few decades have seen a massive rise in the application of ceramic tile flooring for interior designs. More and more homeowners are shifting from natural stone flooring alternatives to ceramic or porcelain tile since they provide a harder surface, are water-resistant, easy to maintain, and more durable!
Besides, ceramic tile floors have proven to be classier than some premium types of natural stone (e.g. marble). And they come in a variety of beautiful patterns and colors that are ageless. Hence, to guarantee a floor tile that won't go out of style any time soon, you need ceramic tiles on your flooring surface.
But then, it can be a little challenging to come up with a ceramic floor tile idea that would make a bold statement in your flooring design. To help you arrive at your specific need, this article will be highlighting some stunning flooring ideas you can ONLY achieve with ceramic tiles. But before forging ahead, let's answer a crucial question:
What Exactly Is Ceramic Tile?
Ceramic tiles, simply put, are those tiles forged out of red or white clay that has been permanently hardened by heat.
Ceramics date back to antiquity when the word "ceramic" mainly referred to any item made of clay. A good example is a clay pot or earthenware pottery that is produced from baking clay at a lower temperature (1400°F) compared to porcelain tiles that go as high as 2300°F.
On the other hand, the modern-day ceramic material is more sophisticated because of technological advancement. That's why aside from kitchen and bathroom floor tiles, you'd also find advanced ceramics in refrigerator magnets or medical implants.
What Floor Tile Designs Are Trendy In 2023?
Ceramic tile has versatile applications and can easily fit into any trend. This is mainly because ceramic can take different tile shapes, textures, colors, and patterns. It can also take on a neutral backdrop and timeless style to accommodate either a classical or modern flooring pattern.
Sizes And Formats
In recent years, manufacturers and interior designers are adopting more large-format tiles than ever before (instead of small tiles).
Well, the good news is that larger tiles have fewer grout lines to clean and maximize smaller rooms to make them look bigger. Some trendy ceramic tile sizes in 2023 include:
12" x 24"
24" x 24"
12" x 48"
Shapes And Patterns
While hexagon tiles and other tile patterns and shapes are currently in high demand, the vast majority of floor tiles come in the form of square tiles or linear rectangle shapes.
To ensure that hexagon and every other tile shape is consistently in supply, manufacturers (with the help of machines) are creating precise, uniform edges, resulting in what is now popularly called "rectified" tile.
Colors
The easiest way to create positive energy in your home is by selecting the right color of floor tile. One of the most popular colors in recent years including 2023 is grey. The reason for this increasing popularity is that grey tiles create a satisfying mood that is rarely experienced with many other colors.
Grey tiles are also bright enough to tolerate any other color or decorations. With grey tiles, you can create a focal point with your appliances, accent walls, and furniture.
Another trendy tile color in 2023 is white. Bright white floor tiles provide a contrasting color to dark cabinets, countertops, and appliances. They also combine with natural sunlight to open up what seems like a tight space, making smaller rooms appear bigger.
A typical marble look remains a good example of white ceramic tile that will give your white kitchen and bathroom floor a one-of-a-kind look.
Appearance
More wood-look tiles (made of ceramics) are on the market in 2023. And the main aim of manufacturers is to accomplish a realistic wood texture in extremely durable tile material. Now, with a ceramic-made wood-look tile, both lovers of wooden and ceramic floors are satisfied.
However, despite the latest trend of wood-look tile flooring, natural stone look tiles are still pretty much recognized. This is apparently because stone tiles like marble, travertine, and slate add luxurious sophistication to bathroom floors, kitchen, living room, and any other flooring surface in your home. Unfortunately, the striking beauty of these natural stones reflects in their high price.
That's why the manufacturers of porcelain and ceramic tile have adopted a new trend of making stone-look floor tiles to maintain the REALISTIC aesthetics of natural stone without the high price tag. These latest versions of tiles are not just cost-effective but provide less porosity and more durability.
The whole point is that with the versatility of ceramics, you can always satisfy your flooring needs, whether you crave stone or wood looks.
Top 2023 Ceramic And Porcelain Tile Flooring Ideas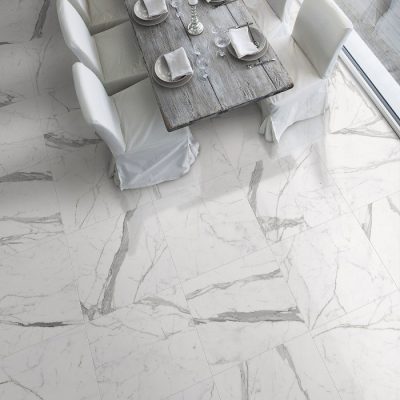 Looking for an ideal ceramic tiles design for kitchen remodel in Cleveland? Here are some stunning 2023 tile ideas for you:
1. Straight Floor Tile Pattern
Straight tile patterns are known for their simplicity. This pattern mostly comes in a bright color (like grey) to enable it to accommodate and blend with any appliance, tile color, pattern, texture, or interior design.
This versatility makes a straight lay floor tile pattern something to go for if you are not sure the exact color or texture of ceramic tile you'd be using for your living room, kitchen, or bathroom floor.
Another good thing about this amazing tile flooring idea is that it can go with any tile size — whether mini-grid mosaics or large-format panels.
2. Running Bond Flooring Tile Pattern
The racing bond floor tile pattern is so easy to install, yet visually captivating. If you already have existing decorations with minor flaws, this modern flooring contour can help you create an amazing style to conceal the anomalies. For instance, those shady walls or a break-up pattern used in the living room, bathrooms, or kitchen.
To get the best of the running bond floor, you can incline the pattern at a 45-degree angle to give your floor a calculated flow of the pattern.
Depending on the tile, the running bond has between 33% to 50% row offset. Hence, with wood-look ceramic floor tile, these varying offsets establish a look that is typical of hardwood and maintain all the benefits of ceramic floor tile (such as resistance to scratch, stain, and water).
3. Diagonal Floor Tile Pattern
With the widening angle of the diagonal tile flooring style (which turns the straight lay style on its head at 45°), the focal point of any small room, bathroom, and subway tiles is shifted.
If you crave a better visual appeal but the same ease of installation as the straight lay tile pattern, then a diagonal floor tile is the real deal.
4. Chevron Floor Tile
The Chevron tile floors form zig-zag waves by combining rectangular floor tiles with tilted ends or mixed-width.
Although the Chevron pattern looks quite sophisticated, the installation is quite simple since you can achieve it with a single tile type and size.
Like the running bond floor tile pattern, the chevron style can carry your sight towards a point of focus or along an intended path.
To make the design more striking, you can change the tiles with contrasting colors to allow each V shape to form a striped zigzag.
The chevron style is one of the best patterns that elongates or widens angles in confined spaces like bathrooms.
5. Bathroom Tiles
Another good application for ceramic tile is the bathroom. Of course, bathroom tiles give you a versatile option of applications.
You can keep the tile flooring simple with a unique color scheme in a typical color palette. White ceramic tile, for instance, brings clean lines and modern unsophistication to any bathroom design.
Similarly, porcelain or ceramic-made concrete look tile would give any bathroom an ageless look most modern homeowners crave.
Other bathroom tile ideas you should have on your bathroom wall and floor are the gray and small accent which bring out the hidden glamor of any bathroom.
Final Words
With all the amazing ceramic tiles design for kitchen ideas discussed on this page, it's a lot easier to narrow down your options to a flooring design that meets your specific needs.
Now, Just in case the question on your mind is, "any stone and tile stores near me for my kitchen remodel in Cleveland?" Or "any countertop and tile stores near me?" you can always VISIT…
Frequently Asked Questions on Ceramic Tile Ideas
1. What Are The Best Colors of ceramic tile for floors
As far as ceramic tiles are concerned, most interior designers recommend neutral colors for your room wall and floor.
A neutral color is more like a plain carpet that accommodates every other decoration or appliance you might want. Besides, it's uncommon for neutral tiles to go out of style
2. What is better: ceramic or porcelain tile?
If you crave extensive longevity, then porcelain is the ideal material for you. But that doesn't imply ceramics are not durable as well.
The only difference between ceramic and porcelain tiles is that porcelain is forged to absorb less water which makes it more durable.
Don't start working on your floors without the help of an expert. This is a home you are creating for yourself. One that you will live in for years. You don't want to make mistakes you will great all the years of your stay in your home. Contact us today and let's help you create the ideas you have in mind.