Choosing the right cabinet and countertop pairing
Thinking about upgrading your kitchen? We've talked about how to revamp your kitchen cabinetry, as well as the top kitchen countertop trends ; but it takes harmonization between these two elements to make a kitchen great. From material (such as tiles) and design to color combination, here are some elements to keep in mind before remodeling.
Lifestyle
For any remodel, considering both who will be using the space and how the space will be used is critical for getting the most out of your remodel. Lifestyle informs choices in color combinations and material options. Families have different needs than matured couples and single homeowners. For families with children, materials like granite and engineered stone are great for withstanding accidents and spills. Darker colored cabinets are also a good choice to withstand and hide daily wear and tear. This applies when you're looking to resell your home as well. Consider your neighborhood and prospective buyers before beginning your remodel.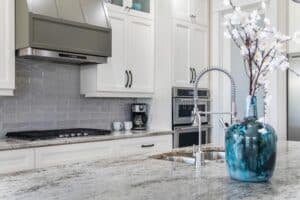 Cohesive Design
Is your home light and airy, or old-world rustic? Choosing the combination to suit your home's existing theme will contribute to the overall harmony of your home's design. Avoid spending the money for a remodel before considering existing elements. Contrasting dark cabinets with lighter countertops can accentuate a clean and modern home. Meanwhile, for homes with old-world designs and ample space, consider a dark on dark pairing, such as dark granite countertops with cherry cabinets.
Budget
This is the most obvious consideration for any remodel. Luxurious and custom options can oftentimes come at a premium, but this doesn't mean you can't have the kitchen of your dreams. For homeowners of smaller kitchens, don't rule out premium materials, as smaller kitchens mean less materials used. Alternative materials can also achieve the same look and feel and be equally, if not even more durable. In any situation, the one cost that you should not skimp on is the expertise of a professional. Getting the job done right on the first try saves you time now and money in the long run if you sell your home.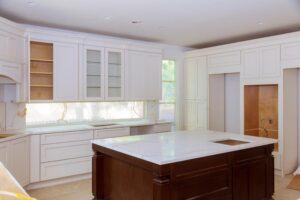 Feel like you're ready for your remodel? Firenza Stone offers a variety of cabinet and countertop options for all homes and lifestyles. Our Cleveland and Northeast Ohio customers know best; we have been helping them achieve their dream kitchen for four generations. Stop by our showroom today to find inspiration for your kitchen. You can also contact Firenza Stone online or give us a call at (888) 495-7330. Let us help you find the perfect combination!