How To Find And Hire A Professional Countertops Installer
If you are a DIY enthusiast, replacing your bathroom or kitchen countertops without any major modification shouldn't be much of a hassle. The main challenge you might face is custom installation! This is especially the case when your countertop installation requires custom cutouts or an entirely different decorative backsplash. Or when there are other complicated designs like pop-up ventilation systems that typically require lots of troubleshooting.
Besides, some plumbing and electrical works also come into play while installing kitchen and bathroom countertops. After all, you will have to disconnect and reconnect lots of wires and pipes at some point.
Considering the intricacies highlighted above, you might want to hire a professional to handle your custom countertop installation. Unless, of course, you have the much-needed skills and experience to DIY. If you've decided to hire a professional for the project, you have to be sure you're employing the right person for the job.
Find out why Firenza Stone is considered the best countertop installation company in Cleveland.
This article will be an eye-opener on HOW exactly to go about choosing the right countertops installer. But first, let's find out WHY you certainly need a professional in the first place. Shall we?
Why Do I Need A Professional Countertops Installer?
Although installing countertops yourself will save you some bucks, you still stand a chance to make mistakes. Unfortunately, any installation mistake typically results in additional costs. And at the end of the day, you might end up spending much more than you could have spent had you hired a professional for the project.
Aside from getting the design and structuring right, here are other reasons you need a professional countertop installer.
1. You Need The Experience Of A Pro
One thing you can't do without, as far as countertop installation is concerned, is the experience of a professional. A pro contractor, with expert knowledge, is in a better position to consider the materials to be used in the project.
For instance, if you will be working with materials like granite, soapstone, marble, concrete, and quartz, then you typically need someone with an advanced understanding of the right cutting tools and techniques to avoid unnecessary mistakes. Mind you, since countertops are the focal point of the kitchen or bathroom, any installation error will ultimately mar the overall appearance of the entire room.
2. Zero Installation Stress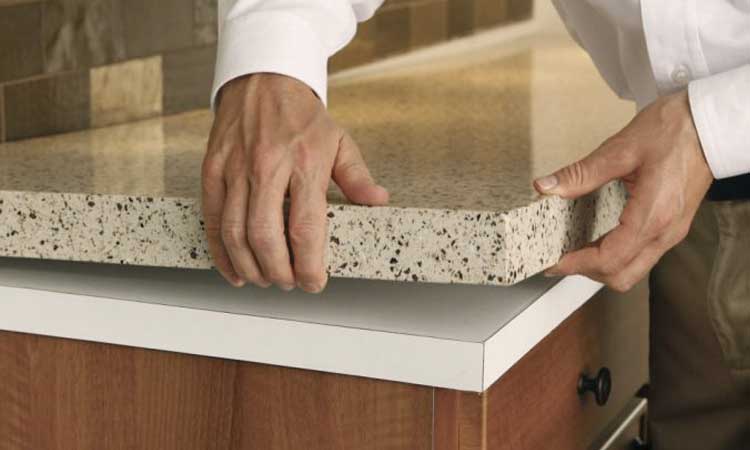 Another reason most homeowners would rather have a professional install their new countertops is so they wouldn't have to pass through the stress of lifting those heavy materials while also exercising enormous caution!
Installing expensive countertops can be both physically and mentally draining! The delicate countertop materials need extra care as you handle them during installation.
You need some level of experience and confidence to deal with materials like natural stone and install them perfectly without cracking. With professional experience, you can also avoid technical errors like measurement mistakes which can result in a poor fit.
3. You Save Your Time
Time is always going to be an important factor as far as any home improvement project is concerned. After all, nobody wants to stare at their torn-apart kitchen or bathroom for weeks due to unnecessary delays in completing the project.
If during the installation of your new countertops, you have to work around many corners, faucets/sink cutouts, and appliances, then you need a professional to handle the whole process quickly and efficiently.
Countertop installation also poses lots of electrical and plumbing issues. But fortunately, most contractors have experience dealing with issues of plumbing and electrical appliances, which can make installing kitchen or bathroom countertops more time effective.
4. You Need Access To The Right Tools
It's simple: to avoid substandard installation, you need standard tools! Unfortunately, chances are you don't have the necessary tools, and buying them could potentially increase overall countertop installation costs.
Another reason you need a pro installer is that you may not know how to use these tools even if you have them. And, of course, when you don't know how to use the tools, you are bound to make lots of avoidable mistakes which can either cause physical harm or reduce the quality of the project.
All these qualities put together are why Firenza Stone is considered the designer's favorite collaborator as it relates to countertop installation.
How To Identify And Hire A Professional Countertops Installer
As stated earlier, getting your countertops installed correctly is very important if your home improvement project is to be considered "good enough." That's why hiring the right contractor for the job is a must!
The question now should be, how do you identify the right person, given that many contractors who claim to be "professionals" usually don't live up to those claims?
Here are some vital tips to hire a real pro:
1. Get Recommendations
The first step to identifying a reliable countertop installer is by asking for recommendations from people with relevant experience. For the most reliable recommendation, you should especially hear personal reviews from people who have had experience working with the said contractor.
2. Interview As Many Contractors As Possible
Once you've received a couple of reliable recommendations, the next line of action is to question as many as possible to find out what they can offer.
Find out what types of countertop materials the countertop installer works with. Different types of material require different skill sets. But any reliable professional should be able to work with the following stone materials:
Marble (for marble countertops)

Granite (for granite countertops)

Quartz (for quartz countertops)

Soapstone

Recycled glass

Travertine, etc.
They should also be able to work with laminate and butcher block materials for wooden countertops.
Other important questions to ask at this stage are, How long have you been in the business of installing marble and granite countertops? How experienced are you in dealing with recycled glass, stone, or the wooden countertop? How experienced are other members of your team? And how long will it take to complete this project?
3. Demand For A Written Estimate
Based on the interview outcome, you should demand a written estimate from each of the more preferred contractors.
The contractor may prefer to visit your home to have a look at your kitchen and bathroom. They may also want to know if you are going for a granite countertop, marble countertops, or laminate countertop. This will not only give them a clue of how much the installation would cost but also help them create a clear custom countertop template.
4. Finally: Select Your Ideal Countertop Installer
After receiving the written estimates from different contractors, it's time to select the one that is most compatible with your demands — both in terms of budget, quality, and otherwise.
How Much Does It Cost To Hire Someone To Install A Countertop?
On average, countertop installers charge anywhere between $1,852 and $4,309. This means that the average cost for countertop installation is $3,081.
Where Can I find A Countertop Fabricator?
You can ask your friends for recommendations, especially if they had a good working experience with the said contractor. But don't also forget to carry out some online research and even visit each of the contractor's official websites for a better comparative analysis.
Want to get the best countertops out of your slabs? Do you need the best installation service from the best seller and installer in Cleveland? Send Firenza Stone a message today.