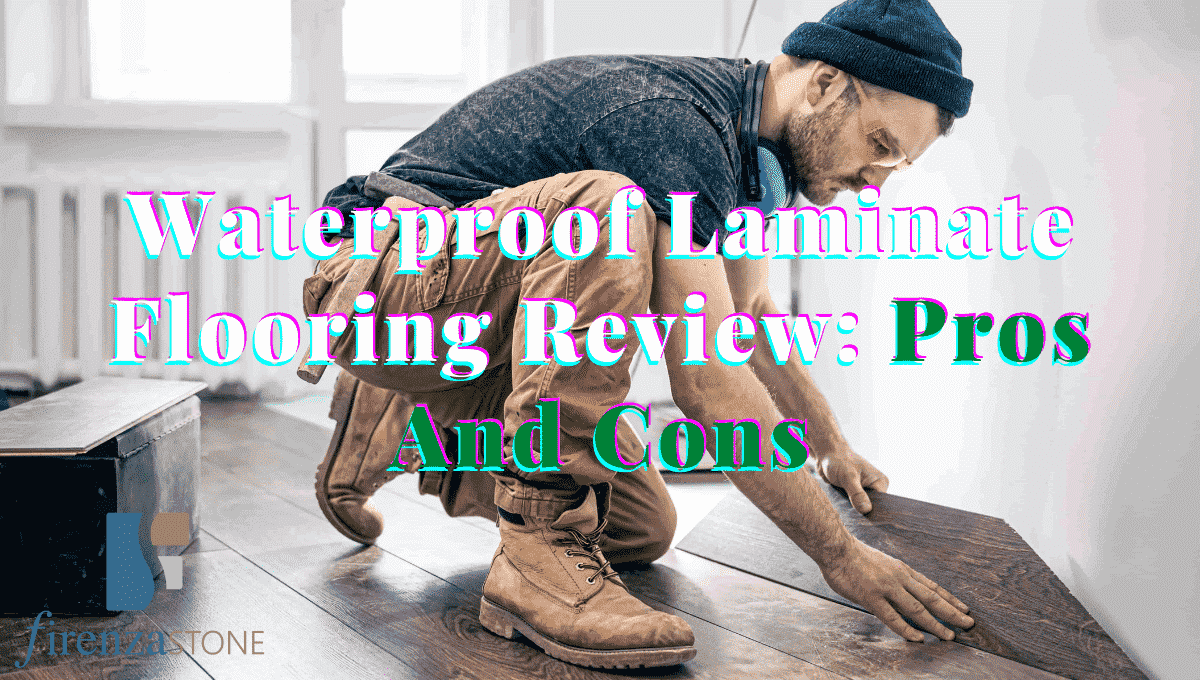 Waterproof laminate flooring is the best choice for home interior design as it gives a comforting and luxurious look. Aside from beauty, it is water-resistant for a very long time. This simply means that no amount of spill will affect the quality of your floor as they come in various forms as hydro pro timber and aqua floor laminate.
In this article, you will be exposed to some of the positive reasons you need to know about the laminated waterproof floor and some pitfalls, to enhance better decision making.
What is Waterproof Laminate Flooring?
Waterproof laminate is developed in the same manner as wood-look synthetic materials laminate with stronger resistance. Its real look can be as good as real wood. Waterproof laminate flooring is majorly made of planks that intermesh to form the flooring.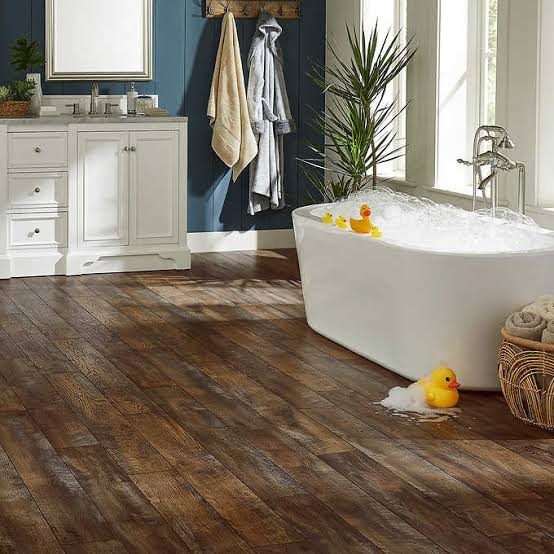 People love affordable laminates, but the product wasn't known for absorbing water well. But several new innovative waterproofing systems by various laminate brands have proven to be a game-changer for laminates.
If you are ever planning on installing laminate floors in your home, you might want to check out this step-by-step guide to installing laminate flooring.
Pros and Cons of Waterproof Laminate Flooring
Today, laminate flooring continues to make waves since it first hit the market. Its quality and appearance continue to improve, with more options than ever available now.
To find out if this material is right for your budget, lifestyle, and aesthetic preferences, first consider the pros and cons of laminate flooring.
What are waterproof laminate flooring pros in businesses and homes?
Pros Of Water-Resistant Laminate
1. Resistance to scratch
Waterproof laminate flooring is made up of a strong protective wear layer that is scratch resistant. It is also resistive to splashes. Hence, making it ideal for the kitchen, living room, bathroom, pet floor, and other high-traffic areas.
Also, you can take decisive action to prevent scratches from your waterproof laminates floor by making use of furniture pads and rugs which act as scratch resistance. It is also resistant to UV and does not get discolored easily as hardwood floors.
See also: Types of countertops: finding the right materials for kitchen Countertops
2. Affordable installation
Waterproof laminates are easy and require a low cost to install. It takes just a few hours with the right equipment compared to any flooring option. It doesn't have to be nailed, stapled, or glued to a subfloor during installation as it already forms a floating floor.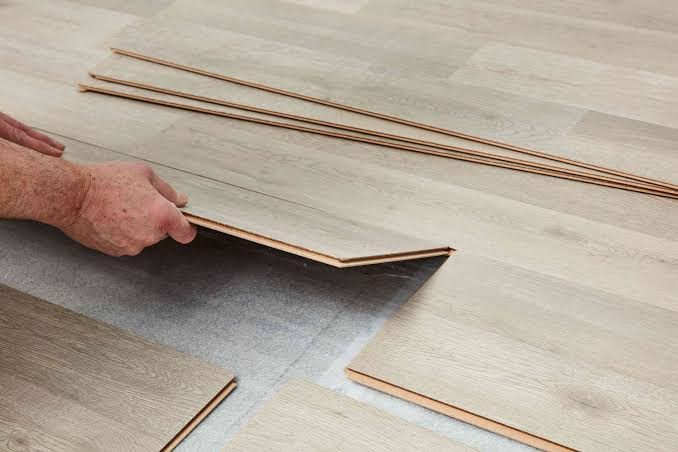 You can install this affordable flooring on many types of existing floor surfaces, including tiles, engineered hardwood, solid hardwood, and vinyl by yourself.
However, If you feel like the task of installing laminate flooring is too much, and want to avoid improper installation problems such as buckling, tapping damage, and improper acclimatization, there is no shame in hiring professional flooring installers for easy installation. They do this for a living, so they have the experience and knowledge to get the job done right the first time.
But if it doesn't come attached, you can purchase it. All of these contribute to the durability and quality of the laminate floor.
3. Easy cleaning
Unlike hardwood floors that require constant shinning, waterproof laminate flooring is easy to clean with the laminate mop.
To keep it shining, you just have to spray the surface with a mixture of vinegar and hot water in a spray bottle. This is attainable homemade.
4. Moisture resistance
Waterproof laminate flooring is resistant to excessive moisture, unlike traditional laminates which get damaged easily. It can be installed in various parts of the home such as the basement, living rooms, laundry room, bathroom, and kitchen and can last for a very long time.
The majority of water-resistant laminates are made of a hardwood floor with a sublayer of moisture protection and provide resistance to pet stains and routine water spills. Waterproof laminate flooring makes use of special coatings, extra protection materials, and installation techniques that prevent its core from warping up easily.
5. Variety of styles and designs
Waterproof laminate floors come in various pattern styles and designs which are based on the species of tree that the plank is cut from. This includes: straight, even lines and swirling with natural knots. These various form of species includes Oak, Hickory, Birch, and Maple.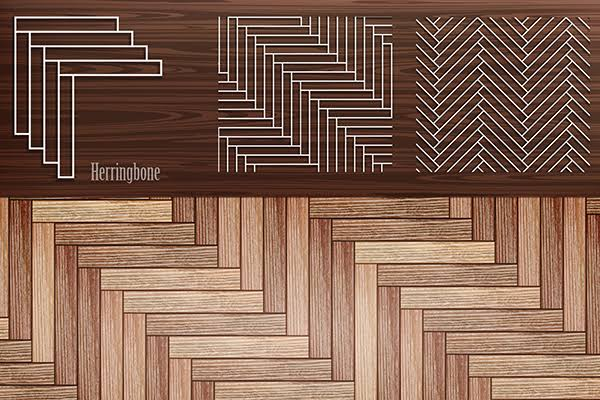 Some of the recent decorative patterns popular today are the herringbone and chevron laminate floor.
6. Eco-friendly
Waterproof laminate floors are becoming rampant as they are the by-product of the commercial timber industry. Timbers naturally are harvested for furniture purposes but laminate producers tend to utilize and renew the by-products to avoid wastage.
Also, waterproof laminate flooring products' core layer can be gotten from recycled materials of sawdust and wood chips. These are not harmful to the environment as they can be cleaned easily giving a healthier indoor air free from dust and germs.
7. Durability
The durability of laminate flooring is dependent on the AC (abrasion class) rating. The higher the number, out of five, the more extremely durable the floor will be. Pergo and Mohawk are the best-known brands and are both considered to be reputable and quality manufacturers. The floors they produce are water-resistant, varied in style and GreenGuard certified.
Other great flooring options are provided by Shaw Laminate, Armstrong Laminate, and AquaGuard Laminate. If you are on a tight budget and want something especially widely available, look out for these brands.
Also, waterproof laminate floors are durable and resistible to UV and water effects. With this, it doesn't get discolored and damaged easily. It can last for several years and still retain its original nature without being perforated. This is one of the best laminate flooring pros you can derive as you save money and avoid wastage.
Cons Of Laminate Floors
1. Color choices are limited
Waterproof laminate floors come in limited colors in tinctures of dark, brown, light, and grey effects. Other colors include: yellow, red, and orange but all these are limited compared to hundreds of colors from standardized laminates.
2. Cannot be refinished
A laminate floor that is waterproof doesn't get damaged easily unless when not properly maintained. Once its core gets damaged, it is difficult to refinish. Hence requires total replacement. This makes wood floors hardwood and engineered wood floors preferable.
3. Artificial appearance
The laminate floor has the appearance of real hardwood and other natural materials but is artificial. It can be identified by its soft underfoot texture and sound. The sound produced from a laminate floor is louder. This attribute is based on the fact that it is made from recycled hardwood.
Installation of Waterproof Laminates
Waterproof laminate floor installation procedures are similar to that of standard laminate products. The laminate planks are arranged over the floor one by one and the edges are interlocked through the click-lock installation method. There is pre-attached foam underlayment to cover the floor. These floorings are DIY-friendly and fairly easy to install. But you must be careful to ensure proper installation to avoid the parts of the multiple layers from swelling such as the core layer.
But before you install laminate flooring, ensure the subfloor is clean and smooth some hours before the installation. If you do have moisture issues with your subfloor, installing your laminate with a vapor barrier will probably be required by the manufacturer to guarantee your warranty
Why Is Laminate Flooring Not Waterproof?
Its construction has to have an impact on its seam and fiberboard cores which are prone to moisture. The problem water creates on laminate flooring isn't with their top layer, rather it is a high-density fiberboard core. If you ever saw particles of paper in a rainstorm they bubble up and crack as a soda cracker would. Also, the click-lock joints in laminate flooring are incredibly difficult to form and this creates some problems.
Maintenance and repair
Generally, laminates require very low maintenance and are treated as standard laminates. Simple cleaning should be performed periodically and deeper cleaning should be done using an oiled sponge dampened with a suitable laminate cleaning agent. Better still, you can make use of a damp mop or wet mop.
Avoid soaking laminate floor or using an electric toothbrush as they can tamper the floor texture. Unlike natural wood, laminate floors are tricky to repair. Repairing severe damage requires removing and rebuilding flooring for new flooring boards.
See also: The Do's And Don'ts Of Choosing Cabinets And Countertops: Combination Tips
Waterproof Laminate Cost
Waterproof laminate flooring costs around $3 – $5 per square foot. The industry average cost is about $4.50 per square foot. Standard laminate flooring products cost about $2.50 a square foot. The laminate floors are highly durable. Luxury vinyl flooring has an average dimension of around 3 square meters. Luxury vinyl plank flooring offers all of the benefits of laminate flooring and can legitimately be called waterproof.
How Long Does Waterproof Laminate Flooring Last?
Waterproof laminate flooring with its thicker wear layer can last about 25 to 30 years before getting damaged. It'd be hard to find a flooring material with a larger upside than laminate. Other factors such as quality, maintenance and brand also play a long way in the flooring durability. However, many high-end laminate flooring brands offer lifetime residential warranties. This implies that these products can last much longer.
Waterproof and water-resistant laminate offers great protection against moisture, making them ideal flooring choices for spaces that tend to get the most spills like the basement, kitchen, bathrooms, and laundry rooms. That, plus their durability also helps them last a long time, especially with active families and pets.
What are the Negatives of Laminate Flooring?
One major disadvantage of laminate floorings, in general, is the inability to be refinished. When they are worn, rut, and scrape they must be replaced as laminate flooring cannot be refinished or sanded to look better like other solid hardwood.
Is the Waterproof Laminate Floor Waterproof?
Waterproof laminate floors are impervious to water and are less likely to be damaged by spills as they are water-resistant for a lengthy period. Aside from that, this flooring has the same profile as other laminate flooring and can be hard and noisy underfoot.
Conclusion
In summary, if you are looking for an affordable, durable floor with plenty of design options and an easy installation process, laminate flooring may be the right choice for you. Weigh carefully the artificiality of laminate against the much higher cost (both financially and in terms of maintenance and longevity) of other materials in quality.
For example, both vinyl and laminate are composites that share many similarities. However, there are a few important differences. Notably, laminate utilizes more natural products than vinyl and tends to be slightly more durable, affordable, and easy to maintain. Laminate consists of a water-resistant base layer and a multi-layer core of high-density fiberboard. The core is often entirely synthetic with better waterproof capabilities.