Everyone wants their bathrooms to portray the relaxing atmosphere they desire. Our bathroom countertops are a fantastic way to start. More than anything else, countertops set the standard for a luxurious bathroom.
There are several kinds of gorgeous countertops for your bathroom, ranging from natural stone, engineered quartz, ceramic or glass tiles, and laminate countertops. Now, how would you decide which one works best for you?
This article will provide you with the factors to consider before choosing the best countertops for your bathroom. Also, you'll get to know what a real stone countertop entails.
You might want to take a look at some of our countertop slabs to have a good understanding of what they look like and how they can improve the ambiance of your bathroom.
Premium Bathroom Countertop Options
If you want your bathroom to stand out, you should be in search for the best bathroom countertop. However, it is a daunting task to select the best out of countless choices available in the market.
So, making things easier for you, we've compiled a list of suitable bathroom countertop selections. Before making the decision to remodel your bathroom, you might want to read through these 5 bathroom remodel disasters that you need to avoid.
Continue reading our guide to learn more about the right countertop for your space.
1. Natural stone countertops
Natural stone countertops of any kind are superior to other types of stone countertops material, be it ceramic or porcelain tile. All-natural stone bathroom countertop contains porous solid slab with sink spacings carved out.
Although, stone countertops may often have tile placed almost the same way as ceramic tile. This category includes traditional countertop materials, such as quartzite, marble countertops, limestone, soapstone, travertine, granite, slate, and other different materials.
Marble is a delicate and porous stone that requires sealing every year or two. Granite worktop's durability makes it the best natural stone for your bathrooms. It has been a popular choice for kitchen countertops over the years because of its extremely hard rock and sealing. Soapstone is heat resistant.
Natural stone bathroom countertop materials are durable and have stunning styles and designs. Some drawbacks of natural stone countertops are that eighty-five percent of natural stones require more maintenance, unlike other materials like ceramic tile and engineered quartz countertops.
The price of the stone is also higher than a porous material. Irrespective of their drawbacks, these stones have a lot of resale value in them.
2. Engineered stone countertops
An engineered stone is yet one of the best bathroom countertops. Engineered stones are sometimes called quartz countertops. They comprise 95% crushed stone (typically quartz crystals) and 5% cement-based resin. As a result, quartz is non-porous, durable, stains, and scratch-resistant. This countertop material does not need to be sealed.
They have the same appearance as natural stones and durability level like granite. Quartz serves as the best choice in terms of color and design consistency. Quartz bathroom countertops in beige or white colors may make a tiny bathroom appear larger and more inviting. They frequently sell these bathroom counters with integrated sink basins.
Depending on the configuration, joints in quartz countertops may be visible. If that sounds like a wearying factor, reconsider. But they are, in reality, a fantastic deluxe option that is suitable for kids.
Quartz countertops materials are the best choice if you want a solid pristine white beauty. You can also use it to create kitchen countertops. Before spending your hard-earned money on quartz countertops, you should read this guide that shows you everything you need to consider when buying quartz countertops before paying the dealer.
3. Ceramic or glass tile countertop
Porcelain, ceramic, and glass tile are traditional countertop materials. Owing to recent advances, they are now being incorporated in contemporary, modern forms. Glass tiles are not entirely ceramic. Despite this, they still fit similarly to ceramic tile and provide better style options.
On the other hand, porcelain is like ceramic, with more refined clays baked at greater temperatures. Porcelain is a more durable and rigid material ideal for any surface and bathroom countertops. Mere looking at porcelain, they seem like wood or even leather. They offer you a wide range of designs.
Clay is used for producing this traditional countertop material. Manufacturers heat it with fire to solidify and coat the surface. One good thing about these bathroom countertops is that they are DIY-friendly, so you wouldn't have to spend too much on professional installation. Based on the type you purchase, tile might be cheap or pricey.
Their prices range below $1 per square foot and above $200. If you're planning to install a tile counter yourself, expect nothing more than $15 per square foot. Professional installation costs range from $35 to $40 and above per square foot.
Amidst the benefits of tile countertops, it is prone to breaking and cracking once a heavy object falls on it. In addition, it needs to be properly sealed once a year.
Check out these gorgeous ceramic tile flooring ideas for your home.
4. Concrete countertops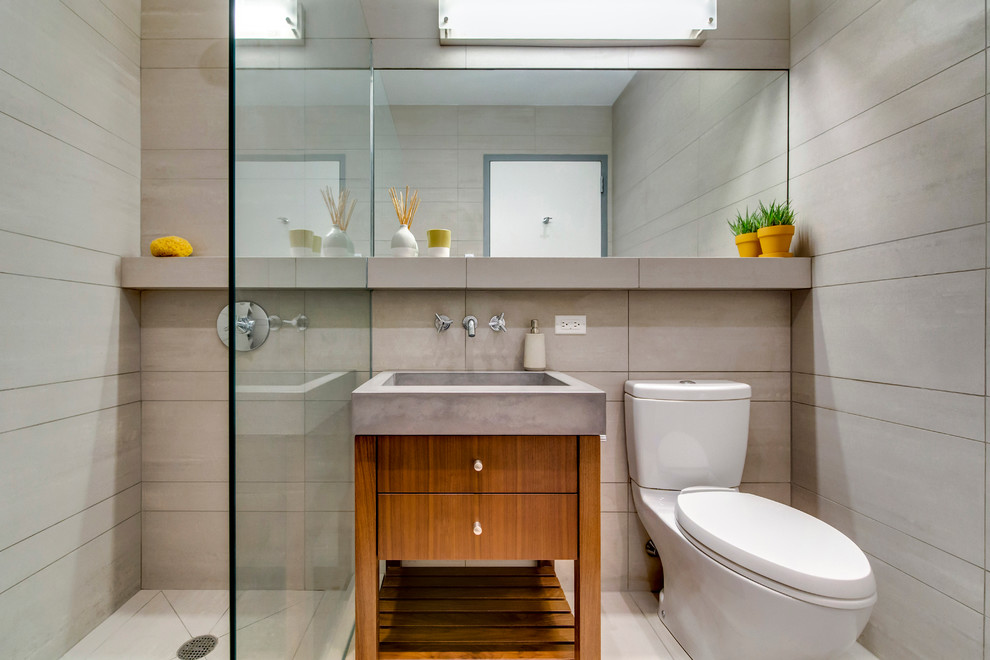 Concrete is now a prominent countertop material that mimics the appearance of natural stones. Even if it isn't your first pick for, among all bathroom countertops material, it has fantastic shape-shifting qualities that allow for a limitless variety of aesthetics.
Concrete is not the gritty gray slabs you see on pavements. Instead, it has high gloss pigments and perhaps a durable texture surface. Some installers even insert tile, stone, or sparkling glass fragments into the surface during construction.
For optimal quality assurance, most manufacturers construct concrete countertops offsite. Because concrete is porous stones, countertops need to be sealed often. Its price ranges from $80 to $280 per square foot.
Laminate countertops
Laminate is formed with bonded layers of plastic to a foundation — such as particleboard, to produce a solid-looking surface. Just because the laminate bathroom countertop isn't as natural as, say, a piece of marble or granite, doesn't guarantee that it is not durable.
In reality, this substance looks like wood. We believe laminate is on the verge of a tremendous resurgence in every housing area. Yes, it includes the bathroom! Laminate countertops are very beneficial in every home.
Not only are they inexpensive, robust, and DIY-friendly, but they do not need high maintenance. Since laminate countertops are a non-porous material, they do not require sealing. All you need to do is wash them down with warm water, soap, and a microfiber cloth to maintain them. It's that simple!
The major downside is that it's not heat or scratch-resistant. Therefore, place a cloth on your countertops before using any hot equipment. Laminate bathroom countertops, unlike granite or concrete, are not too durable.
On the positive side, they're pretty simple (and inexpensive!) to replace, and they'll last longer if you take good care of them. Laminate prices range from $52 to $105 per square foot (including installation). Expect to pay $40 to $65 per square foot if it is custom-made by a manufacturer.
Solid-surface material
Synthetic materials such as acrylic or polyester resins and marble powder are used to produce solid countertops. As the name implies, the solid surface is pretty solid and lacks the porous component that makes natural stone, such as marble, granite, and limestone.
Thus, it is susceptible to stains and germs. They're an excellent option for elevated bathroom counters and kitchen countertops. Solid surface bathroom countertops do not need to be sealed by a professional. They come in various vibrant colors, many of which resemble wood, stone, and glass.
Many manufacturers, like Corian, Swanstone, Silestone, and others, provide distinct shades and designs. These newer version "faux stone" counters have supplanted the so-called "cultured marble" plastic countertops that formerly influenced the bathroom countertop market.
Manufacturers construct countertops into a unique style and customize them with integrated sink basins. The price per square foot ranges from $45 to $75.
Factors to consider before choosing the best bathroom countertops
There's a lot to consider in this situation. It all begins with deciding what is important to you. Even if you have a stone choice in mind, we recommend you consider these factors to cut down your options: how high is its durability? Is it stain-resistant?
Countertop surface polish
The surface of certain bathroom countertop materials is polished, while others have a leather or honed appearance. Each surface finish has its own set of benefits and drawbacks.
Polished surfaces, for example, are non-porous and stain-resistant. At the same time, honed countertops are a little slippery and have a matte finish. What's the drawback? They're permeable, which means they discolor easily and require sealing every time.
For a refined appearance, leathered bathroom countertop treatments feature a delicate shine that highlights the material's original colors and shapes. Their irregular texture makes them difficult to clean and susceptible to scratch.
Maintenance
It's tough to maintain clean bathroom counters. They'll be wet and sloppy all the time, and they could even have toothpaste smeared on them at times. While weighing your alternatives, consider how simple they are to clean. Is it necessary for them to develop a unique remedy every time? Is it possible to wipe them clean with water when needed?
Durability
When choosing the best natural stone for vanity tops, durability is still an essential factor to consider. Granite countertops and quartz are your two top choices for durability. Other options you can consider include soapstone, cultured marble countertops, concrete, and quartzite.
Evaluate your color and style options
If you're remodeling your bathroom, you've probably decided on the vanity counter's color. Ensure that the stone you select is available in the color you desire. Neutral and light colors are popular for modern bathroom renovations since they provide a more calming and pleasant atmosphere within your bathroom. Your calm sanctuary takes on a vivid ambiance when combined with contemporary lighting.
Colors such as white, gray, tan, light blue, and peachy pink are ideal for this purpose. Nevertheless, there are a plethora of color choices for custom bathroom countertops.
Your preferred countertop pattern
Here, think about the veining patterns on your bathroom countertops. These patterns add a touch of class and improve the overall attractiveness. Compact bathrooms benefit from softly veined bathroom countertops with less apparent seams that provide the impression of elegance and purity. Bold veining adds a unique aesthetic aspect that conventional counters lack.
Budget
Take a glance at your budget. How much money do you intend to spend on the stone counters that best suit your needs? Apart from your total budget, remember different countertop materials come with guarantees and maintenance packages. It depends on where you buy them.
Conclusion
If you install bathroom countertops well, they may turn a simple bathroom into a quiet, attractive space to start and end your day. So when contemplating on material, think about your budget and the style you want to achieve. Granite countertops or quartz are stunning if you have more money to spend. However, tiles, solid-surface, or laminate are better options if you're on a budget.
We have a wide selection of the best bathroom countertop materials for your space to make your dream bathroom a reality. Get in touch with us now and let's create magic together!